Institute of Management Technology (IMT), set up in 1980, is a pioneer in offering top class management education in the private sector in India. Its management programs are grounded on the belief that managerial competencies must be married to technology to ensure most impactful management practices. The programs are pro­filed appropriately with the evolving skill needs of the business world, contemporary, also for future, in order to remain relevant to the ever changing world. Having smart campuses with ultra-modern academic facilities, deep corporate engagement, intensive international connect, faculty with very rich experience in industry and academics, vibrant campus life ensuring a holistic approach in grooming the students for the challenging career, enabling academic environment make IMT an irresistible destination for budding business leaders.
THE IMT FACTOR
The key IMT factor is an entrepreneurial approach in designing and academic delivery of programs across the campuses. In addition, each campus of the IMT group has several distinguishing features those make it stand out in the clutter.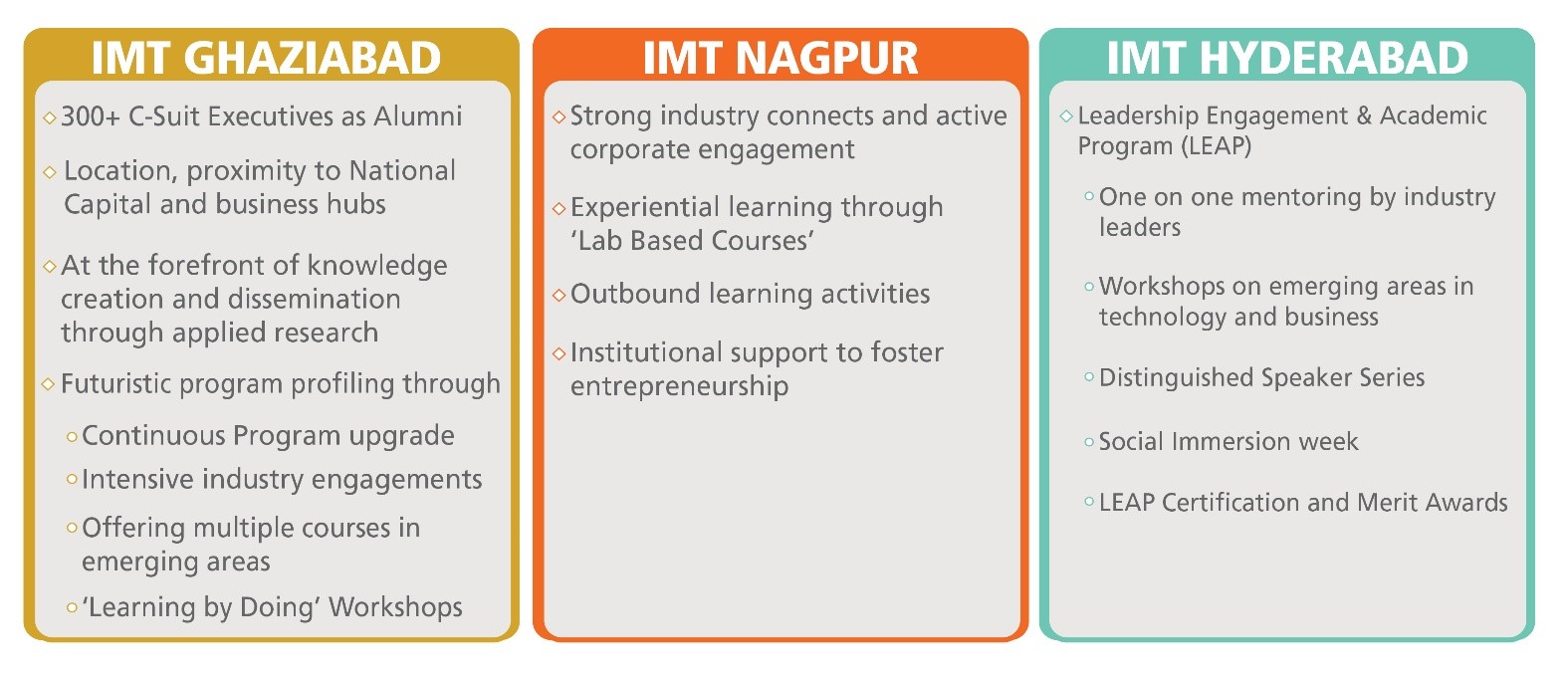 New Initiatives at IMT for Admissions 2021
IMT campuses in India keep undertaking new initiatives in multiple domains and dimensions. Following are some of the new initiatives planned for the PGDM batch of 2021-23.
INTERNATIONAL CERTIFICATION PROGRAMS

A number of online certi­ficate courses offered by elite institutions of the world will be made available to the students during the two years' program duration. Students of PGDM batch 2021-23 can opt for one certi­fication course, sponsored by IMT, among the wide choice of certification courses which will be made available to the candidates. Candidates will choose their final certification program based on the specialization area they are interested in by in depth discussion with faculty mentors.

GLOBAL CONNECT WEEK

The students of PGDM batch 2021-23 will have an option of participating in an international immersion module, titled 'Global Connect Week', in Europe/ Asia/Middle East/ Australia/ US as part of their coursework, which will be partly or fully sponsored by IMT based on destination. The module would aim at providing industry exposure, networking activities, professional development workshops, informal cultural immersion etc.

INTERNATIONAL FACULTY

IMT has active Student and Faculty Exchange Programs with 52+ institutions across the globe. As part of the Global Connect Initiative, IMT would be inviting faculty from reputed partner and non-partner institutes across the world to deliver unique and cutting edge courses at its three campuses. IMT plans to have a 5% of course curriculum to be delivered by International Faculty in the upcoming year.
SCHOLARSHIPS AT IMT
IMT will offer the following Scholarships to the eligible students of its Full Time PGDM Programs, Batch 2021-23.
1.Smt. Leela Nath Memorial Scholarships for female candidates (all campuses)
2.Merit scholarships for candidates with high scores in Admission Tests (IMT Nagpur and IMT Hyderabad)
3.Scholarships to students belonging to EWS category (all campuses)
1.Shri Mahendra Nath Memorial Scholarships (all campuses)
Selection process:
IMT will conduct the Common Admissions process in February and March 2021 for shortlisted candidates from IMT Common Application form for the final selection process. There will be one Common Application form for IMT Ghaziabad , IMT Nagpur & IMT Hyderabad campus.
Both merit and campus score cut offs will be the basis of selection for IMT campuses, i.e. Ghaziabad, Nagpur and Hyderabad.
Application Process:
Candidates must fill in the online Common Application form available at

www.imt.edu/admissions2021
CAT-2020 OR XAT-2021 OR GMAT (1st January 2017 – February 28, 2021) OR CMAT 2021 (Nagpur & Hyderabad only) score.

Application fee of Rs. 2000/- plus applicable bank charges *
*For more details please visit www.imt.edu/admissions2021
Important Dates:
Online Application form opens: September 14, 2020
Last date of submission of filled-in application form: November 27, 2020
Common Admissions Process - February – March 2021
Stay informed, Stay ahead and stay inspired with MBA Rendezvous