For 26 years now, Goa Institute of Management has consistently been at the forefront of industry excellence, nourishing student communities to bear the torch of conscious leadership. The unique qualities that the students of the institute have to offer have attracted organizations across a multitude of sectors.
The recruiters have been offering diverse/up-skilled profiles over the years, as they come back every season deepening their relationship with GIM.
PGDM:
The two-year full-time PGDM is the Institute's flagship programme. The PGDM is accorded NBA accreditation and equivalence with Master of Business Administration (MBA) Degree of an Indian University. The main objective of faculty members is to help students develop qualities and internalise values which make for effective organizational leadership. This involves much more than just the knowledge of specific theories and models.
PGDM Placement Highlights 2019-20:
Sector Wise Placements: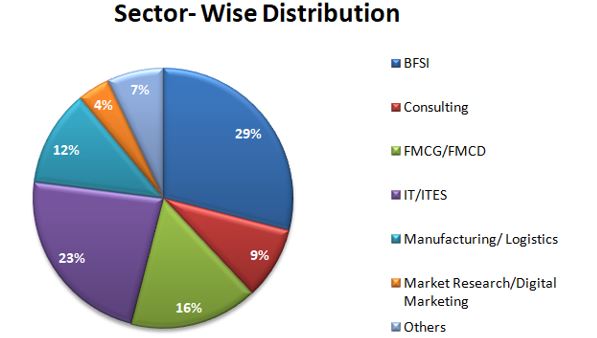 | | |
| --- | --- |
| Package | LPA in INR |
| Highest CTC | 25.6 LPA |
| Median CTC | 11.4 LPA |
| Average CTC | 11.72 LPA |
| Average Salary of top 20 | 20.27 LPA |
| Average Salary of top 50 | 16.62 LPA |
| Average Salary of top 100 | 14.54 LPA |
PGDM Summer Internships 2019-20: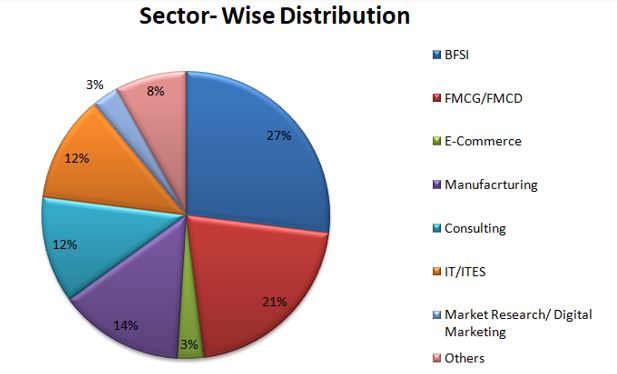 | | |
| --- | --- |
| Stipend | Amount in INR |
| Highest Stipend | 2, 00, 000 |
| Median Stipend | 60000 |
| Average Stipend | 70000 |
Marketing:
The students majoring in Marketing enjoyed a multi-pronged approach to internalizing desired core competencies for careers in Product Marketing, Consulting and Strategic Marketing Management among others. The electives taught through a combination of guest lectures, industry leader interactions and case study analyses have strong relevance in the current market scenario. An interactive brainstorming approach to real-world problems/cases is taken to deliver experiential learning in classrooms. Top Recruiters were AO Smith, Asian paints, Reliance Industries Ltd., PUMA, METRO and many more.
Average CTC: 11.70 LPA
Highest CTC: 24 LPA
Finance:
The specialisation at GIM is a springboard to careers in financial services, corporate finance and international banking. The general management curriculum combined with the case method hands out an immersive learning experience to the students. The coursework examines the role of finance in supporting the functional areas of a firm and fosters an understanding of how financial decisions themselves can create value. The top recruiters were Barclays, HSBC, AXIS Bank, EY, SBI Card, HDFC Bank and many more.
Average CTC: 11.87 LPA
Highest CTC: 26.6 LPA
Human Resource:
The OB & HR function at GIM is composed of a faculty team with expertise in Human Resources Management, Industrial Welfare & Labour relations, Organizational Design, Interpersonal &Group process and Psychology. The specialization offers elective courses which cover diverse topics such as HR analytics, Diversity Management and Retention Management. Faculty members with doctoral degrees from the best management schools in the country, they actively contribute to the area's knowledge pool through publications, researches, consultancy, MDPs and case studies. The key recruiters were Cognizant, Deloitte, IBM, Infosys, Godrej, Hezagon, Micheal Page and many more.
Average CTC: 11.42 LPA
Highest CTC: 24 LPA
IT/ITES:
Information Technology and Operations Management are two tightly integrated functional areas in all manufacturing and service firms. This cross-functional specialisation is designed to satisfy the need in the industry for MBA certified candidates with in-depth training in both functions. This course enables students to develop the skills and concepts needed to ensure the ongoing contribution of a firm's operations to its competitive position. It helps them to understand the complex processes underlying the development and manufacture of products as well as the creation and delivery of services. The key recruiters were Accenture, Deloitte, Diageo, Reliance, TATA Advanced Systems, Mindtree, Vedanta, and many more.
Average CTC: 11.78 LPA
Highest CTC: 24 LPA
PGDM Healthcare Management:
The Healthcare Management programme (HCM) of Goa Institute of Management, is a highly sought after programme by those who wish to make a fulfilling career in management of healthcare organizations. The programme was started in year 2013 and within a short span of 5 years has positioned itself much ahead of any other healthcare management programme in Asia.
Placement Report 2020:
| | | | |
| --- | --- | --- | --- |
| Package | Batch: 2018-2020 Size: 60 Students | Batch: 2017-2019 Size: 60 Students | Highlights |
| Highest Package | 25 LPA | 23 LPA | 8.7% |
| Average Package | 10.1 LPA | 9.5 LPA | 6.3% |
| Average Package: Top 10% Students | 16.2 LPA | 15.2 LPA | 6.6% |
| Average Package: Top 20% Students | 14.4 LPA | 12.9 LPA | 11.6% |
Summer Internships 2019-20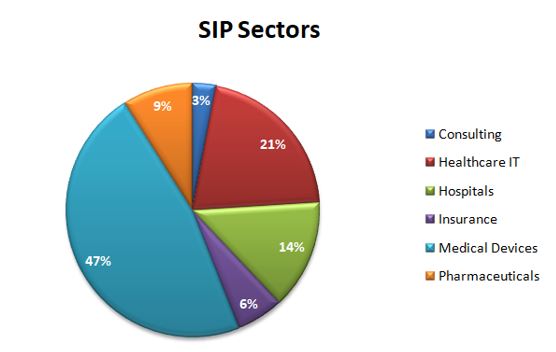 | | |
| --- | --- |
| Stipend | Amount in LPA |
| Highest Stipend | 1,60,000 |
| Average Stipend | 46,498 |
Prominent Recruiters:
Genpact, Tech Mahindra, Narayana Health, Infosys, Cadila Pharmaceuticals, BOSCH, Citius Tech, Pharma ACE, HGS, e-Vaidya, INTAS, Johnson & Johnson and many more.
PGDM Big Data Analysis:
Big Data Analytics (BDA) has created a new paradigm of facts-based or data-driven decision making in the area of management. The world of business has recognized its prowess and many companies have already adopted it in varying degree. But BDA is not confined only to businesses and it holds huge promise to serve governments in policy formulations as well. GIM in its 25th year of operation has decided to make its foray into this area.
Placement Report 2020:
| | |
| --- | --- |
| Package | LPA in INR |
| Highest Salary | 16 LPA |
| Average Salary | 12.25 LPA |
| Median Salary | 11.20 LPA |
| Top 10% | 15.25 LPA |
| Top 30% | 13 LPA |
The roles offered to the students by industry include Data Analyst, Business Analyst, Data Scientist, Data Mining and Visualization Expert, Risk Analyst, Market Analyst, Financial Health Analyst, HR Analyst and Data Scientist.
Summer Internships 2019-21
Continuing the legacy of the preceding batch, Summer Internship for Class of 2019-2021, comprising of 117 students, has also seen 100% Summer Internship Placements across different sectors and with various dynamic roles in analytics industry.
| | |
| --- | --- |
| Stipend | Amount in INR |
| Highest Stipend | 75000 |
| Median Stipend | 30000 |
| Average Stipend | 37500 |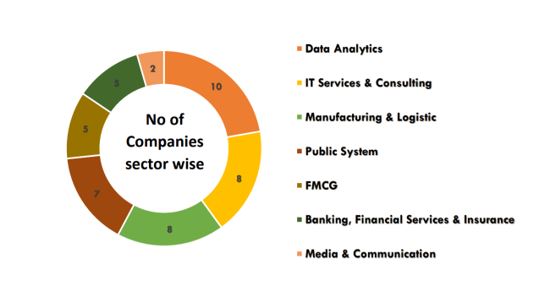 Final Placement Process:
Pre-placement talks: A pre-placement talk provides companies with an opportunity to increase their visibility on campus. The company also gets a chance to interact with prospective employees, as well as throw light on various aspects of profiles being offered by them.
Placement week guidelines: A company interested in participating in the final placement process must register with the placement cell. The company must indicate their preferred dates for the pre-placement talks and final interview at the time of the registration. GIM will then assign and confirm the campus interview dates for the registered companies.
Allotment of slots: A company will be given a slot of 8 hours on a day. The allotment of the day and slot shall be done on the basis of the following parameters:
• Batch feedback
• Past relationship with GIM
• Company reputation
• Salary offered
• OB profile
• No of positions on offer
Summer Placement Process:
As part of the curriculum, each student takes up live projects with a company for a period of 8-10 weeks, after the completion of the first year
Summer internship policy: A student can apply to any number of companies. Once an offer has been made, the student has to accept that offer. Students cannot withdraw from the selection process of a company once applied to. However in the event that student has received an offer in another company, before the result of the current process is announced; they will have to accept the offer that was made first.
Pre-placement offers: Pre-placement offers made by the company are to be routed through the placement cell. Any company keen on making a PPO may get in touch with the placement cell.
Communication of offers: All final offers made to successful candidates are to be communicated through the placement cell only
Stay informed, Stay ahead and stay inspired with MBA Rendezvous