IFMR Graduate School of Business (formerly Institute for Financial Management & Research) was established in 1970. IFMR college is a different kind of business school. The curriculum offers a mix of theory with simulated real-life exposure and endeavours to shape business practices through inventive, sharp thinking and cutting-edge research.
The journey of nearly 50 years has been steered by some of the best minds from academia and industry, creating immense value for the economy and society at large. At IFMR GSB, it is ensured that students gain a sense of stewardship—not just of enterprises, but also of the human, financial, material, and natural resources that must be sustained for posterity.
IFMR GSB Highlights
A legacy of 50 years.
IFMR has been accredited by SAQS (South Asian Quality Assurance System) for a period of five years from 2017.
Faculty Members at IFMR represent a healthy mix of academic expertise, research focus and industry knowledge.
Diversified class profile.
A 40 acre fully residential green campus.
Highest Package (2018-20)- 13.6 LPA
IFMR GSB Important Dates
Name of the Process

Round-1

Round-2

Application opens

26 October 2020

Application Deadline

15 March 2021

07 April 2021

Release of shortlist for WAT and PI

24 March 2021

14 April 2021

WAT and PI dates

28 – 30 March 2021

22 – 25 April 2021

Registration, orientation and preparatory courses

29 – 30 June 2021

Term 1 classes begin

01 July 2021
*Above dates are tentative and are subject to change
IFMR Courses
| | |
| --- | --- |
| Program | Duration |
| MBA Program | Two-year Full-Time |
IFMR Eligibility
S.No.

Parameter

Eligibility Criteria

1

Date of Birth

Between 01 Jan 1994 and 31 Dec 2001

2

Class X

60%

3

Class XII

60%

4

Under Graduation (UG)

60%

5

Work Experience (optional)

0-36 months

6

Competitive Exams

Percentile

CAT

75

XAT

75

NMAT

80

CMAT

85

GMAT

85

GRE

85
Graduates of full-time degree course and candidates in the final year of the undergraduate degree can apply.
Candidates from ODL (Open and Distance Learning) institutions are also eligible to apply as per the UGC policy and notification.
Applicants must have valid scores of one (or more) of the competitive exams as mentioned in the eligibility criteria. From among the entrance exam score given by the applicant, the best score will be considered subject to meeting the eligibility cut off.
Work experience is not mandatory. The admissions process comprises of two rounds i.e. Round 1 & Round 2, wherein candidates having work experience between 0 – 36 months can apply in either of the rounds.
IFMR GSB Selection Process
There are two stages in the selection process:
All the parameters (qualifying parameters) as mentioned in the eligibility criteria section will be considered while screening the application to shortlist candidates for WAT and PI
The shortlisted candidates are intimated through E-mail / dashboard of the application portal with the details of WAT and PI schedule
Written Ability Test (WAT) and Personal Interview (PI)
WAT and PI are conducted on the same day. The mode of WAT and PI process will be updated at a later date
4 Simple steps to apply
Create Your Login:
Create your log in by filling details like your name, email address, mobile number, state and city/town at https://ifmrgsbadmissions.krea.edu.in/

Fill Application:
Fill your personal and academic details

Pay application fee:
An application fee of Rs. 1500 is to be paid.
Candidates need to pay application fee either through Credit/Debit Card or Net Banking.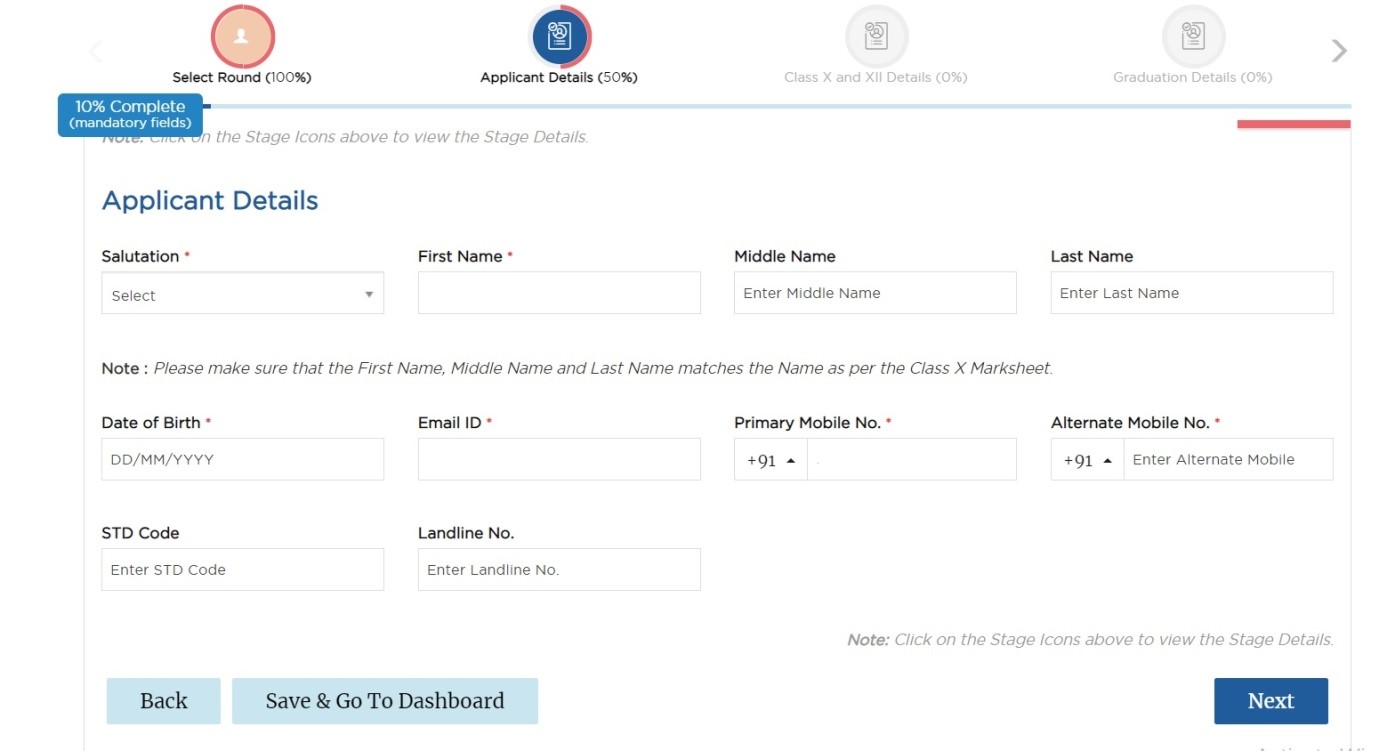 4. Upload Documents:
Upload documents like score cards of the competitive exams mentioned earlier.
Fee Structure & Payment Schedule
The tuition fee for the IFMR programme is INR 13,86,000/- (Rupees Thirteen lakhs and eighty-six thousand only). Details of other fees and the payment schedule are as follows:
S No.

Fee Description

Amount in INR

Tentative Timelines for payment

1

Tuition Fee: 1st Instalment inclusive of Admission Acceptance Fee:

a. Admission Acceptance Fee

27,500

To be paid when accepting the offer

b. Balance First Instalment Fee

3,19,000

2

Refundable Caution Deposit

25,000

15 June 2021

3

Year-1 Living Fee (Boarding & Lodging Charges including
laundry charges up to INR 500/- per month)

1,60,000

15 June 2021

4

Tuition Fee: 2nd Instalment

3,46,500

30 November 2021

5

Tuition Fee: 3rd Instalment

3,46,500

30 June 2022

6

Year-2 Living Fee (Boarding & Lodging Charges including
laundry charges up to INR 500/- per month)

*Indicative amount subject to revision based on the inflation and
other costs

1,71,200 *

30 June 2022

7

Tuition Fee: 4th and Final Instalment

3,46,500

30 September 2022
Note:
The fee mentioned above is inclusive of tuition fee, provision of course materials, library, IT support, alumni association membership, course related software licensing cost etc.
Medical insurance charges are part of the living fee.
The fee does not include any laptop charges. Student is required to bring his/her own laptop.
The MBA Programme is residential and hence staying in hostel is mandatory. The hostel is located inside the University campus in Sri City.
Fee payment should be made through online only.
Refund policy
IFMR GSB Krea University's refund policy conforms to the norms set by UGC and is in accordance with the University Grants Commission (UGC) Notification on "UGC Notification Reg.: Refund of Fees and Non-Retention of Original Certificates", which was published on their website on November 2, 2018.
S.No.

Percentage
of refund
of fees

Point of time when notice of withdrawal
of admission is received by IFMR GSB

Withdrawal request
to be received on
or before

1

100%

15 days or more before the formally-notified last
date of admission

17 June 2021

2

90%

Less than 15 days before the formally- notified last date of admission

18 June – 01 July 2021

3

80%

15 days or less after the formally-notified last date of admission

02 July – 16 July 2021

4

50%

30 days or less, but more than 15 days, after
formally-notified last date of admission

17 July – 01 August 2021

5

0%

More than 30 days after formally- notified last
date of admission

02 August 2021
Note:
Notified last date of admission is July 1, 2021
An amount of 5% of the fees paid by the student subject to a maximum of INR 5,000/- towards processing charges will be deducted from the refundable amount before making the refund wherever applicable. This is applicable only to applicants in the category of S.No.1 in the above table
Caution Deposit of INR 25,000/- will be refunded at the time of graduation from IFMR GSB or withdrawal of admission, subject to recoveries, if any, pending from the student.
Living fee will be refunded after deducting the applicable amount based on occupancy in the campus.
Applicants who wish to withdraw should send the duly filled-in and signed Withdrawal / Refund Request Form along with a scanned copy of cancelled cheque to

[email protected]

. The date of receipt of mail, with the filled-in signed form and cancelled cheque by the Admissions office, will be considered for the calculation of refundable amount. The amount shall be refunded to the eligible student within fifteen working days from the date of receiving the mail.
IFMR GSB Placements
Top organizations from the business sector, PSUs, state and central governments, NGOs, and multilateral agencies participate in IFMR placements. Over the years, IFMR in Chennai has shown tremendous results in placements.
Key recruiters:
BFSI: Aditya Trading Solution, IDFC First Bank, JP Morgan Chase, ICICI Prudential Life, Standard Chartered, Satya Microfinance, Royal Bank of Scotland etc
Consulting: Deloitte USI, Ernst & Young, KPMG, TBRC
IT: Accenture, AMS India, Arrka, Care Risk Solution
Others: Double Town, Intellipaat, Nielsan, Philips
Batch Profile:
With batch size of 175, the profile of 2019-21 is as follows:
MBA Rendezvous wishes all the best to the readers for future endeavours.