The Institute of Rural Management Anand (IRMA) is a realisation of the vision of Dr. Verghese Kurien, known as the 'Father of the White Revolution in India.' He founded this institute to bring professional competitive management executives to the rural sector and revolutionize it. With this aim in mind, IRMA has been functioning since 1979, giving an opportunity to its students to solve real issues of the grassroots in a sustainable manner.
Admissions are Open for PGDM (RM-X) 2023
Focus of IRMA
Understand practical management issues in the rural sector.
Bring professional management approach to rural sector.
Bring about sustainable, environment friendly changes to the grassroots level.
Provide students with the best environment to pursue their course, research by tapping into the institute's collaborations with governmental, non-governmental and international organisations.
Instil the right values and ethos in students and nurture ethical leadership qualities in them.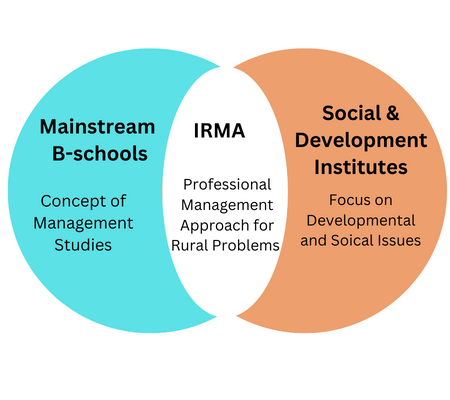 Innovative PGDM (RM-X)
IRMA caters to the requirements of working executives through its PGDM (Rural Management-Executive or RM-X). This course has been designed to enhance and enrich the professional lives of working executives.
The course is suitable for executives who want to update themselves and move into managerial roles. Through this course, they can expect to gain a deeper understanding of the challenges faced by organizations working in the rural sector.
The course involves rigorous hands-on learning and the executives are exposed to the scenario in the rural areas and ways to bring in their management acumen to solve real organisational problems.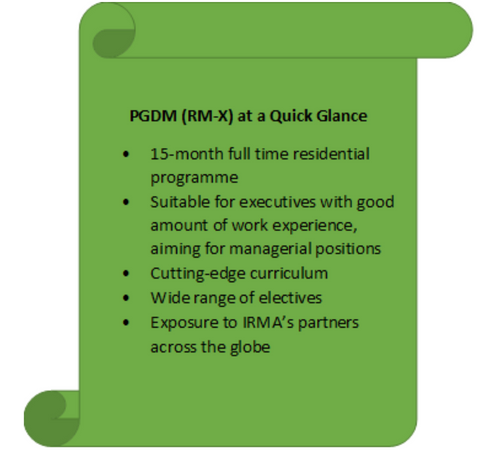 PGDM (RM-X) Structure
PGDM (RM-X)
Classroom Segment
Village Fieldwork Segment
Project Work Module
Classroom Segment
Four terms comprising 84 credits.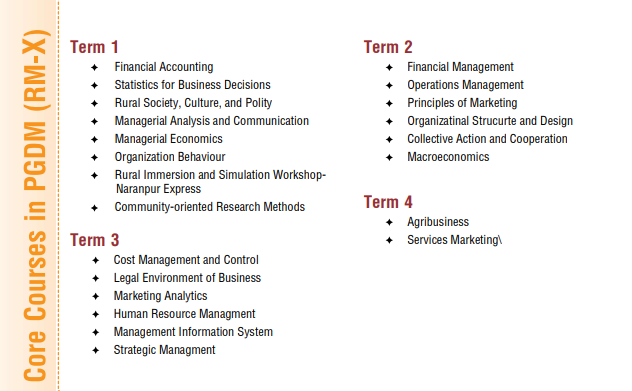 Some of the Elective Courses offered are: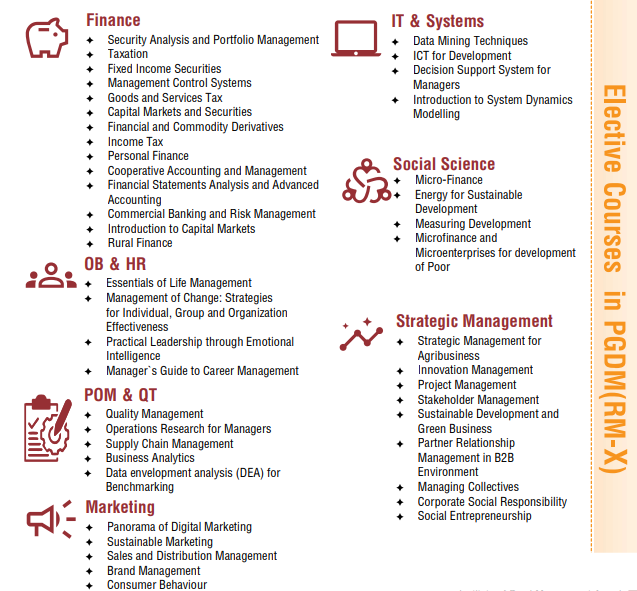 Village Fieldwork Segment
Aim is to expose students to the realities of rural sector.
Students are divided into small groups and sent to various rural areas, located in different parts of the country.
Each group is attached to a host organisation.
Students explore the rural area and conduct small activities under the purview of the host organisation.
IRMA Faculty members closely monitor each group.
Project Work Module (PWM)-Internship
Each student is expected to take part in this internship. This project involves extensive fieldwork and offers experiential learning opportunities to students.
Students work on real problems of an organisation and provide a solution.
It is similar to a consulting project, where candidates work on an issue identified by a client or organization sponsoring the candidate.
Check IRMA PGDM (RM-X) Brochure : https://irma.ac.in/pdf/admission_bro/PGDMRMX_2023/mobile/index.html
Success of PGDM (RM-X)
Participants of PGDM (RM-X) have been receiving good placements in managerial roles from various organisations. The average package offered to the second batch stands at INR 13.67 LPA. The following reputed organisations have shown faith in the students of IRMA.
| | | |
| --- | --- | --- |
| Samunnati Financial Services Limited | ITC Limited | Gujarat Cooperative Milk Marketing Federation Limited |
| TVS Srinivasan Service Trust | Jai Kisan | Ambuja Cement Foundation |
| Sunblaze | Banas Diary | Amul Diary |
Students have been hired for roles such as Project Manager, Account Manager, Senior Executive, Country Operation Head, Marketing Manager etc.
PGDM (RM-X) is a golden opportunity for working executives to upgrade themselves and acquire the skills that will lead them into better professional roles.
Stay informed, Stay ahead and Stay inspired with MBA Rendezvous.