Amidst the peak of the pandemic, Peloton stood proudly at the summit of success. Its stock soared to a staggering $171 per share, and its market capitalization reached an impressive $50 billion. The world seemed captivated by its offerings, and the future appeared limitless.
However, as the calendar flipped to 2022, a cascade of challenges struck Peloton like a sudden storm. Over 5,000 employees were laid off, a quartet of top executives departed, and rumours swirled of potential acquisitions by industry giants such as Amazon, Apple, and Nike. The company's once-soaring stock plummeted, plunging far below its initial IPO price of $29 per share, and even bottoming out at a mere $6.62.
This dramatic reversal of fortune marked the culmination of various factors, including the waning allure of at-home fitness and a series of logistical blunders. The year 2023 further darkened the horizon, as Peloton faced the prospect of its first-ever dip in subscriptions and grappled with a significant recall of its original bike model.
To rekindle its once-bright business flame, Peloton set its sights beyond the at-home fitness realm. The company charted a course to collaborate with businesses, incentivizing them to incorporate Peloton into workplace benefits and introducing its equipment to local gyms, apartment complexes, and hotels. The goal was to cast a wider net and regain its lost momentum.
Let me take you back to the beginning of this tale. In 2012, a group of ex-IAC employees came together to birth the concept of Peloton.
Among them were John Foley, Hisao Kushi, Tom Cortese, Graham Stanton, and Yony Feng.
Although Foley had conceived the vision, his fellow co-founders brought it to life during his absences as they secured funding and crafted the company's trajectory. Before Peloton, Foley had helmed Barnes & Noble's e-commerce division.
The initial iteration of Peloton's exercise bike was far from glamorous. It was a far cry from the sleek machines found in upscale fitness studios. One of the company's first instructors, Jenn Sherman, recounted the rudimentary setup, where a rusty bike stood surrounded by black velvet curtains with a camera poking through a makeshift hole.
Despite these humble beginnings, Peloton found its early advocates, and Foley tirelessly pitched his vision to investors, weathering thousands of rejections.
Finally, after cobbling together support from over 200 angel investors, Peloton released its first bike on Kickstarter in 2013. Its initial offering price was $1,500, and the company's growth trajectory gained momentum. Peloton's instructors and its growing selection of high-intensity classes garnered a devoted following.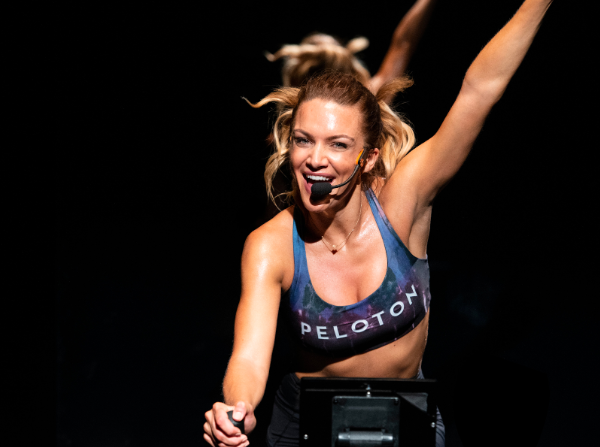 The company's valuation swelled, and by 2019, it had already sold more than half a million bikes and treadmills combined.
However, the road to success wasn't devoid of bumps. A controversial holiday advertisement in 2019 triggered a public relations fiasco, and Peloton's stock took a hit. Yet, the pandemic that emerged in early 2020 acted as an unexpected catalyst for Peloton's meteoric rise. Confined indoors, people sought solace in Peloton's virtual classes, driving both sales and subscriptions to unprecedented levels. The company celebrated its first profitable quarter and seemed poised for eternal growth.
Yet, beneath the surface, cracks were beginning to appear. Peloton's logistical machinery struggled to cope with the surge in demand, and the pandemic's disruptions rippled through the supply chain. Reports of broken pedals and delayed repairs marred the user experience. The company's response to these issues drew criticism, and eventually, a massive recall was initiated for tens of thousands of bikes.
As the pandemic's grip loosened, Peloton's allure waned. Rivals encroached on its territory, and the company's stock tumbled. Internal challenges, including labour disputes and tragic incidents involving its products, cast shadows on its reputation. Amid this turmoil, leadership changes and layoffs further rocked the boat.
The turning point came with the realization that Peloton had overextended itself. The company needed a course correction. A search for a buyer led to discussions with tech titans like Amazon and Apple. Peloton's stock surged in response, reflecting renewed investor optimism. Meanwhile, CEO John Foley relinquished his role, and a series of layoffs commenced.
In the midst of this upheaval, Barry McCarthy, a seasoned executive, took the reins as CEO. He acknowledged the challenges, pledging accountability and vowing to steer the company toward a comeback. Foley's ties to the company were severed, signalling a new era.
Peloton's journey continues into 2023, a year fraught with challenges. Financial losses and an impending decline in subscribers underscore the company's uphill battle. A significant recall, initiated due to safety concerns, further compounded the turmoil. But amidst this storm, Peloton's vision persists. It seeks to redefine its identity, moving beyond at-home fitness, and forging partnerships that might rejuvenate its fortunes.
In the face of adversity, Peloton stands at a crossroads, armed with the resilience to script a comeback story for the ages. As the world watches, the fate of this once-darling of the fitness world hangs in the balance.
Stay informed, Stay ahead and Stay inspired with MBA Rendezvous.