NMIMS Bengaluru successfully concluded the AD MAD and Best Out of Waste Intercollegiate Competition. The event saw the coming together of exceptionally talented and creative students from colleges across Bengaluru and the campus was abuzz with excitement.
Participating universities and colleges, including NMIMS Bengaluru, T John College, National Institute of Fashion Technology, Bengaluru (NIFT), International Institute of Information Technology, Bengaluru (IIITB), Indus Business Academy, Bengaluru, and International School of Business & Research (ISBR), brought their best to the competition.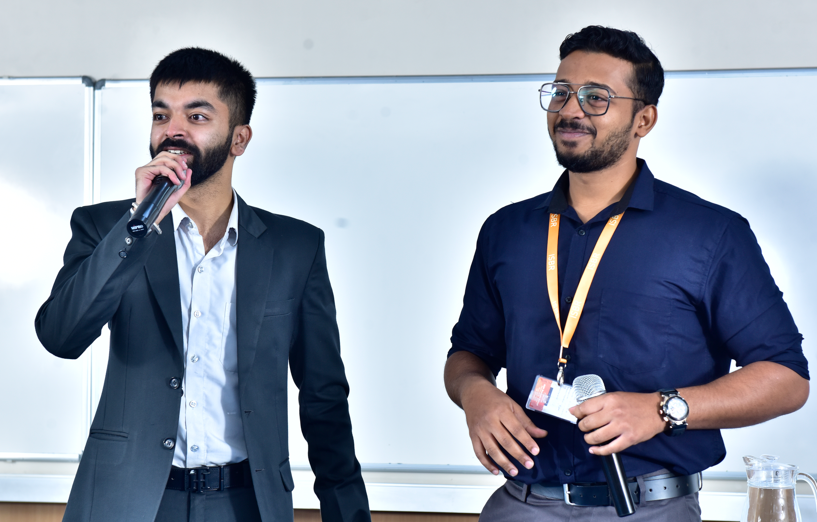 The AD MAD competition brought together teams of 3-5 students who showcased their advertising prowess with spontaneous creations on surprise topics. With a maximum of 15 minutes of preparation time, the advertisement performances ranged from 60 seconds to 3 minutes. Judges assessed participants on their spontaneity, content, topic adherence, on-stage presentation, coordination, and overall appeal. Participants captivated the audience with their originality and creativity, using various forms of advertising such as skits, jingles, slogans, banners, and innovative presentations.
In the Best Out of Waste competition, teams of 3-4 students displayed their resourcefulness by crafting innovative and useful products from household and stationery waste. The judging criteria included evaluating creativity, innovation, explanation, and utility. Participants demonstrated their commitment to eco-friendliness and sustainable practices.
The talented teams from the International School of Business & Research (ISBR) walked away with all the prizes in both the categories.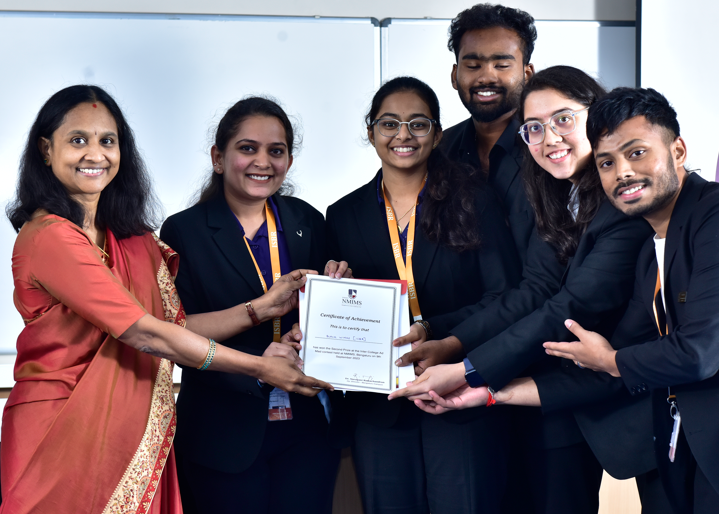 The three prizes for the AD MAD contest went to creatively named teams. The first prize went to Crux comprising Adarsh, Shivam, Saurabh, Vidhi and Ishika; the second prize went to Kushal, Surya, Somitha, Khushi and Avneet of Black Wings team and the third prize was won by the Stalwarts team consisting of Abhishek, Ishita, Mehak and Shiffan.
The three teams that won the Best of Waste contest were Tamanna, Samreen, Gnanasri and Shivangini of Prodigies team, Avishi, Tejal, Grishma and Bhagyashree of Upchay team and finally Kashish, Shreya, Akansha and Neha of the Trailblazers team.
The first three winning teams of the competitions were awarded cash prizes of Rs. 7,000, Rs. 5,000 and Rs. 3,000 respectively.
The atmosphere was filled with enthusiasm, collaboration, creativity and a commitment to promoting eco-friendly practices. NMIMS Bengaluru is proud to have hosted an event that encouraged students to think creatively and contribute to a sustainable future.
Dr. Narayani Ramachandran, Deputy Director, NMIMS Bengaluru, said, "AD MAD and Best out of Waste were not just competitions; they provided a stage for young minds to spark their creativity and imagination to craft memorable advertisements and innovate creatively with what we consider waste. I'm thrilled to witness the incredible talent and innovation showcased by these students. It was a pleasure to witness healthy competition and camaraderie among students of various institutes. We hope to conduct more such events to inculcate the importance of collaboration and collective growth."
Stay informed, Stay ahead and stay inspired with MBA Rendezvous