Indian Institute of Management, Kashipur successfully conducted its Annual HR-conclave 'Samanvaya'- Digital Chapter 4. The event was organized online via Zoom and was also streamed live on YouTube, keeping in view the pandemic situation around the globe. The event was based on the theme 'The Paradigm of 4.0'.   
The event began with a welcome of the honorary panel which included Mr. Rohan Ji Basotra, Head of Learning and Development, Jaquar Group, Ms. Sumi Sam George , HR Business Partnering Consumer Healthcare, GSK Consumer Healthcare India, Dr. Shashi Kant, Associate Director (HR), Flipkart, Mr. Srikanth Kalyanasundaram, Deputy General Manager Human Resources, John Cockerill India followed by the opening remarks of Mr. Jaskirat Singh, HR Business Partners, CARS24, an alumnus of IIM Kashipur.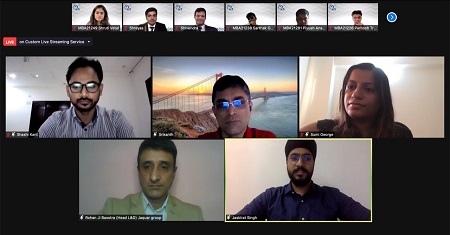 The panelists presented their views on the workforce challenges during the pandemic situation. Mr. Srikant commented that frontline workers learned new skills virtually to adapt properly in work from home culture, now they are implementing those practices practically in their offline space. He further said that the pandemic has created an atmosphere of self-directed culture with an increased movement from the missing mindset syndrome to the abundance mindset syndrome. Taking the discussion ahead Mr. Rohan highlighted the need to constantly adapt to new changes in the industry. He said that the impact of training is not always tangible but plays a crucial role in both the growth of a person and an organization. He talked about the human touch in business and stressed the importance of empathy towards employees and providing organizational support during crisis situations.
Many questions were raised on the changing industry trends on which Ms. Sumi reiterated the dual effects of the pandemic on employee relationships and highlighted the need to quickly shift to the hybrid model to create a balance in the working environment as many people are losing their productivity in the online mode. Presenting her views on upskilling, she talked about the need to identify the potential barriers in upskilling and then frame the solutions accordingly and cater to the needs of the target audience. When asked about ways to increase efficiency Mr. Shashi Kant said that organization management should include a process of constant feedback system every quarter and feedback must be taken from all stakeholders. This will provide valuable insights to the employee and keep him/her informed about all the important and necessary changes to be made in the working methodology.
The students posed several questions to the esteemed panel regarding the ongoing and upcoming trends of workforce management and the impact of ground-breaking technology on the skill development of employees and the use of analytics tools for the same. The speakers heavily appreciated the active participation of the students in the conclave.
Stay informed, Stay ahead and stay inspired with MBA Rendezvous.