Dare2Compete, one of India's largest student communities, has put all stakeholders of the B-School ecosystem under a single umbrella, with Dare2Compete Awards, where efforts of students, B-Schools, and Companies, are acknowledged and celebrated.
The event saw panelists from Asian Paints, ITC, HUL, Reliance, Flipkart, Mahindra, L'Oréal, Johnson & Johnson, JPMorgan Chase & Co, etc. discussing the pressing matters that every stakeholder in the ecosystem deals with. Ankit Aggarwal, Founder, and CEO of Dare2Compete asked some thought-provoking questions which instilled new energy and also bridged the gap between recruiters and candidates.
Dare2Compete revealed the rankings for D2C Competitive B-Schools 2021 virtually. The rankings were decided on the basis of students' meritorious performance in corporate campus engagements through competitions. The true mark of a B-School's success can be gauged on the basis of their students' performance against their peers across the nation. Located in the lap of the Himalayas, known for its lush green campus, IIM Kashipur has bagged the fourth position in D2C Competitive B-School Rankings 2021. With this, it becomes the only IIM in the second generation IIMs to appear in the top 10 ranks of this prestigious D2C Competitive B-Schools 2021.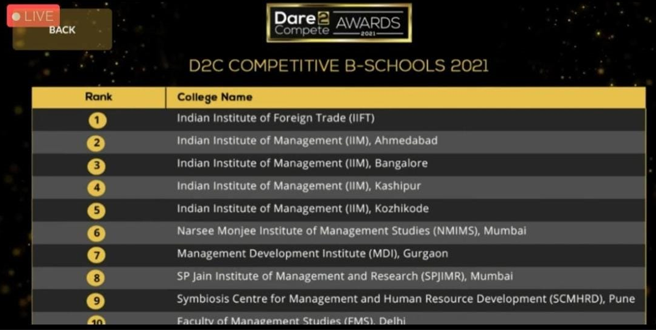 Students from IIM Kashipur are the proud achievers of National/International Winner trophies, first Runners Up and Second Runners Up titles by having glorified wins in L'Oréal Sustainability Challenge, Xiaomi Mi Summit 2.0, Virtusa Business Cipher Challenge, CarEasy Spark, TVS Credit Analytics challenge, and many more. The Institute encourages the students to work on case studies as it strongly believes that they help students develop various skills like problem-solving, teamwork, creative thinking, fact-finding, and mental agility, especially relevant for employability. Moreover, the case competitions help to create a lasting impact on students through the alchemy of the whole event – a true intersection of education and business thereby pushing the students to think outside the box and question the status quo.
An impressive bunch of 09 students have been ranked as one among the top 100 D2C Competitive Leaders of 2021. The institute has always strived to maintain a good track record in winning various prestigious competitions and maintained a legacy. The entire fraternity of IIM Kashipur hopes that such changemakers keep inspiring the student community and continue with the legacy of excellence.
Stay informed, Stay ahead and stay inspired with MBA Rendezvous