XLRI ExPGDM recently organised 'KRONOS'21',XLRI's flagship Human Resources Conclave. The theme for the two-day virtual conclave was "Re-defining the Role of Human Resources for the Future"
As the boundaries of HR have extended beyond horizons, the way HR practices are managed and run is becoming vigorous, agile, and embedded with digital interventions. The whole idea of work, workplace, and human resources has evolved in the prevailing covid pandemic. This conclave aimed at providing a platform and brought leading HR professionals and academicians to share experiences and insights on the ever-changing dynamics of the industry.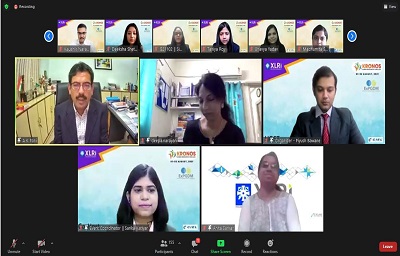 The conclave was inaugurated with the Dean Academics Dr. Ashish K. Pani's speech followed by a welcome address by Dr. Anita Sarkar, Chairperson, HRM Area, XLRI Jamshedpur and AN address by Chief Guest Ms. Deepa Narayan, VP, Employee Success at Salesforce on 'Rethinking HRM Amidst Disruptions'.
A keynote session followed the inaugural session Address by Ms. Rajlakshmi Saikia, Vice President, Global Learning Operations, Genpact on "Next-Gen HRM".
After the keynote session Ms. Sweta Mohapatra, Ms. Shriya Dutt, Ms. Monica Dhar, Ms. Puneet Rajput, engaged in a Panel Discussion on 'Decoding Diversity and Inclusion' and the session was moderated by Dr. Shreyashi Chakraborty, Chairperson, Centre for Gender Equality & Inclusive Leadership, XLRI. The discussion elaborated upon how Diversity and inclusivity differ from each other and is the need of the hour.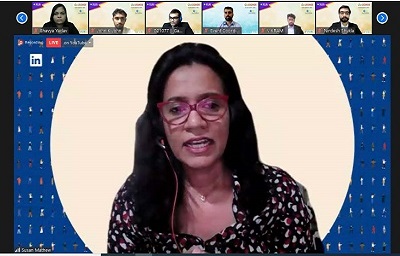 There was an Experience Sharing session by Ms. Susan Mathew, HR Head India, LinkedIn - Human Resources Planning During COVID-19.
Day one concluded with Experts ki Pathshala by Mr.Anish Raj, Director HR, Sentieo Mr. Vipin Sharma, Head HR – Strategy, Analytics, and HR Innovation Lab, Tata Steel.
The audience comprised an eclectic mix of professionals and students across various fields viz., IT, Manufacturing, BFSI, Construction, etc., faculty members, and guests.
On the first day, the conclave witnessed HR experts & leaders from various industries, which include Ms. Sweta Mohapatra, Associate Director HR, Fortune 500; Ms. Shriya Dutt, Director HR &India S/W HR Lead, Qualcomm; Ms. Monica Dhar, General Manager HR, Reliance Industries; Ms. Puneet Rajput, HR Head, Thermofisher Scientific; Ms. Rajlakshmi Saikia, Vice President, Global Learning Operations, Genpact; Mr. Anish Raj, Director HR, Sentieo; Mr. Vipin Sharma, Head HR – Strategy, Analytics and HR Innovation Lab, Tata Steel.
In the Inaugural address Dr. Ashish K. Pani, Dean Academics XLRI- Xavier School of Management, Jamshedpur, said, "On behalf of the institute, I invite all speakers, delegates, and students to KRONOS'21 Human Resources Conclave. XLRI is one of the best management schools in India, and the key characteristics that set apart XLRI from the other management schools are a quest for the best, never settle down with mediocrity, and always aspire to excel. Instead of expecting circumstances to change and become different, Magis-driven people either make them happen or make the most of them instead of waiting for the golden opportunity. The future CHROs would need to be both strategic and a brilliant tactician, brilliant mind in navigating the new normal. The new world of work with an HR movement will leads organizations with a growth survival and digital mindset. A tremendous opportunity, responsibility also provides leaders with guidance on the skills and capabilities needed to succeed as new roles continuously change and redefine human resources' roles for the future. . During this two-day conclave, students will learn many things that are happening in the world of HR and will get benefited from the topics discussed and the insights from them".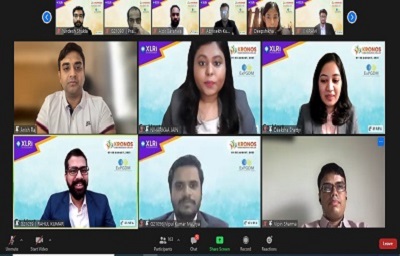 While speaking on the topic 'Rethinking HRM Amidst Disruptions' Ms. Deepa Narayan, VP, Employee Success at Salesforce, Said, "What happened to all of us a year and a half ago, covid came like whiplash, it nudged all of us hard to think, and it redefined our choices. Several of us are talking about how we can be optimistic and grounded with realities as the world we live in is completely altered. We came up with the life first principle, focusing on surviving and helping each other. We will have to drive business performance, but we will have to deeply listen to our people's feelings about driving business. The world going forward will require leaders that can blend courage and compassion".
During an Experience Sharing session by Ms. Susan Mathew, HR Head India, LinkedIn, she said, "The journey in the last one and half years during covid -19, the one function that has seen a very dramatic shift in purpose and process is Human Resources. The overall role of HR in the daily task performed by HR professionals have gone through some significant shifts, particularly because we not used to work remote, and we had to respond to working remotely during the Covid-19 Pandemic. HR Professionals had to guide their companies and employees through transition and learn how to be productive and successful in their own jobs. What is to be working from home, to be thrust into an unprecedented and unprepared situation. HR professionals had to learn how to adapt to tasks, skills and understand technologies. Reimagine how it works within the remote workplace and the remote workplace for us is not your office; it's your home. Suddenly to covert our home into our workspace and bring the same work feeling into that place is something that both employees and leaders were grappling within the industry".
On Day-2, started with the keynote session on 'Leadership Agility' by Mr. Suresh Narayanan, Chairman and Managing Director, Nestle India Ltd and 'How to be the best candidate for hiring?' by Mr. Anurag Patnaik, Head of Human Resource, Nestle.
The plenary address by Mr. Abhijit Bhaduri, Founder & CEO Abhijit Bhaduri & Associates, Leadership & Personal Branding Coach was on 'Careers in a Hybrid Corporate World' and a Heart-to-Heart Chat followed by plenary address with Ma Foi K. Pandiarajan, FounderMa Foi Management Consultant Ltd. and CIEL HR Services, reliving his journey from a small village boy to a successful entrepreneur.
The Day concluded with a Placement committee presentation on the Batch Profile and a vote of thanks by the Associate Dean Academics, Dr.Debashis Pradhan.
As keynote speakers Mr. Suresh Narayanan, Chairman and Managing Director, Nestle India Ltd, said, "There are four characteristics of Post pandemic world that are going to impact all of us quite significantly; one is the brush with uncertainty. Unfortunately, now we have got into the phase of acute uncertainty. The economic and social fabric is getting decimated quickly, so it is unbuilt, rebuilt, and unbuilt. There is uncertainty; this is not new to many of us, but the size, scale, and sustainability of uncertainty is a question at hand, and I think that is something that all of us will have to face. Second, inequality in the world is going up. The third is unpredictability, if uncertainty has a finite time limit, then predictability starts, but today it is unpredictable. The fact is that many of us in companies planning for 3 years, 5 years and6 years but in the current scenario, if we realize that the next quarter, the next week, the next month is itself in jeopardy and we are not able to predict it as we have in the past. So, the continuous algorithm that takes 10 lines and puts forward projections for the future is now increasingly redefined, and we also have a huge opportunity. I think that is what, as leaders, we need to look at. We have opportunities for new business models, new propositions, new services, opportunities to enhance the organization's footprint, and fresh engagements. All of these are findings a new paradigm for not only for work but also for the business that is coming up, and that is probably the most exciting part of this Pandemic is showing up".
"Agility is nimbleness and the ability to adapt yourself with speed, reassurance, and resilience to new circumstances. Agility comes in different contexts agility of mindsets, options, capability, and decisiveness. The capability of an agile leader post-pandemic is to be capable of changing the tires of a car while in motion; that is the agility of the leader. No business leader has the luxury to be able to stop everything and then will look at a new business model and new evaluation to come," he added.
Pointing out the 8As of leadership which would define some of the characteristics of leadership that leaders need to look at, Mr. Narayanan said, " Anticipation is looking through the telescope as a business leader, someone who is responsible for the fortunes of the organization, a leader who does not look through a telescope can lead his ship to hit the iceberg because he will not see it; our ability at micro-management is so high that we don't look at macro-management of what is coming ahead".
Stay informed, Stay ahead and Stay inspired with MBA Rendezvous