Latest Update:The Indian Institutes of Management will conduct a computer-based Common Admission Test 2023 (CAT 2023) on November, 2023 in three sessions.
Thousands of aspirants, eyeing the best Business schools in India, the likes of IIMs, which will kick-start their professional careers as managers, analysts and executives, must be looking out for the Common Admission Test (CAT) Notification. CAT is their opportunity to take the first step towards a successful career in business and management.
CAT 2023 exam remains the same with section as VARC, DILR and QA. It is important to know that CAT exam will test you for your quantitative skills and language skills besides your analytical and logical reasoning.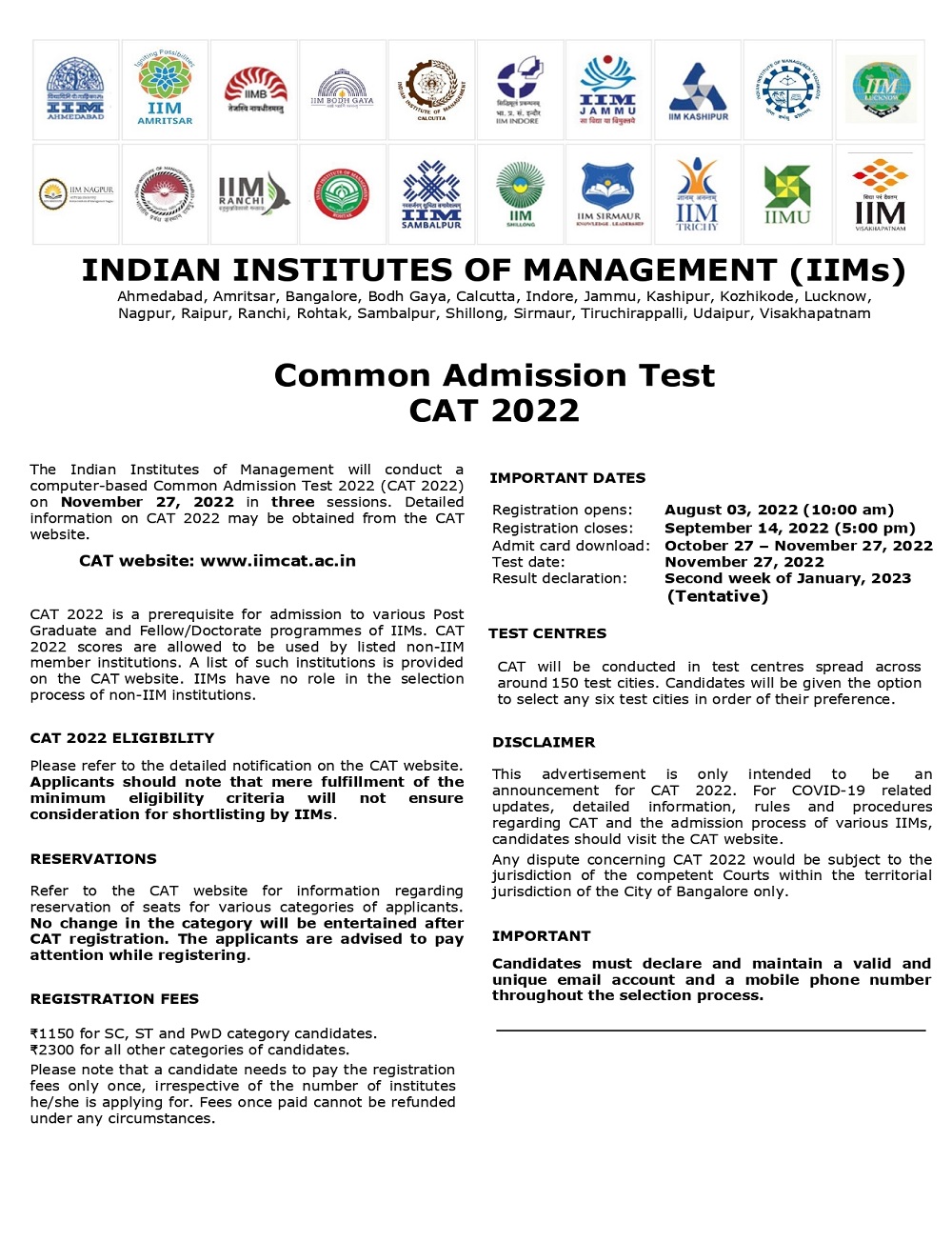 CAT 2023 Important Dates
The dates of CAT 2023 are as follows:
The online registration process for CAT 2023 will begin from August 2023. Once the application has been submitted and the payment been made, applicants can still make corrections in the form and check for any inadvertent error in fields like percentage of marks, work experience, and programmes selected, when the correction window opens sometime in the first week of October 2023. Once this is done, the applicants will be able to download their final admit cards.
| | |
| --- | --- |
| Notification release date | August 2023 |
| Registration commencement | August 2023 |
| Last date for Online Registration | September 2023 |
| Issue of Admit Card | October – November 2023 |
| CAT 2023 Exam date | November 2023 |
| Result Announcement | 2nd week of January 2024 (Tentative) |
About CAT
The Common Admission Test (CAT) is conducted by the Indian Institute of Management (IIM) on a rotational basis. It is one of the most competitive examinations in India and attracts graduates from all streams. It is also one of the most popular exams among commerce students, as CAT scores are accepted not just by the IIMs but also more than 100 top Business schools in India. The IIMs alone offer around 4000 seats to aspirants.
CAT is a computer-based exam, held every year. The exam comprises 100 questions, divided into 3 sections (Quantitative Aptitude, Verbal Ability and Reading Comprehension and Data Interpretation and Logical Reasoning), to be answered in 3 hours. The exam is conducted pan India in more than 147 cities.
CAT Notification 2023
The notification of CAT 2023 released on July, 2023. The CAT 2023 exam will be held on November, 2023.
Below are the dates showing Previous Years CAT Notification Dates
| Year | Notification Date | Exam Date |
| --- | --- | --- |
| 2023 | August 2023 | November 2023 |
| 2022 | 31st July 2022 | 27th November 2022 |
| 2021 | 1st August 2021 | 28th November 2021 |
| 2020 | 29th July 2020 | 29th November 2020 |
| 2019 | 28th July 2019 | 24th November 2019 |
| 2018 | 29th July 2018 | 25th November 2018 |
| 2017 | 29th July 2017 | 26th November 2017 |
| 2016 | 31st July 2016 | 4th December 2016 |
| 2015 | 26th July 2015 | 29th November 2015 |
Try CAT Latest Mock Test 2023
CAT 2023 is Online
The entire registration process, including the filling up of the application form and payment will happen through an online process. There is no provision for offline registrations as it has been scrapped by the conducting authority. There will be no CAT 2023 offline facility and the entire process will have to be done online. There is no separate CAT 2023 application form. The application form is a part of the online CAT 2023 registration process.
CAT 2023 Eligibility
Any graduate with 50% marks or equivalent CGPA (45% for candidates belonging to Scheduled Caste, Scheduled Tribe and Differently Abled categories) is eligible to give the CAT 2023 exam. Final year graduation students may also apply.
Candidates must look out for the details thourghly and understand the process thoroughly before submitting the form, to prevent any error.
Let us take you through the detailed information regarding CAT 2023 Eligibilty Criteria.
CAT 2023 Registration Fees
₹1150 for SC, ST and PwD category candidates.
₹2300 for all other categories of candidates.
Please note that a candidate needs to pay the registration fees only once, irrespective of the number of institutes he/she is applying for. Fees once paid cannot be refunded under any circumstances
However, for any query on CAT Exam, you may also email us at [email protected]
Stay ahead and Stay inspired with MBA Rendezvous