The CAT'22 exam is in November and only two days are left for the same. Here are some last minute tips for you from Mindworkzz Faculty members.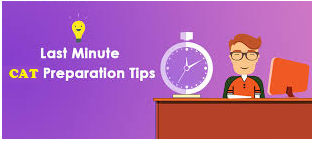 Don't give more attention to those topics which you have not studied in depth till now.

In Verbal Section, do the Previous year paper twice.

Analyze your mistakes with the solution, by keeping in mind the strategy to solve the Questions.

Don't push yourself too much, but revise key concepts regularly.

Practice at least one full-length mock paper daily for taking the test in one stretch.

Analyse mock papers carefully for identifying doable and non-doable Questions.

At this stage, trust in your final-tested strategy.

While taking Exam focus on attempting the correct questions.

Don't focus on increasing the number of attempts.

If you are guessing questions, do it only when you are 90% sure otherwise don't take a risk.

Divide each section in 10 to 15 minutes test and try to solve around 4-6 questions in each test and manage and adjust the time accordingly.

Scan 6-8 questions in the different divided test of 10-15minutes and figure out the 4-6 questions which you can easily do.

Don't forget to relax, be cool and enjoy the favorable time.

Finally, have great faith in your ability. Say regularly to you that " I am going to nail it".
"Your most trusted weapon should be self-confidence for doing better and better. We are sure that you will do much better than what you think about yourself…"
All the Best!!
Keep practicing…

Stay informed, Stay ahead and stay inspired with MBA Rendezvous