In a bid to encourage a spirit of innovation and entrepreneurship in the country, the Government of India under the leadership of Prime Minister Narendra Modi, launched a campaign in 2015. This highly successful initiative has seen India become a startup hub, with 15,667 startups being recognised under the Startup India programme.
What is a Startup?
The government defines a startup as an entity headquartered in India within seven years, with annual turnover not exceeding Rs 25 crore in any preceding financial year. The entity must be working towards innovating something new or towards improving the existing technology. Furthermore, the entity should be a new business and not formed as a result of splitting up or reconstruction of a business already in existence.
Startup India Action Plan
The government laid out a definite Startup India Action Plan. The highlights of this Action Plan are as follows:
Simplification and Handholding

Funding Support and Incentives

Industry-Academia Partnership and Incubation
With these three pillars, the other key points of the initiative include:
A funding pool with Rs 10,000 crore

A reduction in the registration fees of patents for new products and technologies

A 90-day exit window for entities going bankrupt

No Capital Gain Tax for the first three years of operation

No tax for the first three years of operation

An innovation hub to be created

A toll free helpline and quick email query resolution for startups
Registering Process
The government has made it convenient to register a startup with the following process:
i. Incorporate the business
The entity needs to be incorporated as a Private Limited Company/Partnership Firm/Limited Liability Partnership.
ii. Register with Startup India Portal
The entity must then be registered as a startup. The details are clearly mentioned on the Startup India website.
iii. Upload Documents
After registering on the Startup India Portal, the following documents will need to be uploaded:
A letter of recommendation

Registration certificate

Description of the business entity
iv. Decide about availing tax benefits or not
Startups need to be certified by the Inter-Ministerial Board to avail exemption from paying income tax for three years.
v. Self-certification compliance
The entity must self-certify if it meets all the conditions necessary to be a startup as laid down by the government in the Startup Action Plan.
vi. Recognition Number
Once all these steps are fulfilled and the documents are examined, a recognition number for the startup will be issued.
Indian Startup Ecosystem
India has the second largest ecosystem in the world. The following figure shows the leading startup destinations in India: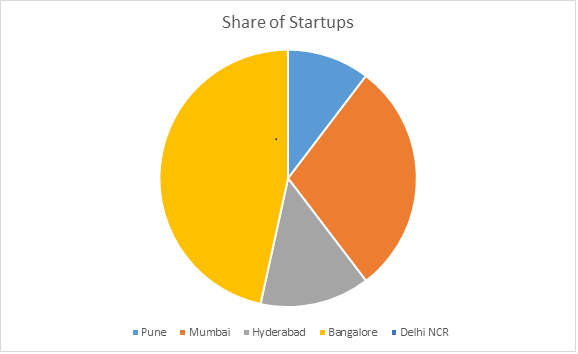 Startup India has created an ecosystem for entrepreneurship, as a result of which, a lot of funding from foreign investors such as SoftBank, Google and Oracle is coming into India. This initiative is helping generate employment in the country and enable India to become a country of entrepreneurs.
Stay informed, Stay ahead and Stay inspired with MBA Rendezvous