Important Information about IIFT 2021
Latest Updates: IIFT exam will be held in December 2020.
IIFT 2021 -
The Indian Institute of Foreign Trade (IIFT) 2021 entrance exam will be conducted by the National Testing Agency (NTA) instead of IIFT. The IIFT exam will be held on Sunday, in December 2020. It will be a computer-based test unlike previous years where it was a paper-based test. The IIFT 2021 will help you get admission to IIFT's MBA-IB (MBA in International Business) programme for both the campuses at New Delhi and Kolkata.
The National Testing Agency (NTA) was approved by the Union Cabinet chaired by the honourable Prime Minister of India Shri. Narendra Modi. NTA has been registered as a Society under the Indian Societies Registration Act 1860. It is an autonomous, specialized, and self-sustained organization that conducts the entrance exams for higher education institutions in India. NTA will now conduct all entrance exams that were earlier conducted by CBSE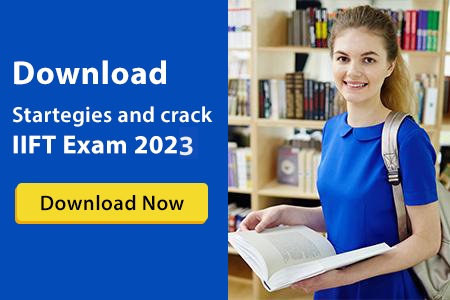 The MBA (International Business) is a foundational course for developing a competent cadre of business executives to meet the country's growing requirements for training personnel in the field of International Management. Candidates who wish to take admission into MBA (IB) have to appear for IIFT 2021 exam. Selected candidates will be called for further selection process which includes – Essay Writing, Group Discussion and Interview.
With no age bar to take IIFT, aspirants can dream to become employable for global businesses. IIFT campuses at Delhi and Kolkatta teach you international laws with general management with rejuvenated pedagogy so to give you latest case studies which impact industry both at India and globally.
IIFT 2021 Important Dates
As per the press release by NTA on their official website, the IIFT 2021 important dates are:
| | |
| --- | --- |
| IIFT 2021 Registration Window: | October – November 2020 (tentative) |
| IIFT 2021 Admit Card Download | November 2020 (tentative) |
| IIFT 2021 Exam Date | December 2020 (tentative) |
| IIFT 2021 Exam Result | December 2020 (tentative) |
IIFT 2021 Exam Eligibility
Recognized Bachelor's degree of minimum 3 year's duration in any discipline with 50% marks in Graduation (45% for SC/ST/PWD candidates).
Candidates appearing in the final year examination of Graduation can also apply subject to submission of proof of requisite qualification by October 2021.
There is no age limit for the candidates
Candidate who takes admission in the Programme on provisional basis but fails to secure the minimum percentage in the Bachelor's degree examination is liable for cancellation. Such candidate should immediately inform the Institute on declaration of his/her results. Candidates who do not inform the Institute of such a situation, their admission will automatically stand cancelled in October 2021. No request for extension of time for re-evaluation, etc. will be entertained.
IIFT 2021 Reservation
Seats are reserved as per Government of India rules. The reservations are subject to candidates meeting the admission requirement of the Institute under different categories.
MODE OF ADMISSION
For General/ Reserved Category candidates

Selection will be on the basis of Computer-based test, Group Discussion, Writing Skill Assessment and Interview.The test will be held in December 2020.

Based on the marks of IIFT 2021 exam, a limited number of candidates will be invited for second phase of selection process comprising Group Discussion, Writing Skill Assessment and Interview to be held at Ahmedabad, Bangalore, Chennai, Delhi, Hyderabad, Kolkata, Lucknow and Mumbai. IIFT reserves the right to add/delete any centre, if required.

For Foreign Nationals and NRIs


Seats are reserved for Foreign Nationals, NRIs and the admission is considered on the basis of General Management Aptitude Test (GMAT) score and interview.
Registration Process and Fee Structure
Starting 2021, the IIFT 2021 exam will be conducted by National Testing Agency. Students can get details from official NTA website and IIFT 2021 website i.e. www.iift.edu.
Application Fee
For General/OBC
Rs. 1,650
For SC/ST/PWD candidates
Rs. 825
For Foreign Nationals/NRIs
US$85/ Rs. 5,500
IIFT 2021 Exam Pattern/ Syllabus
The IIFT 2021 online test will be a multiple choice objective type test in English with questions from the following areas:
English Grammar,Vocabulary and Comprehension
General Knowledge & Current Affairs
Logical Reasoning
Data Interpretation
Quantitative Analysis
Note: Since IIFT 2021 exam will be conducted by NTA this year we can expect changes in the IIFT 2021 exam pattern. Stay tuned for latest updates.
Read More
IIFT Exam 2021 Test Centers in India
As per previous years, the IIFT 2021 test will be held in following cities. Since NTA is the official body conducting the IIFT 2021 exam, we can expect changes on this front. Stay tuned for latest updates.
Test Centres
Ahmedabad
Delhi
Allahabad
Guwahati
Bengaluru
Hyderabad
Bhubaneswar
Indore
Chandigarh
Jaipur
Chennai
Jamshedpur
Coimbatore
Kolkata
Nagpur
Lucknow
Kochi
Vishakhapatnam
Dehradun
Mumbai
Change of Centre
Candidates should be careful while opting for the Admission Test Centre. If they wish to change the opted Centre a fee of `1,000/- will be charged. No request for change of centre will be entertained after November, 2020.
IIFT 2021 Admit Card
As the IIFT 2021 exam will be conducted by NTA, the candidates should be able to download IIFT 2021 Admit Card from NTA's official website starting November 2020. Watch out for more details.
Passport
Election I-Card
Aadhaar Card
PAN Card
Driving License
College I-Card for appearing in the Exam.
IIFT 2021 Exam Result
Unlike previous years, the IIFT 2021 exam result will be announced by NTA on their official website within 10 days of IIFT 2021 exam. The result for IIFT 2021 will be announced in December 2020. Watch out for this space as NTA shares more details about the IIFT 2021 exam.
IIFT Previous Years Analysis
The IIFT exam for 2021 will be held in December 2020. Given below is the exam pattern of previous years.
Part
Sections
2016
2015
2014
2013
Section - 1
Quantitative Ability
20
22
20
25
Section - 2
Analytical & Logical Reasoning
22
20
20
20
Data Interpretation
22
18
15
19
Section - 3
Verbal ability
20
20
20
20
Reading Comprehension
16
16
17
16
Section - 4
General Awareness
25
28
26
28
The above table includes the Data for number of questions asked in the previous years for IIFT exam. Starting with the Quantitative Ability section, the no of questions was 25 in the year 2013. The questions for this section has certainly reduced in the year 2014, 2015, and 2016 – 20, 22, 20 respectively. For Analytical & Logical Reasoning, there has not been much change except for the last year the number of questions were 22 than 20 in the previous years. The number of questions in the verbal ability part has been constant since 2013 i.e. 20. There is not much variation for reading comprehension questions. The last section – General awareness, the number of questions were same for the year 2013 and 2015 i.e. 28.
Read More
IIFT General Awareness
Here we can have a quick look at how GK section has weighed in IIFT 2009, IIFT 2010, IIFT 2011, IIFT 2012, IIFT 2013, IIFT 2014, IIFT 2015 and IIFT 2016: -
| | | | | |
| --- | --- | --- | --- | --- |
| Exam Edition | Total Marks | Number of Questions | Marks per Question | Max Marks |
| IIFT 2009 | 8 | 20 | 0.4 | 8 |
| IIFT 2010 | 12 | 30 | 0.4 | 12 |
| IIFT 2011 | 10.5 | 21 | 0.5 | 10.5 |
| IIFT 2012 | 14 | 28 | 0.5 | 14 |
| IIFT 2013 | 14 | 28 | 0.5 | 14 |
| IIFT 2014 | 13 | 26 | 0.5 | 13 |
| IIFT 2015 | 14 | 28 | 0.5 | 14 |
| IIFT 2016 | 12.5 | 25 | 0.5 | 12.5 |
A candidate who has polished his or her skills of GK can have an edge over those aspirants who are not much aware of the current happenings. If you are good with general knowledge, you can quickly attempt these questions and gain some vital marks
Suggested topics for IIFT GK Section
Few important general awareness category worth revising are:
International Bodies, their functions, their chief personals and their offices. For instance; United Nations, IMF, BRICS, etc.
Major Sporting Events and Awards of the year like Olympics, Winter Olympics, CWG India, Asian Games, Tennis, Cricket, Football, Chess, Billiards, et
Major Political events
Other economy related events like FDI, FII, Stock Market, etc
IIFT 2021 Exam Tips
Students should have a disciplined study plan and must follow it. Starting with the basic fundamentals for all sections – Quantitative Ability, Data Interpretation and English Grammar.
Candidates should be careful while selecting the right option because sometimes the obvious answer is the wrong answer.
Candidates should strategize their time carefully so that they can attempt question of all the sections. Practice is the key to manage time. Candidates should practice as much as they can.
Candidates should be aware of their strengths and weaknesses. Try to strengthen the weaker sections and not avoid it.
Students have to maintain their speed while attempting the exam, starting an internal clock helps but it should not compromise with the accuracy of the selected options.
Reading obviously helps whether it's for vocabulary or reading comprehension part.
Try to be objective about the questions, students should read and filter out the best options
Entrance tests can be nerve wrecking, A day before test day, try to stay relaxed and avoid studying. Students should have faith and confidence in themselves. They should get enough sleep and reach the test center on time.
IIFT can transform you as employable globally
MBA in itself is a course that enhances your chances of being employed anywhere in the globe. It is designed in a way to give you maximum exposure to the business environment around the world, while also incorporating appropriate theories and case studies. But doing MBA from a good place does make a difference and gives a definite edge over your competitors and peers
Read More