Rendezvous with Dr. Rahul Singh
The team at MBA Rendezvous recently spoke with Dr. Rahul Singh, Chairman of Executive Programme (PGDM-Executive) at BIMTECH Greater Noida. He is also the Professor of Strategic Management, Globalisation and Emerging Market, and Professor and Chair of Strategy, Innovation and Entrepreneurship area. He shared his views on various facets of executive education:
Its relevance

It's pedagogy & curriculum

The opportunities it offers

USPs of BIMTECH's Executive MBA programme
Read on to find out more.
Team MBA Rendezvous : Since growth opportunity is the crucial concern of an executive then how executive education can fulfil that void of VUCA scenario?
Dr. Rahul Singh International markets like USA, UK, Germany, France, Singapore, South Korea have been accommodating to the changes in their economy and organisations by modifying their methods of manpower engagement. Organisations of these economies have scaled up in the value chain by innovating new products, markets, and platforms. They achieved this by placing:
Management graduates at lower functional levels

Executives with MBA at middle functional levels

Geographical leadership
Thus, executive education in management has become a mandatory professional requirement to grow from the higher middle level to the top level. Executive education helps you learn various models at the organisation, market, and business level. Indian economy and corporations are growing fast and expanding overseas. They need mid-level professionals who have the local market expertise and can present a global outlook. The Indian market is appreciating this change, and Executive MBA or Executive PGDM is becoming a necessary qualification to meet the immediate demands for the middle-level manpower strata.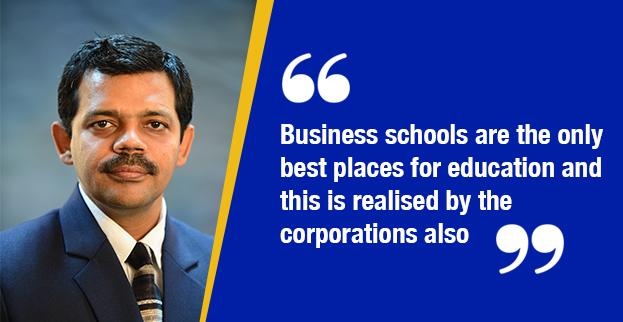 Team MBA Rendezvous : Fact is that companies prefer in house skill development for their executives then what is that pedagogy & curriculum of executive education which can add cutting edge?
Dr. Rahul Singh It is true that companies want to offer in-house training, but Indian companies are not ready for that. GE has implemented this model in the most effective manner and they reaped benefit since they had policy of in-house leadership development. TATA group follows similar practice to certain extent. Other Indian companies, which is a large pool, have left it on market as we are growing very fast. Secondly, the theoretical inputs, tools and frameworks, global exposure of faculty and learning tours, and an interaction of highly diversified group is not possible in a company training school environment. Business schools are the only best places for education and this is realised by the corporations also.
For specific skills, it is good idea to have the in-house programmes since it will be a specific requirement. This is must as, you also talked about, VUCA is making difficult propositions to remain competitive in the market. Indian IT industry is already struggling since they did not improve the skill set of their employees on global demands.
Team MBA Rendezvous : How an executive can manage the risk of losing present job & then looking forward to green pastures?
Dr. Rahul Singh For a full time degree, one has to undergo the call of present career graph vs long term professional plans. For an executive education with plan of ONE year / 15 months full time degree, one has to plan the career and invest in education for future. It is not a certificate training which will offer a salary hike. Anyone has to be mentally ready and strong and keen to invest in the career and life of self, no one else can do it or assure some outcome since this is very personal call in very personal setting.
If one is not able to move to call of full time executive education, the certificate programmes, which are usually less than 12 months, are the options. These programmes help the executives to become aware of the management principles and practices and help in career advancement in incremental way but are not able to move the ladder drastically.
There are many factors in the decision such as present employment, tuition fees, career plan, personal aspirations, functional profile shift, family issues and personal motivation. So, it's very personal call.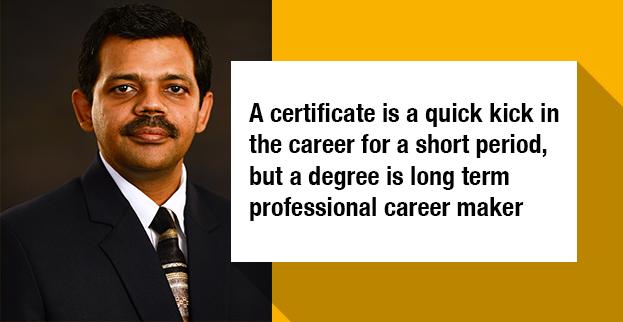 Team MBA Rendezvous : What can be the SWOT analysis of Executive program vs. certificate programme?
Dr. Rahul Singh Executive program is highly planned education strategy. Going to a business school for some is motivated by enhancing key knowledge and skills, developing a strong professional network, and accelerating career progression at different pace. The participating executives are already having rich work experience, so they are exposed to different level of courses and quality of interactions. One of the biggest advantages of this program are the global exposure, industry modules, peer learning and life long relationship, very engaged alumni network, and opportunity to interact and engage with some of best minds in faculty and experts.
This is not always present in a certificate program because the time and resources are limited.
However, the certificate programs offer an opportunity to enhance knowledge and engage in learning to change the status quo. This is also an opportunity to test about going to the next level and getting ready for the executive program in future.
Finally I would say, a certificate is a quick kick in the career for a short period, but a degree is long term professional career maker.
Team MBA Rendezvous : What can be the established USPs of executive programme offered under the aegis of BIMTECH?
Dr. Rahul Singh As I discussed above, we are very conscious of creating value in the academic degree program (which is post graduate diploma under AICTE, Ministry of HRD norms). BIMTECH's program is designed after a discussion of almost 200 CXOs over 4 years. The critical factors in designing the program are New Age Economy managerial skills, high academic rigour with applied knowledge, Indian expertise with global mind-set and exposure, industry ready professional approach, and a qualified person who could be independent operative and an effective communicator. This helps us in designing the program structure with courses like Leadership, Communication, Markets and Consumption, Fintech and Financial Services, Data Science, New Business Models, Business Transformation, Design Thinking etc.
The program at BIMTECH has high focus on hands-on learning through marketing simulations, strategy simulations, communication simulation, industry projects, CEO series and alumni mentoring. The case method pedagogy and simulation based knowledge integration is best model of establishing and testing the gained knowledge into practice; BIMTECH's programs have high emphasis on this.
You can always learn about the details of the program through the office of PGDM (Executive) at pgpx@bimtech.ac.in or 0091 82875 34144.
Stay informed, Stay ahead and stay inspired with MBA Rendezvous