NMAT Registrations 2021: Here are the important aspects of registration for NMAT by GMAC™ 2021 exam.
NMAT Registration 2021: Key Highlights
Unlike other management entrance tests there are some unique features related to the NMAT exam 2021:-
ONLY online registration is available for NMAT exam 2021
Candidates are allowed to take the NMAT by GMAC™ exam 2021 THREE times during the exam window
No show is considered as an attempt
Retake NMAT Registration 2021

You can register to retake the exam immediately after the first exam date
You need to wait a minimum of 15 calendar days before re-taking the NMAT exam 2021
You need to pay separate fees for retake registration of NMAT 2021
You can schedule for exam only after retaking the registration for NMAT 2021
You can schedule your re-test any time during the retake scheduling window (subject to availability)
You will be able to select any slot that is a minimum of 24 hours later than the time you schedule your appointment.

Reschedule

Candidates can reschedule their original test appointment up to 72 hours prior to your original appointment
Fee for rescheduling the exams can be paid only through credit card.
NMAT Registration 2021 Important Dates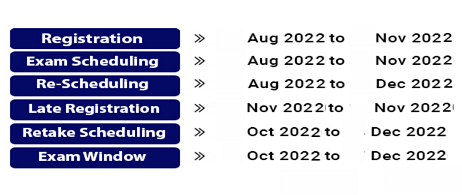 NMAT Registration 2021: Steps
Create a new account on nmat.org.in using your valid email address
Click on "Register". New user registration details will open, enter the following and click on "Submit" button:

First/last name
Country
Mobile number
Email id
Password

You will receive an authentication email and will be able to login only after validating your email ID. After verifying the email id, click on "Login" button and provide your email id and password to log into your NMAT by GMAC™ account
Complete the remaining form:

Personal information
Contact Information
Educational and work experience
Programme/School preference
Additional Information
NMAT Exam terms & conditions

Under "Schools Preference" choose the schools you want to send your score to. Up to 5 programmes are included in your registration fee. For any additional schools a fee of INR 300 (+ taxes) is applicable
Pay the NMAT 2021 Registration fee
Schedule the exam once payment is realized through your dashboard
NMAT Admit Card 2021 can be downloaded after the payment is realized
Ensure the following:

Name and date of birth match exactly in the registration form and Photo and Signature ID.
Photograph used must bear likeness to the photograph on Photo ID
NMAT Registration 2021: Payment
NMAT by GMAC™ gives the ONLY online options to pay the NMAT 2021 registration fee:
NMAT 2021 Exam Registration
INR 2300*
Payment Options:
Visa or MasterCard - Credit Card/ Debit Card/ Net Banking/ American Express Card/Diners Card/IMPS/UPI/Mobile Wallets.
NMAT 2021 Exam Registration - Late
INR 2800*
Exam Retake
INR 2300*
Exam Reschedule
INR 1200*
Additional Score Reports (After first 5)
INR 300* per programme/school
*Taxes are applicable for all fees that you pay

Stay ahead and Stay inspired with MBA Rendezvous