To cater to the increasing healthcare industry demands and fill in the industry-academia gap, Goa Institute of Management launched a Post Graduate Diploma in Healthcare Management in 2013. In the last five years, PGDM(HCM) has become one of the most popular healthcare management programs in India and Asia.
MBA Rendezvous answers SEVEN critical questions that you must know to help you choose GIM's PGDM(HCM) program.
Q1. What is the Healthcare Industry?
The healthcare industry is one of India's largest sectors in terms of employment generation and revenue collection. The HCM sector is a 200-billion-dollar market and is expected to grow in the future. It covers the following areas:
Clinical trials
Health Services & Insurance
Hospitals
Medical Devices & Equipment
Medical tourism
Outsourcing
Pharmaceuticals
Telemedicine
In the healthcare industry, there are healthcare providers like doctors, nurses, or clinical workers and healthcare administrators or managers who take care of business and staff needs from a healthcare perspective.
Q2. What is Healthcare Management?
The management of hospitals and healthcare organizations comes under healthcare management. A healthcare management professional is someone who understands about healthcare technology, laws, and regulations. They take care of all operations (HR, Finance, and Marketing) within the healthcare system or organization
Q3. What are the highlights of PGDM (HCM) offered by GIM?
Duration : 2-Year, Full-Time
Accreditation : NBA
Approval : AICTE
Terms : 6 (3 months each)
Healthcare Domains : The HCM domains covered under the program are-

Hospitals – Hospital Marketing & Administration and Polyclinic Management
Pharmaceuticals – Medicines (Prescriptions & OTC), Nutritionals and Retail
Medical Devices – Biomedical equipment, Monitoring, Diagnostics and Consumables
Healthcare Financing – Insurance, Financing Policy, and PPP Models
Public Health – Health Care, Government Schemes, NGOs, UN Agencies, Consultancy Firms, and CSR in Health
Healthcare IT – Electronic Records, Telemedicine, Information Systems, and IT-Based Innovations.

Courses

Core Courses – The core courses are a combination of regular management courses and specific healthcare domain courses like Healthcare Accounting, Research Methods in Healthcare, Legal Environment for HC industry, Financial Management for Healthcare, Healthcare Information Systems, Quality Management in Healthcare, and Healthcare Analytics, etc.
Elective Courses – The elective courses comprise of specific industry requirement courses in healthcare domain like Medical tourism, Pharmaceutical marketing, Healthcare Informatics, Branding in healthcare, and New product development and pricing, etc.
Non-Credit Courses – In addition to academic-oriented courses, PGDM (HCM) offers an overall development of a student as an HCM professional. The non-credit courses help develop the overall personality of the students and include courses like Entrepreneurship, Compliance issues in the healthcare industry, Healthcare Consumer Behavior, and Public Health, etc.
Q4. What is the extra edge that GIM's PGDM(HCM) provide?
The HCM course curriculum at GIM is designed with the help of a Steering committee. This committee comprises of experienced GIM faculty, industry experts, healthcare practitioners, and academic thinkers. The course structure and pedagogy aim at shaping the overall personality of a student into sensitive and sound healthcare professional. Some of the ways this is done are:
Know Your Healthcare Provider-KYHP

It is conducted every Thursday in term 1,2 and 3
It exposes students to the working of hospitals, pharmaceuticals, medical devices, public health organizations, and other healthcare institutions
The students visit and get the first-hand experience at different organizations under the guidance of GIM faculty and point of contact from the industry

International Exchange

Apart from the regular 10-week-long summer internship with a reputed healthcare firm, students also get an opportunity to be part of an international exchange program.

Give Goa Health

It is conducted in the second year
It is a social sensitivity field-based course
The students get to work with a specific NGO working in the field of healthcare
It involves group visits to a designated NGO every Thursday and works with them on a healthcare related social cause
This program helps sensitize students on social aspects
Q5. What are the career prospects with a PGDM(HCM) from GIM?
There is a high demand for healthcare management professionals, and GIM has seen 100% placement since it was launched. Here is a look at the various career prospects and placement statistics over the years.
The highest package that has been offered so far is 23 LPA
The average package that has been offered has seen a steady increase over the years.

The type of companies that visit the campus are:

| Domain | Organization Name |
| --- | --- |
| Pharmaceuticals | Abbot, Cipla, Pfizer, Glenmark |
| Healthcare Consulting | E&Y, KPMG, Deloitte, McKinzee, PWC |
| Healthcare IT | Cognizant, Infosys, TCS |
| Health Insurance | ICICI Lombard, Bajaj Allianz, Star Health |
| Hospitals | Fortis, Apollo, Manipal, Columbia Asia |
| Public Health | UNICEF, UNDP, Government |
| Medical Devices | Siemens, GE, J&J |

Types of profiles offered are:

Consultant / Associate Consultant
Domain specialist - Healthcare
Analysts
Marketing executives
Marketing and sales executives
Management Trainee
Manager / Assistant Manager
Business lead
Hospital operations executive
Healthcare HR executive
Healthcare Finance executive
Project manager/coordinator
Health Insurance executive
Q6. What kind of background is required to apply for the PGDM(HCM) program?
The program is open to all graduates, but a healthcare background is always beneficial. If we look at the last two batches students from various backgrounds such as Computer science/IT, Pharmacy, Biotech, BA, B.Sc., non-IT engineering, etc. have applied.
Here is a look at the various academic backgrounds from which students have applied in 2017 and 2018 batches: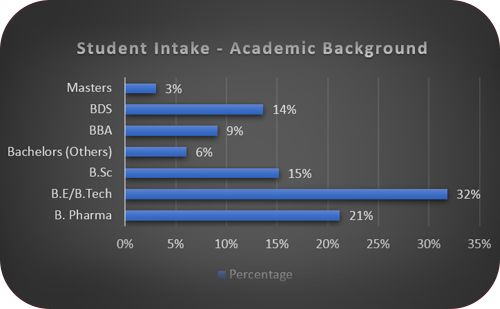 Q7. What is the procedure to apply for PGDM (HCM) at GIM?
Eligibility:

Graduation in healthcare-related disciplines or engineering discipline

MBBS, BDS
B. Pharm
Biotech
BAMS, BHMS
B.P.Th, B.O.Th, B.A.S.L.P. (Audiology and Speech-language Pathology), B.P.O. (Prosthesis and Orthosis)
B. Sc. (Microbiology, Biochemistry, Hospital Management, etc.)
B.E/B.Tech. - IT, Computer science, Electronics
BBA - Healthcare Management

Work Experience in healthcare organizations or on healthcare projects such as Hospitals, Public Health, Healthcare IT, Pharmaceuticals, Medical Devices, Health Insurance, etc.
Good academic scores in 10th, 12th and Graduation

Entrance Exam Score Accepted:

XAT 2019, CAT 2018, CMAT 2019, or GMAT examination (Between 1st January 2017 and 20th January 2019)

Application Date:

CAT 2018 – 15th December 2018
XAT 2019/CMAT 2019/GMAT – 1st January 2019

Selection Rounds:

Face to Face Evaluation
Interview

Final Merit List:

Objective assessment 40%
Past academic performance 15%
Work experience, if any 10%
Performance in face-to-face evaluation 30%
Profile Assessment Index 5%
Also, GIM actively participates in many public, private and government-aided healthcare initiatives. The most significant of all is the Ayushman Bharat, recently launched by the Government of India. It is the world's largest health insurance scheme covering 50 crore Indians. In November 2018, the students at GIM organized a one-day conference on Ayushman Bharat and its implications for universal health coverage in India. Dignitaries, academicians and healthcare industry experts were invited. The students got unprecedented visibility and exposure to insights from all the experts.