XAT 2021 Important Information
XAT 2021 will be conducted on January 03, 2021. The exam duration is 3 hours from 9:30 AM to 12:30 PM. The mode for exam is Online.
XAT or Xavier Aptitude Test is the entrance exam organized and conducted by Xavier Labour Relation Institute (XLRI), Jamshedpur on the behalf of Xavier Association of Management Institutes (XAMI) for the last 60 years. The XAT exam score is accepted by XLRI and almost 150 other top tier management institutes in India. It is one of the oldest competitive examinations in India to select most appropriate students for the management education. Until 2017, XAT was conducted as paper based test. Starting 2018 it has become an online exam.
XAT is considered to be one of the toughest MBA entrance exams in India that calls for complete dedication and awareness.
Important Dates
| | |
| --- | --- |
| Exam Date | January 03, 2021 |
| Exam Timings | 09:30 AM to 12:30 PM |
| Result Date | Jan 2021 |
| Date of Commencement of Application | Sep10, 2020 |
| Last Date for Applying | Nov 30, 2020 |
| Admit Card Download Date | Dec 20 onwards |
| Mode of Examination | Online |
XAT 2021 Eligibility
Candidates must have a recognized Bachelor's Degree of minimum three years duration or equivalent in any discipline.

Final year students completing their final examination by June 10, 2021, are also eligible to apply.

Indian candidates interested in XAT affiliated colleges must appear for XAT 2021.

Indian candidates interested in GMP at XLRI can apply through GMAT score as well.

NRI candidates interested in BM, HRM and GMP at XLRI can apply through GMAT score

Please Note: The GMAT score obtained between December 01, 2018 and December 31, 2020 will only be considered valid.
XAT 2021 Application Form
The notification for the XAT 2021 exam has been released on 10th September 2020. Those interested can apply/register for the exam starting 10th September 2020. The XAT application form will be available online on the official website www.xatonline.in. After adding the personal details on the 'Registration' tab, XAT ID and Password will be generated by the system and sent via mail or SMS. Those interested for applying for XLRI courses can apply either via XAT or GMAT. Candidates can choose XATEST CITY and edit their preference till November 30, 2020.
| | |
| --- | --- |
| XAT Registration Fee | INR 1750 (+INR 300 for additional XLRI programmes) |
| XAT Registration Fee (with late fee) | INR 2000(+INR 500 for additional XLRI programmes) |
| Indian Candidates Applying for GMP via GMAT | INR 2500 |
| NRI/Foreign Candidates Applying for one or more programmes via GMAT | INR 5000 |
XAT Selection Procedure
The XAT 2021 score is accepted by 11 XAMI member colleges and around 150 non XAMI member colleges for various MBA and PGDM courses. After clearing the XAT 2021 cutoff the candidates can apply for colleges individually. Please note that XAT selection process is different for XLRI and other colleges. XLRI has no authority over what other institutes choose to do as part of their selection process. Candidates are shortlisted for GD and PI rounds. This year Indian and Foreign national candidates can also apply using the GMAT score for specific courses in XLRI.
Read More
XAT 2021 Exam Pattern and Analysis
The XAT exam pattern for 2021 is:
Verbal and Logical Ability (VA & LR)

Decision Making (DM)

Quantitative Ability & Data Interpretation (QA & DI)

General Knowledge (GK)
XAT 2021 will have NO essay which is the biggest change. Otherwise, the overall pattern and marking remains the same. All questions will carry equal marks. There will be negative marking in case of incorrect answers and un-attempted questions. Candidates can switch between sections and will have access to the entire question paper just like in the written examination. There will be no onscreen calculator provided.
Read More
XAT Exam Registration and Fees
XAT Registration
XAT 2021 will be conducted on January 03, 2021, and the registration begins from 10th September 2020. You can register at http://xatonline.in/. Detailed bulletin is available on http://www.xatonline.in/.
Modes of Payment – Candidates can make payment only via Online Mode. You can use Debit Card (RuPay / Visa / Master Card / Maestro), Credit Card and Internet Banking to make your payment. You can only download and print your application after your payment is successful.
Read More
XAT Syllabus
XAT Exam is one of the most challenging MBA entrance exams with an undefined XAT exam syllabus. The exam syllabus of XAT is based on the questions and topics asked in the previous years with no repetitions.
We have put a list of topics based on the areas that have been asked in the previous years
XAT Participating Institutes 2021
The XAT 2021 exam is conducted by XLRI, Jamshedpur on behalf of Xavier Association of Management Institutes (XAMI). There are 11 colleges affiliated to XAMI which will accept the XAT 2021 score. Apart from that there are 150 non-XAMI members that accept the XAT score. Candidates need to fill individual application forms for each of the colleges they are interested in and make the required payment. The selection process and final merit list for each college is different and independent of each other. Also XLRI has nothing to do with the remaining participating colleges apart from setting and conducting the exam.
Read More
XAT Exam Centres
The XAT 2021 exam will be conducted in 46 cities across 22 states and UTs in India. Candidates can choose a XAT test city at the time of registration and can make changes in XAT center only once before November 30, 2020. For any queries regarding the XAT exam centers, candidates can email at admissions@xatonline.in
admis@xlri.ac.in or call on Toll Free Number 1800 419 2929, from Monday to Sunday between 8am – 8pm.
Read More
XAT 2021 Admit Card, Instructions for Exam
Admit Card
Candidates can download their admit card from XAT Official website www.xatonline. starting December 20, 2020.

XAT office will not be sending admit cards to the candidates.

Students must download their admit cards and present it at the time of the exam at the examination centre.
Instructions for XAT 2021
Applicants should note that registration for XAT 2021 and appearing for XAT 2021 is the preliminary step towards applying to XLRI and XAT Associate Institutes. Applicants to different institutes, besides XLRI have to apply separately to Institutes of their choice. Applicants for XAT 2021 can choose to pay online using credit card/ debit card/ online banking.
Candidates can also make payment through a demand draft made from any bank (in favour of XLRI Jamshedpur). The third alternative for making payment can be "cash". This can be done from any of the IDBI Bank branches located in India to make payment for XAT 2021.
Read More
XAT 2021 Online Mode
Starting 2018, XAT exam is conducted online. This year the centers will be in 46 cities across India. In case of any technical glitch candidates terminal will be shifted considering no loss of time.
XAT Result
XLRI Jamshedpur will release the XAT 2021 result in January 2021. Applicants can check the XAT 2021 result by entering their login credentials - XAT ID and Date of Birth.
The XAT result 2021 will contain the sectional and general scores and percentiles. XAT 2021 score card will be accessible for download between February 2021. Candidates will receive a printed copy of XAT 2021 score card at their enlisted address by post.
XAT Cutoff 2021
After the XAT 2021 exam, the XAT cutoff 2021 will be released by XLRI, institute wise. The candidates who clear the respective institute's cutoff are shortlisted for further rounds such as group discussion and personal interview. The XAT cutoff for 2021 is expected to release by the 4th Week of Jan'21 or 1st week of Feb'21. It is based on multiple factors such as difficulty level of the exam, total number of candidates appearing, average marks and normalized XAT score. The cutoff can be checked online on www.xatonline.in. A raw score of 26-28 overall can fetch you are good percentile of 85 to 90+.
Read More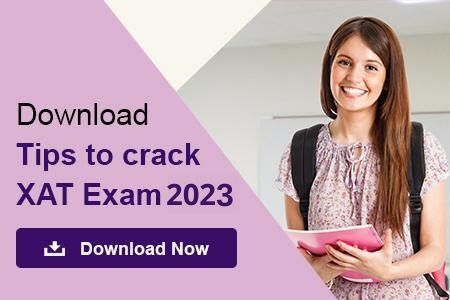 Preparation Strategy to Crack XAT 2021
Know your Exam – Although there is no any written syllabus for competitive exams like XAT or CAT, but still, by observing the past trends, you can get a lot of idea of what sort of question is expected to appear in the question paper. The sections are usually announced in advance like verbal ability, quantitative aptitude, decision making, general awareness, etc. So, what you really need to work upon is the basics of these subject areas, like Maths formulas for QA, English grammar for VA and regular current news updates for general awareness. Thus, if you are aware of the essentials of the paper, you will come out with flying colours.
Know the Difference - XAT is pretty different from all the other MBA entrance exams that you plan to appear for. That doesn't mean it is the toughest but undoubtedly the one that checks your academic skills as well as IQ and expression power. It does not require you to be the master of any one field while ignoring others; rather it looks out for a jack of all trade who could be transformed into the master of business administration/management in near future.
Read More