XAT 2023 will be conducted in January 8, 2023 by XLRI Jamshedpur. It is one of the most challenging MBA entrance exams with an undefined XAT exam syllabus. The exam syllabus of XAT is based on the questions and topics asked in the previous years with no repetitions. MBA Rendezvous team has put a list of topics based on the areas that have been asked in the previous years.
XAT 2023 Exam Syllabus : Key Highlights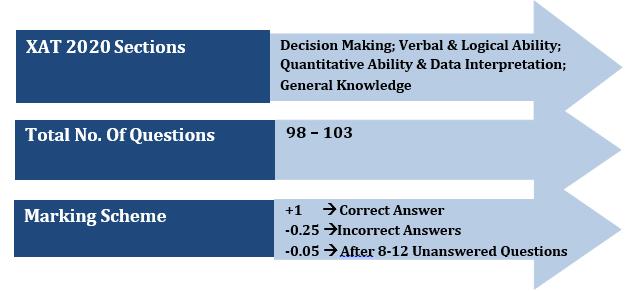 Note: Changes are expected in the XAT marking scheme owning to the removal of XAT essay from the exam pattern this year. Watch out for the latest updates in this area.
XAT 2023 Exam Syllabus: Decision Making
This section tests your ability to solve problems and cases. There are around 21-24 questions. This section is unique to XAT 2023 exam. The topics that fall under the XAT syllabus for this section are:
1. Case-lets
2. Complex Arrangements
3. Conditions and Grouping Test
4. Data Arrangement Test
5. Decision Making in a Particular Situation
6. Identifying Strong and Weak arguments
7. Identifying valid inferences
XAT 2023 Exam Syllabus: Verbal & Logical Ability
This section tests your grammar, reading speed, comprehension and logical reasoning. There are around 24-26 questions and the topics covered in the syllabus for XAT 2023 are:
Verbal Ability
1. Antonyms - Synonyms
2. Completion of paragraph
3. Correct Use of Words
4. Fill in the Blanks
5. Jumbled Paragraphs
6. Sentence Completion/Correction
7. Vocabulary
Reading Comprehension
1. Culture
2. Economic Issues
3. Fiction
4. History
5. Literature
6. Science
7. Social Issues
Logical Reasoning
1. Analogy
2. Assumption-Premise-Conclusion
3. Binary Logic
4. Blood Relations
5. Coding and Decoding
6. Clocks and Calendars
7. Critical Reasoning
8. Fact–Inference-Judgement
9. Identifying next number in series
10. Seating Arrangement
11. Visual reasoning
XAT 2023 Exam Syllabus: Quantitative Ability & Data Interpretation
There are 27 questions in this section. The XAT 2023 syllabus for this section is vast and covers:
1. Algebra
2. Averages
3. Binomial Theorem
4. Complex numbers
5. Co-ordinate geometry
6. Equations - Linear & Quadratic
7. HCF & LCM
8. In-equations
9. Interest - Simple & Compound
10. Logarithm
11. Mean – Arithmetic & Geometric
12. Mixtures and Allegations
13. Percentages
14. Permutations & Combinations
15. Progression - Arithmetic & Geometric
16. Probability
17. Profit & Loss
18. Ratios and Proportion
19. Set Theory
20. Speed, Time and Distance
21. Trigonometry
XAT Syllabus 2023: Current Affairs
The students are tested on their general knowledge and consists 25 questions. The topics are:
1. Books and authors
2. Business
3. Current Affairs
4. Entertainment
5. Finance
6. International News
7. Politics
8. Science
9. Sports
10. World Event and Records
Stay ahead and Stay inspired with MBA Rendezvous