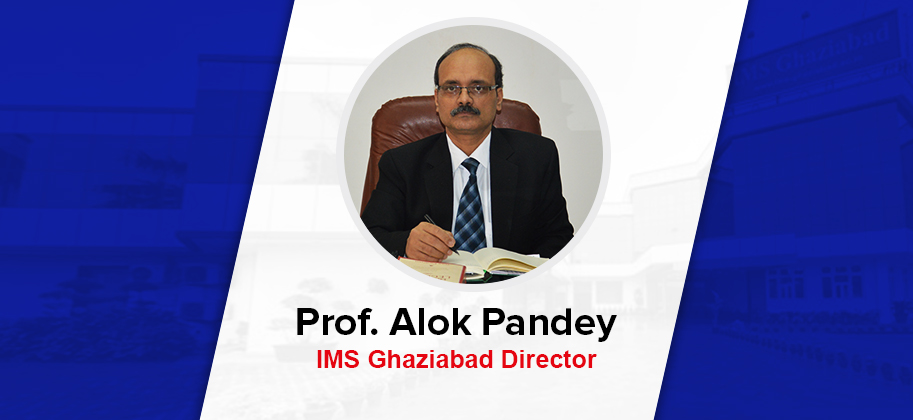 Rendezvous with Prof. Alok Pandey
It is always a pleasure to meet eminent academicians and leaders of institutions. Recently the team of MBA Rendezvous had the privilege to meet Prof. Alok Pandey, Director and member of the Governing Council of Institute of Management Studies (IMS), Ghaziabad. He traversed us through the journey of the institution and gave a fair glimpse of the aura of its brand. Prof. Pandey threw light on the challenges faced by institutions and what steps IMS Ghaziabad has taken to overcome them. He shared his idea of an ideal candidate and words of wisdom for the students.
About Prof. Alok Pandey
Prof. Alok Pandey comes with 25 years of extensive experience as a senior academic & administrative person in premier institutions in the private sector and the Government of India. He is an alumnus of Faculty of Management Studies, BHU (1995), and was awarded Ph.D. in International-Finance by the University of Lucknow in 2002.
Some of the highlights of his professional career are:
Professor & Area Chair in Finance and Member-Secretary of Academic Advisory Body of Lal Bahadur Shastri Institute of Management (LBSIM) Delhi.

Independent Director on the Board of CSC e-Governance Services India Ltd. (Ministry of Electronics & Information Technology, Govt. of India).

Member of the Education Committee of Confederation of Indian Industry (NR)

Chairman of the content committee for 'UdyamAbhilasha' Project (a joint initiative of SIDBI with Govt. of India) for training budding entrepreneurs in 115 aspirational districts in India.

Director of Advanced Studies at the Institute of Cost Accountants of India.

Resource person for policy think tanks such as ICRIER and ORF.

Area of expertise includes Capital & Commodity Market Microstructure, Risk Management & International Finance

Written over two dozen research articles in peer-reviewed ABDC/ SCOPUS indexed journals

Authored and edited four books published by international publishers.
Below are excerpts from his interview. Read on to find out more.
Journey of IMS Ghaziabad
The splendid journey of the Institute of Management Studies Ghaziabad began under the aegis of the IMS society in 1990. It started with both UG and PG programmes. In 2002 the IMS Engineering College was established. In 2009, the IMS UCC was opened, and the undergraduate programmes were shifted there. The campus on GT Road, Lal Quan, is the main and original campus, and is in no way connected to IMS Noida. Recently the name in Hindi was used– Prabandh Adhyan Sansthan – to make sure people understand the rationale behind the meaning of the management institute.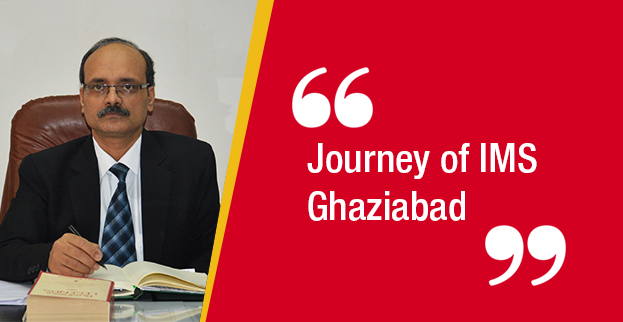 Building Brand IMS Ghaziabad
National Accreditations
The Post Graduate Diploma in Management is AICTE approved and NBA accredited. It has been awarded the MBA equivalent status by the Association of Indian Universities (AIU). The PGDM - International Business and PGDM - Big Data Analytics is approved by AICTE and affiliated to Dr. APJ AKTU, Lucknow. Based on the new standards set by the government, IMS Ghaziabad aims to be a category one institute.
International Accreditations
IMS Ghaziabad was awarded the prestigious Accreditation Service for International College (ASIC), the U.K. Recently it became a member of the AACSB Business Education Alliance. IMS Ghaziabad aims to be AACSB accredited by 2021-22.
Strengths of IMS Ghaziabad
Students, Faculty and Staff
The quality of students selected is superior. IMS Ghaziabad accepts CAT, MAT, GMAT, CMAT, and / or ATMA exam scores. The selection procedure consists of a Written Expression Test and a Group Case Discussion round. In the last 30 years, the institute boasts of excellent placements and admissions record. There are fifty full-time competent faculty members who have been writing papers and publishing in journals extensively. The majority of the staff members have been working with IMS Ghaziabad for almost 10-20 years.
Infrastructure Facilities
The infrastructure facilities are at par with the current standards. The entire campus is Wi-Fi enabled, and all thirty classrooms and computer labs have state of the art infrastructure. There is a digital library with all major databases and softwares in place and residential accommodation with 480 seats for the students.
Alumni
IMS Ghaziabad boasts of a glorious history with around 6000 alumni, 600 of which are holding positions like CEO and MD. The students are working with organizations such as Deloitte, HSBC, etc. as Managing Directors and Senior Vice President. It is in the process of creating the IMS Ghaziabad Alumni Association which will be registered very soon.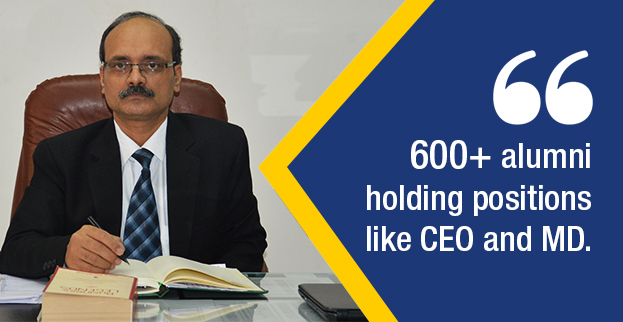 Challenges Faced by an Institution
The main challenge faced by institutions is they need to align themselves with the changing times. Contemporary learning methods and a continuously evolving curriculum is a must to catch up with the dynamism of the economy and match steps with the industry 4.0.
Nurturing Industry-Fit Professionals with Continuously Evolving Curriculum
The curriculum at IMS Ghaziabad is continuously updated, which ensures the students become industry-fit. All quantitative techniques courses are taught through spreadsheets such as statistics, operations research, operations management etc. All financial management and accounting courses are taught through tally. There are subjects on marketing analytics and financial analytics. This also prepares the students to have an entrepreneurial mindset. IMS Ghaziabad follows an output-based delivery model that provides strategic learning, imparts informational content, and polishes skills of the students. The midterm exams have been converted into an online-based exam. The students are required to clearly state their learning goals and objectives. Main aim is to internalize international accreditation standards. The students, faculty, and administration must understand the meaning of industry-oriented and importance of accreditations both in letter and in spirit.
Exposure IMS Ghaziabad Offers
All events are conducted in line with the current time, economy, and industry 4.0. There have been MDPs and conferences conducted at national and international level. Recently the topic for the APJ Abdul Kalam debate was 'Digitization will Fuel Economic Growth in India.' The theme for this year's student festival 'Melange' is Digitization.
IMS Ghaziabad provides a platform for students to work on live projects, undergo relevant internships, and research projects with company mentors. Students frequently go for industrial port visits, for example a team of fifty students recently visited the Mudra Port. Another team of students is going to visit Singapore. A group of 50 students went to the IBM lab (AI lab) in Vasant Kunj. A seminar on Data Analytics was organized where experts from IBM came and explained how AI is ushering a revolutionary change in the world.
Ideal Candidate for IMS Ghaziabad
An ideal candidate for IMS Ghaziabad:
Candidate must have a growth mindset.

He/she must be hardworking, energetic, and a continuous learner.

He/she must have analytical skills and comes with a basic understanding of numbers i.e., quantitative skills.

Someone who is not just looking for placements but wants to join managerial education to run business and contribute to the growth of the nation.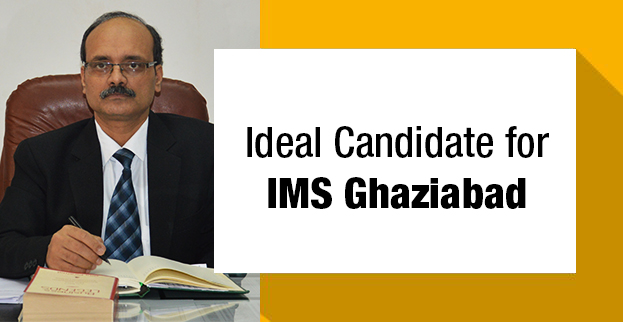 Message to Students
Prof. Pandey said, "Firstly, management students must understand the heterogeneity of our nation. For this, they must travel across the length and breadth of our country, particularly the interiors. They should be open to work and mingle with people pan-India.
Secondly, students must appreciate the business history of India and how businesses function in this country. They need to be aware of the concepts of liberalization and how it has affected the economic environment of our country. They should also understand what kind of changes are required in our policy framework and how new India can be modelled. The students should think big and act according to the need of the hour.
Last but not the least, they must focus on health. Today the youth are engrossed in digital entertainment, and health has taken a backseat. Many under the age of forty have acquired lifestyle diseases such as hypertension and diabetes. One must never forget that healthy individuals make a healthy country."
To Learn more from Prof. Alok Pandey Visit Here
Stay informed, Stay ahead and stay inspired with MBA Rendezvous