"Building a brand means knowing your story and building and sharing that story" – Tamara McCleary.
The purpose of a brand is simple – connect and create a unique identity. In a country like India, with 5000 b-schools and over 5.88 lakh students enrolling in various MBA programs (AISHE 2018-19), branding can play a pivotal role in establishing a b-school's name and credibility.
A b-school is defined by the services – teaching, research, placements – it offers to its different stakeholders – students, faculty, alumni, recruiters. The seven dimensions that culminate to define the brand of a b-school are:
Perception – The reputation built by media and the impression created in the eyes of students, parents, peer institutions, and recruiters.
Curriculum – The program (s) offered, course structure, and teaching methodology.
Cost – The program fee(s) and overall expenses for the entire 'business school' experience.
Career Opportunities – Summer internship opportunities, recruiters visiting the campus, and pay packages offered to the students.
Faculty – The backbone of the institute that continuously learns, delivers, and nurtures the talent.
Alumni – The brand ambassadors.
Acceptance Rate – The number of students enrolled (accepted) versus the total number of applicants.
To put things in perspective, the team at MBA Rendezvous got in touch with three leaders of esteemed business schools in India – Dr. Pawan Kumar Singh (Director, MDI Gurgaon), Dr. Shailendra Raj Mehta (President & Director, MICA Ahmedabad) and Dr. Subhajit Bhattacharyya, (Director, IMT Ghaziabad). They throw light on – what goes into making a b-school an irresistible brand and makes them unique.
Read on to find out more.
A brand that is authentic, that connects with the right audience, is consistent and honest, and offers something unique, will be an irresistible proposition for the students. Director of MDI Gurgaon, Dr. Pawan Kumar Singh says, and we quote, "Focus on irrigating the roots. The roots of MDI are embedded in three things – generation of knowledge, which implies research; assimilation of knowledge means learning and disseminating knowledge, i.e., we share knowledge with different types of learners."
To make a b-school an irresistible brand - Be distinct, focus on Research, leverage the amity of your Ambassadors, offer eNriched and evolving Curriculum, and Disseminate knowledge.

B – Be Distinct
The first name that comes to our mind when we want a reasonable yet reliable smart phone is 'Samsung' or 'LinkedIn' if we think of building a robust professional network. This is the power of a brand and the distinctiveness it adds to the product or service. The same applies to educational institutions.
MBA is an expensive and planned investment that students and parents make jointly. The uniqueness that a b-school can offer in terms of course, curriculum, teaching, and research can help solidify its brand and attract students (and parents) towards it. According to Dr. Shailendra Raj Mehta, President & Director, MICA Ahmedabad, there is only one way to make a b-school an irresistible brand, "Be outstanding and distinctive in research, teaching and service."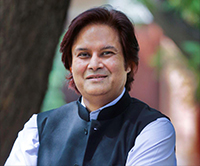 Dr. Shailendra Raj Mehta
President & Director, MICA Ahmedabad
"Be outstanding and distinctive in research, teaching, and service"
The media ratings, rankings, and accreditations are also an essential constituent of a b-school's reputation. A significant part of the development and design of branding strategies for b-schools rests with the higher management, the board of directors (sometimes), and the public relations team. The focus should be on a unique selling point(s) that enhance the b-school's brand image.
"Institutions should nurture their glorious part first then it should nurture glamourous part," stresses Dr. Pawan Kumar Singh.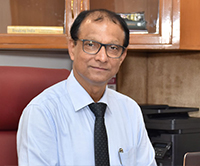 Dr. Pawan Kumar Singh
Director, MDI Gurgaon
"Institutions should nurture their glorious part first then it should nurture glamourous part"
Brand awareness, association, and trust are known to influence a student's learning experience, which can help in creating substantial brand equity. So, carve your niche and be distinct.
R – Focus on Research
Research is an integral part of a b-school as it helps in generation and integration of knowledge. Three factors that help elevate the brand of a b-school are – research opportunities for the students, research of the faculty members, and academic credentials of the faculty — investment and emphasis on research seal the credibility of the faculty of an institution.
Dr. Shailendra says, "Teaching and research always go hand in hand. You teach what you are researching. Research, rich in content and data, contribute to the society and nation at large. MICA has always believed in encouraging cutting-edge research and providing its faculty with resources to facilitate in producing high-quality papers for publication. This has resulted in our faculty winning prestigious awards both in India and abroad including the M.J. Manohar Rao Award of the Indian Econometric Society won by Prof. Niyati Bhanja, Prof. Sneh Mahajan Award for the best book on modern Indian history won by Prof. Harmony Siganporia, the B.K. Birla Distinguished Research Scholar Award for Social Sciences and Management won by Prof. Shaphali Gupta, and the Professor of the Year Award, given by InsideIIM won by Prof. Ashutosh Dutt."
A – Leverage the Amity of Ambassadors
"Your brand is what other people say about you when you are not in the room" – Jeff Bezos.
Students are the most important stakeholders of a b-school. They want to choose a management school they can identify with and which helps them realize their career aspirations. The institutions also filter the best of the students. They have an aggressive selection criterion that stresses on high GPAs, CAT and GMAT scores, work experience, and academic diversity.
The students have a high impact on the branding of the institution. The university experience and opportunities available at the b-school act as a catalyst towards student satisfaction. Happy and satisfied students spread the word through conversations and interactions with their family members, siblings, friends, and peers outside the college campus. The same holds for the faculty as well. The best students and best faculty are attracted to the best b-schools and vice versa.
Alumni are the torch bearers of the legacy of a b-school. Having an engaged and wide-spread alumni network helps enhance a b-school's brand. Most management aspirants look for the alumni of a college while researching for b-schools. According to the GMAC Alumni Perspective Report (2015), 9 out of 10 alumni recommend their business program to others. Leveraging the good-will of your alumni is a great way to strengthen your brand.
Dr. Shailendra adds, "While speaking of a b-school brand, one cannot forget its most important stakeholders – its students. Taking this thought ahead, we at MICA, have begun introducing courses that are jointly designed and developed by students themselves, along with alumni, faculty and external experts."
N – eNriched and Evolving Curriculum
Business schools that offer management education with a blend of theory and practice will always be sustainable. The present pandemic period is testament to that. Curriculum and pedagogy have to be in parallel with the ever-changing industry scenario.
Dr. Subhajit Bhattacharyya, Director, IMT Ghaziabad, states, "A b-school can be an irresistible brand when it sustains this achievement while flying with time. A b-school that understands the evolving nature of the ever-changing world of business, its functionalities and skill needs, and is proactive and agile enough to match up with that dynamism is surely an irresistible brand."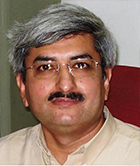 Dr. Subhajit Bhattacharyya
Director, IMT Ghaziabad
"A b-school can be an irresistible brand when it sustains this achievement while flying with time"
During these turbulent COVID times, when people's survival and health are of paramount importance, Dr. Pawan says, "Online education has to be started, and the courses and curriculum must evolve with the current times. Even if an institution is not flourishing, they must invest and upgrade their I.T. infrastructure. Even when things come back to normal, the future of education will be blending of face to face and online mode." A b-school that adapts to the changes in terms of curriculum, infrastructure, and facilities emerges as a strong brand.
Nowadays, big data, analytics, entrepreneurship, and experiential learning are essential aspects of b-school curriculum and pedagogy. A b-school that wants to strengthen its brand must adapt and equip to these newer skills and deliver. Dr. Shailendra adds, "MICA introduced the project and simulation-based learning for the students that include three immersions ~ Rural immersion, urban immersion, and international immersion. These immersions provide students unparalleled exposure to real-life situations and problems and a platform to come up with practical solutions. This year we are also including a mandatory entrepreneurship sequence where every student at MICA has to either launch a startup or partner with one to learn about the entrepreneurial journey by actually embarking upon it."
D – Disseminate Knowledge
As much as it is vital to invest in action-oriented research, value-added consultancy, and academic programs, the dissemination of knowledge is crucial for strengthening the brand. B-schools must ensure they distribute and discuss the knowledge with the target audience and reach out to various stakeholders – fresh graduates, alumni, working professionals, or senior executives.
Analyse and prepare a strategy for effective dissemination of knowledge – objective, target audience, and benefits. Dual academic programs, classroom discussions, conferences, workshops, training programs, and certification courses are ways to spread knowledge.
Dr. Subhajit adds, "A b-school is special in the education space. It generates human capital for activities intended to be utilized for business and thus for generating income and employment. Therefore, a responsible B-School is one that lives up to the expectation by being relevant to the industry and by meeting expectations of its students too."
In a nutshell…
A strong brand will sustain even in the worst circumstances. MBA institutions as a brand, market their products to both students & industry. They must remain unique and connect all its services and stakeholders.
"A business school that integrates teaching, training, research, consulting, and academic administration can become an irresistible brand," says Dr. Pawan.
The legacy, logo, leadership, learning environment, learning tools, & growth opportunities contribute towards building an irresistible brand for a b-school.