After years of imparting quality education to post-graduate, fellow students, and working professionals in the field of management, the Indian Institute of Management Rohtak, in the twelfth year of its foundation, is venturing into a new domain of management education with a Five-Year Integrated Programme in Law (IPL). IIM Rohtak is the first IIM to introduce a programme in the cross-functional domain of management & law. This programme by IIM Rohtak is a unique opportunity for students passing class XII and aim to pursue their career in corporate law.
The interdisciplinary program aims at providing an in-depth knowledge of business management with intricate details of law and governance. This programme will create an opportunity for the students to pursue global legal education through a curriculum and pedagogy that best reflects the study of international law, comparative law, foreign law, and domestic law. Students will also undergo courses in the domain of Business Management, International Affairs, Humanities, Public Policy, and Foreign Languages.
On the newly introduced Integrated Programme in Law, Prof Dheeraj Sharma, Director IIM Rohtak, said, "IIM Rohtak is the first and only IIM in the country to have introduced such an innovative programme that will focus on integrating management and legal education. The programme will result in excellent learning outcomes for participants of this BBA+LLB program that will make them astute lawyers with business management expertise."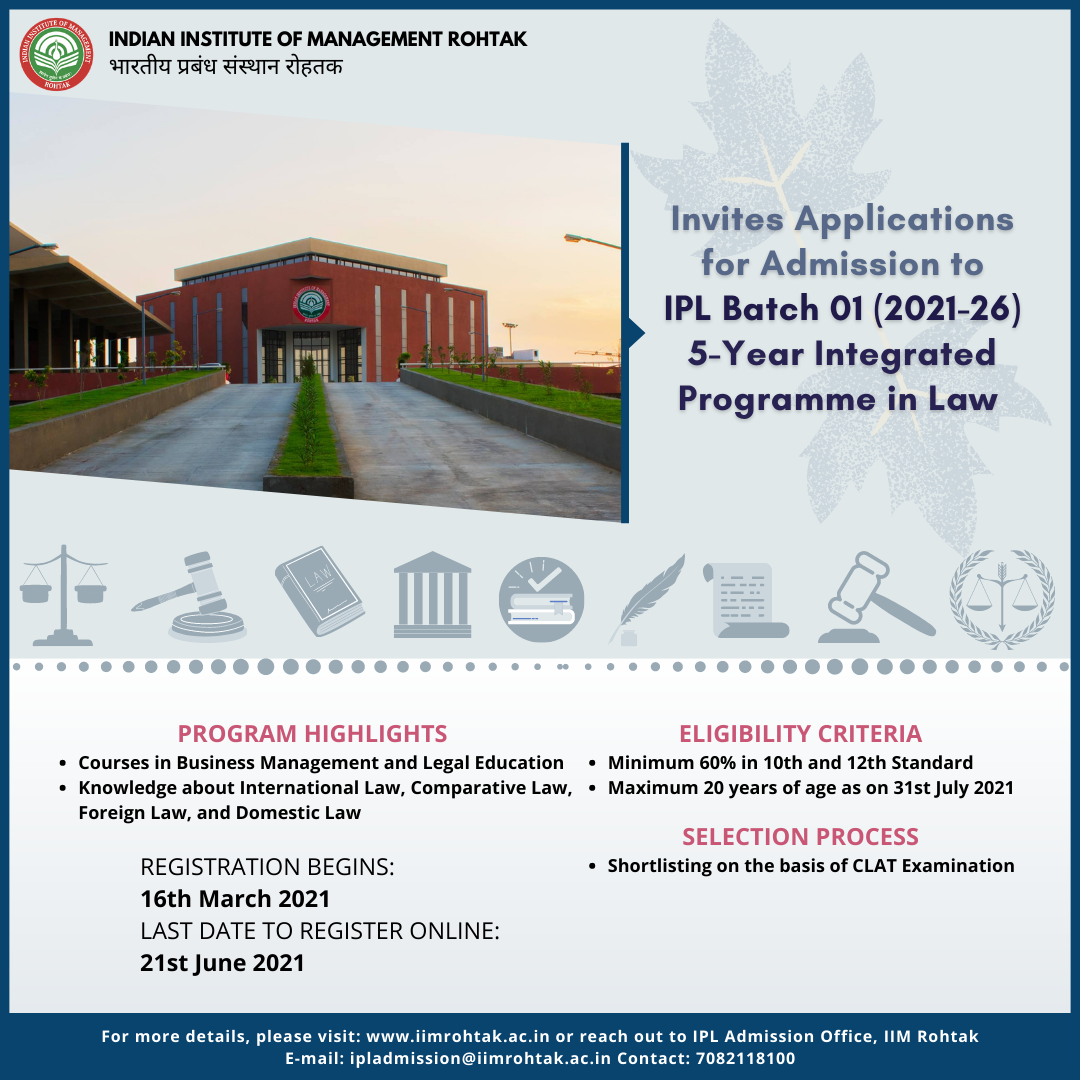 Upon successfully completing academic rigor of 5 years, the participant will be awarded an Integrated Degree of BBA-LLB. Overall, the programme consists of 15 terms spread over a period of 5 years. The curriculum consists of Business Management and Legal Education courses, to be taught by distinguished faculty from IIM Rohtak, other reputed institutions in India and abroad, and industry experts. Students will also undergo several internships, seminars, and other activities during the course of the programme.
IPL will be a non-residential programme at IIM Rohtak's extension campus in Gurugram, slated to start from the AY 2021. The online registrations for this programme will begin from 16th March 2021. The institute will shortlist the students based on their scores in Common Law Admission Test (CLAT) examination. The first batch of IPL will start from September 2021.
IIM Rohtak is one of the top management institutions in the country. It is the only IIM in the Delhi-NCR region. IIM Rohtak is the benchmark of management education in India and was ranked 8th among public B schools by Outlook India Ranking 2020. The extension campus at Gurugram will commence its academic activities from the academic year 2021-22.
Stay informed, Stay ahead and stay inspired with MBA Rendezvous