IMT Ghaziabad's full time PGDM Executive Program offers an opportunity for experienced executives to upskill themselves and engage in collaborative learning. The AACSB accredited and AICTE approved management program also inculcates in its participants a culture of creative and innovative thinking. The PGDM Executive is a full-time AICTE approved and AACSB accredited 15-month programme designed specifically for high-performing professionals with work-experience. Characterized by the DNA of an accelerated MBA, the program aims at grooming experienced Executives for Leadership and General Management oriented roles in the functional domain.
The PGDM Executive cohort looks forward to leveraging their experience and learning from the course to solve real- world business situations while preparing themselves to face the future challenges. The PGDM Executive 2020-21 is a batch of experienced professionals with diverse industry backgrounds. The batch has recorded the highest CTC of 40.8 lakhs per annum, a jump of more than 150% over the previous year. A 153% rise in CTC demonstrates the program's impact compared to their pre-qualification CTC. This demonstrates the faith industry responses in IMT Ghaziabad and its PGDM Executive Program, with participants being sought after by major companies.
IMT Ghaziabad's PGDM-Executive program has consistently shown high academic performance while building recognition and a niche identity within the industry. The Program aims to groom experienced professionals with a Global orientation and accelerate their career growth. The Program adopts a "Learning by Doing" pedagogy by leveraging the student's past industry experience and providing them with experiential learning opportunities to apply new knowledge imbibed during the course. The students are involved in multiple industry-related initiatives, consulting assignments, mentorship, and interactive sessions with Senior IMT-Ghaziabad alumni. Students get numerous opportunities to interact with industry leaders through Contemporary Issues in Management and expert-led workshops.

The institute has helped students with more than five years of experience to hone their careers in their respective fields of interest and secure employment in key roles within aspirational companies. The Program provides excellent placement opportunities, as evident by the placement statistics. At IMT-Ghaziabad, you are assured of our 100% placement support.
According to Mr Mohit Ahuja , Placement Head – PGDM Executive program "The 2019-2020 PGDM Executive cohort obtained 100% placements despite graduating during the peak of Covid -19. As our placement process continues, 97.43% of outgoing 2021-22 batch students have already received job offers even before the program's conclusion. The current average CTC of the batch stands at Rs 21.37 Lacs, with a median CTC of Rs 20.52 Lacs and a maximum CTC of Rs 40.8 Lacs. The average CTC earned by the top 25% is Rs 29.21 Lacs, while for the top 10%, it is 33.80 Lacs. A 153% rise in CTC demonstrates the program's impact compared to their pre-qualification CTC. The Executive program primarily focuses on "Learning by Doing" by engaging students in various industry-based projects, mentorship and interactive sessions with Senior Alumni. The students also get plenty of opportunities to interact with Industry and thought Leaders through Contemporary Issues in Management sessions & expert-led workshops. At IMT-Ghaziabad, you are assured of our 100% placement support."
Some of our prominent recruiters for the PGDM (Executive) program at IMT Ghaziabad in the past have included Tata Trusts, Accenture, Deloitte, Wipro, Infosys, KPMG, Jio Mart, TAFE, L&T Infotech, Logit One, Genpact, and Moglix. Our students are recruited in various sectors ranging from Technology Consulting, Automobile, Information Technology Solutions, Healthcare and Community Development Business-toBusiness sales. Our students have been offered coveted key roles as Associate Director Logistics, Program Manager, Business Consultants, Tech Consultants, Key Account Manager, Supply Chain Manager, Manager Customer Accounts, and Lead Analysts.

Adding to this remarkable success, Dr Nihar Amoncar – Chairperson PGDM Executive Program said "The Post Graduate Diploma in Business Management Executive program at IMT, Ghaziabad is designed to develop transformational and responsible leaders. As a candidate on this program, you will be exposed to tools and techniques to take bold strategic decisions and make meaningful impact within organizations. We pride ourselves in shaping leaders for businesses navigating through VUCA and a post-pandemic BANI world. Our graduates are distinct individuals who are aware of industry as well as societal issues, driving organizational change and growth simultaneously with sustainability and people initiatives. It offers a 4 week Global Career Accelerator Program with our broad range of international partners such as Kedge Business School, France, EM Normandie, France to name a few. In 2020-21 due to travel restrictions our partner Syracuse University delivered online sessions and the students travelled to Dubai to attend the famed Dubai Exp
Our award-winning faculty understand the requirements and pressures on the modern-day business leader. The curriculum as well pedagogy enable learning to happen in a challenging but supportive environment. Our immersive and experiential process stimulates the mind and provides unmatched peer-based learning. Being a full-time program, it enables the participant to utilise all the curricular and co-curricular facilities and events that are on offe
Why PGDM Executive program at IMT Ghaziabad?
The PGDM Executive Program of IMT Ghaziabad is targeted at executives and entrepreneurs, who have not had an opportunity to get exposed to the latest managerial tools and techniques through formal in class interaction. Apart from filling this gap, it also equips managers for assuming higher responsibilities and enables them to perform more efficiently and effectively in the content of the changed domestic and international business environment.
•It is a tailor-made program for working professionals looking for transition into leadership and general management roles.
•Provides a new insight into Global Business Practices and an enviable Network of Connections which will prove an important asset throughout your career.
•Refresh your Knowledge or Upskill in new areas. The program will refresh your knowledge, hone your expertise, and deepen your understanding of what makes businesses successful.
•Move up the corporate ladder. With new skill set and knowledge, you will be able to claim bigger responsibilities and roles that will be beyond your existing profile.
•Gateway to change career path
•New networking opportunities The PGDM Executive classrooms of IMT Ghaziabad has a diverse pool of working professionals from vast profiles, functions and sectors. Needless to say, this offers a massive opportunity of networking, interaction and learning.
•Advanced curriculum and specializations As the program is meant for working Executives having around 5 years of work experience, It is meant to match the skills required for the senior management level. The specializations are also advanced and industry oriented.
•Capstone business simulation projects that enables the student to synthesizes concepts & techniques from core & specialization courses.
•Peer learning & in depth class interactions: Students can interact with their peers who bring a diverse range of skills and professional experience to the classroom.
Admission Process for PGDM Executive program

ELIGIBILITY CRITERIA
♦ Graduate in any discipline with minimum 50% marks in aggregate
♦ Minimum five years' work experience after graduation as on September 30, 2022.
Shortlisting: CAT/ XAT/GMAT (CAT 2019 – CAT 2021 / XAT 2019 – 2021 Or GMAT taken after September 1, 2017.) GMAT scores can be submitted till October 15, 2022
SELECTION PROCESS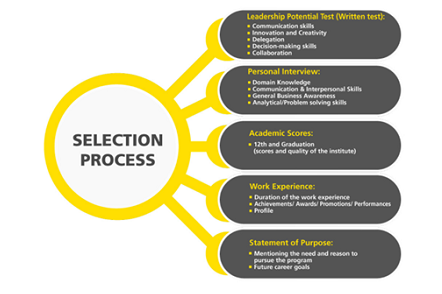 ADMISSION CALENDAR PGDM EXECUTIVE 2021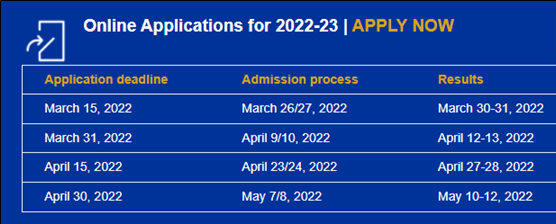 *The admission process is rolling and the next process of admission is subject to filling of seats in previous round.