"Excellence is a continuous process and not an accident" – Dr. A.P.J. Abdul Kalam
Goa Institute of Management believes in creating global leaders and change-makers through continuous learning, skill development and innovative approach to impart knowledge.
Goa Institute of Management offers four two-year full-time programmes – Post Graduate Diploma in Management (PGDM), PGDM (Healthcare Management), PGDM (Big Data Analytics) and PGDM (Banking, Financial Services & Insurance, BFSI).
Goa Institute of Management extends a very interesting approach of admissions. Institute invites a select group of candidates to GIM for Achievers' Round.
What is an Achiever's Round?
Achiever's round in Goa Institute of Management is basically a way of short-listing candidates for scholarship based on their achievements in various fields of life such as in academics, sports, co-curricular or work life etc. Based on these achievements when a candidate finally gets shortlisted, he is entitled for a scholarship worth 4 lacs.
Also, this gives a lifetime opportunity to the selected students to explore and experience GIM even before admission. It also increases the likelihood for the selected students to become a part of a student exchange program conducted by Goa Institute of Management and experience an internship with global partner institutions
Through the Student Exchange Program, the selected students can also study abroad in our partner institute for one term. The Joint International Internship Seminar is an intensive two-week program which is held in September every year. This empowers the selected students of the partner institute and GIM to work on live projects in organizations in India.
Deadline for Achiever's Round and CAT Application(all programmes): 15 December, 2020
Eligibility
The list of Achievements examples is given below:
Examples:
National level sports player.
Topper in University Degree (Graduation)
School/State/National Topper in Senior Secondary Examination
School/State/National Topper in Senior Secondary Examination
District/State Level Sports Player.
Employee of the year (with valid certification)
District/State/National level winner in Co-Curricular Activities
At least one achievement is require (Maximum-3) can be filled in the form. All achievements should have documents to support available at the time of interview and joining the Institute.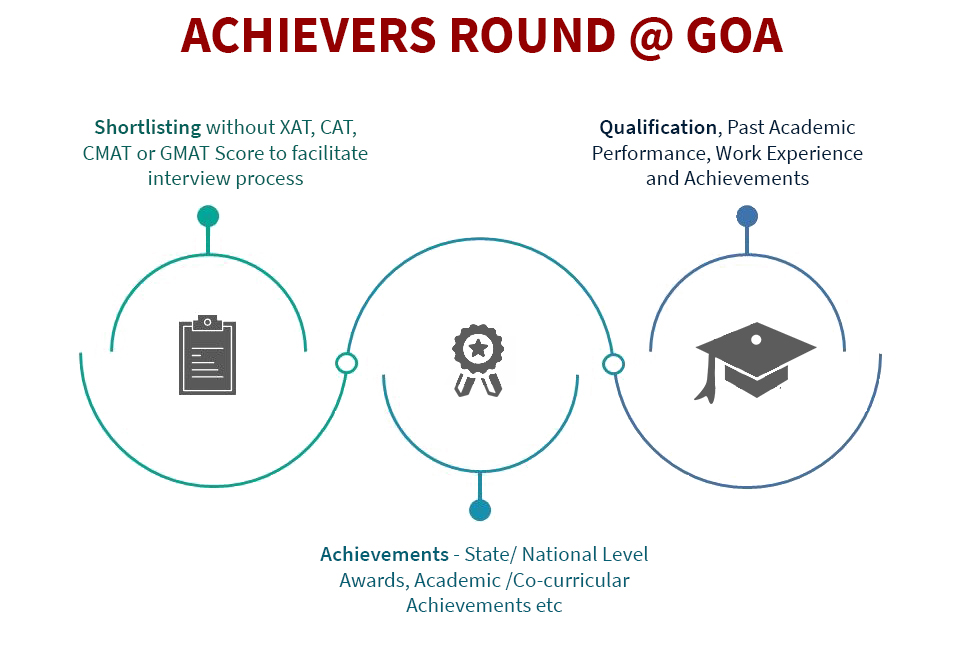 Points to Remember
Opting out of Achiever's Round makes the candidate not eligible for any scholarship.
Short-listing is based on curricular, extracurricular, and career achievements and profile (qualification, past academic performance, and work experience) of the candidates.
Candidates are required to submit the competitive examination (XAT, CAT, GMAT, or CMAT) scores along with the required certificates and proofs for Achiever's Round
The final selection of the students will be based on
1.) Objective and leadership assessment (40%)
2.) Past academic performance (15% ),
3.) Work experience, if any (10%),
4.) Performance in 1:1 evaluation (30% )
5.) Composite diversity index (5%).
Remember
CAT/XAT/GMAT/CMAT scores are very much part of the evaluation and a candidate with unacceptable score will not get admission, even though (s) he may have been called for Achiever's round.
Apply Now
Stay informed, Stay ahead and stay inspired with MBA Rendezvous