With over 25 years, Jaipuria Institute of Management has been providing students with quality education in the field of management. It employs unique teaching-learning process to put a 360-degree emphasis on the personal and professional development of its students and nurtures them towards a holistic growth.
VISION :

To be an educational institution of choice for all stakeholders which promotes human well-being through continuous learning.

MISSION

:

To provide learner-centric quality education for stakeholders' well-being through continuous improvements.

CORE VALUES

:

Quality Conscious | Participative Decision Making | Respect for Diversity and Personal Choice | Concern for Society & Ethics.
ACCREDITATION
Jaipuria Institute of Management is proudly recognized by several accrediting agencies nationally as well as globally. The institute has not only been accredited by NAAC, National Board of Accreditation and Association of Indian Universities but has been ranked amongst top B-schools in the country by National Institute of Ranking Framework NIRF, Business Today, Outlook and GHRDC, NHRDN to name a few.
Jaipuria Institute of Management has created a legacy of Leadership, Professional Acumen and Excellence. Jaipuria strives to exceed the benchmark of educational standards and constantly innovates in the processes and methodologies in Management Education and Leadership.
PLACEMENTS
The PGDM class of 2020 has shown incredible placement results setting up the bench mark to 94.6% with over 375 recruiters around the world,in the leading companies like Colgate Palmolive, Deliotte, HUL, Dabur, ITC, Adani Wilmar, HCL Technologies and so on. The average CTC is 6.49 lacs. You can also visit https://www.jaipuria.ac.in/placements/
Being one of the most respected and dedicated business groups of India, Jaipuria has also successfully managed to create history in field of education It is this unique heritage that sets it apart from other educational institutes. Jaipuria ethos is focused on providing superior quality education consistently and incessantly, no doubt strives to prepare its students as engaged citizens making meaningful contributions to society.
Jaipuria Institute of Management runs multiple exchange programs throughout the year and has tie-ups with some of the leading universities and colleges across the world. These collaborations gives an opportunity to the Jaipuria students to engage in global peer collaborations and obtain in-depth international exposure and insight, so they are well prepared for any kind of management responsibility in the future.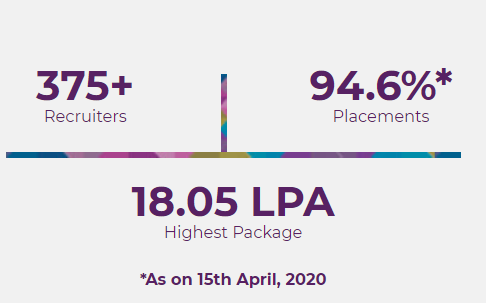 FACULTY
Jaipuria Institute of Management has a team of highly qualified, experienced and seasoned team of faculty members, comprising of both national and international educators, who are constantly challenging the students to unlearn, learn and push new targets.
They are the key to creating future leaders who can not only apply knowledge effectively, but create new knowledge and benchmarks for others to follow.
With its outstanding faculty, world class teaching standards, and innovative academic programmes, Jaipuria intends to set a new horizon in the Indian education system of Management Studies.
CAMPUS LIFE
Campus life at Jaipuria Institute of Management allows an unparalleled bonding between the students and the faculties. This is accentuated by the various activities and year-long cultural and educational events leading to a strong camaraderie between students despite the competitive spirit. The sprawling green campus ensures plenty of opportunity to the students to compete and collaborate on various activities.
At Jaipuria, it is believed that learning can beyond curriculum and syllabus, which involves soft skills like teamwork, interactions, networking and communication. There is also the need for pursuing co-curricular interests that help in creating a leader's personality. A typical day in Jaipuria Institute of Management incorporates all these needs and makes the day a wholesome one for every student.
Jaipuria understands and lives by the importance of good study environment on the quality of education imparted to its students. Jaipuria takes care of students coming from diverse communities and backgrounds all across the world under its wings. This naturally creates a wholesome environment for students to learn from various cultures and backgrounds, developing them in to all rounders, or Champions as you say!
Jaipuria is truly committed to an interactive, participative and technologically enabled learning experience. It provides a rewarding and challenging environment for faculty, staff and students to kindle and sustain a passion for excellence.
Jaipuria Institute of Management has fashioned the institute to set a benchmark in managerial education. The success of the students is a testimony to the rigour, contemporary relevance, and pedagogical innovativeness that prevails in Jaipuria Institute of Management.
Admissions Open for MBA/PGDM 2021. Don't miss your chance to study at Jaipuria Institute of Management!
Apply Now
Stay informed, Stay ahead and Stay inspired with MBA Rendezvous