The MBA Program offered by IFMR GSB Krea University promises a journey of professional and personal growth to all its students. The intense MBA experience tests adventurous students and prepares you for both the successes and failures of the future. With over 50 years of research and teaching experience, the institute has established itself as a premier business school, successfully shaping the future of generations of students through its dynamic and rigorous curriculum.
Quality Curriculum
What students study is the most crucial aspect of an MBA program. A curriculum which provides ample opportunities to students to gain deep understanding and insight into a variety of topics and acquire skills they will need in their future careers.
The above diagram shows the core courses offered by IFMR GSB, to lay a strong foundation and enable students to become successful managers.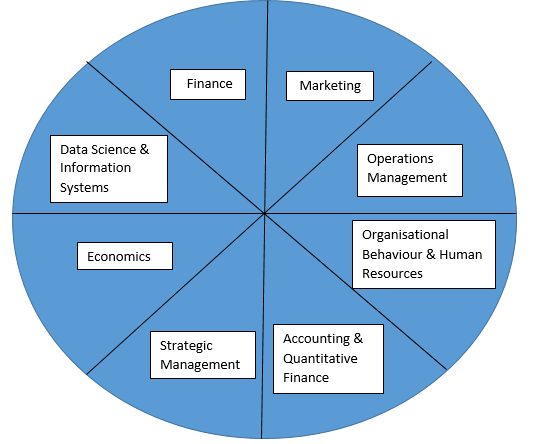 Interwoven Learning
IFMR GSB prepares students for the future. Its curriculum reflects a modern approach, as it interweaves skills across management disciplines and liberal arts. The students learn to see problems facing an organization from multiple viewpoints and acquire the skills required to solve these problems. The progressive curriculum includes subjects such as Ethics, Communications, Design, Thinking, and a Capstone Simulation.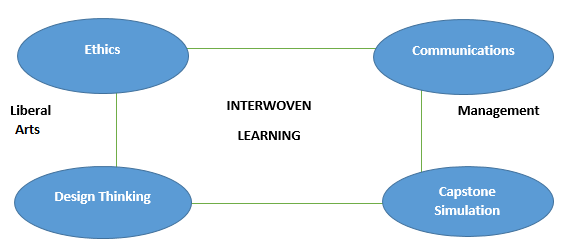 Summer Internship Program
In preparing students to face the challenges of the future, IFMR GSB offers all students a rewarding summer internship program, many of which generate pre-placement job offers.
The two-month program is carried out under the joint guidance of faculty and industry experts.
Students gain practical experience working in an organization and dealing with real life problems, which gives them an opportunity to test the theories learned in the classroom.
Attributes of MBA Graduate from IFMR GSB
Attributes of MBA Graduate from IFMR GSB
Students graduating from IFMR GSB are Reflective, Ethical, Effective and Professional.
The students are trained with an international perspective and have a global mindset.
Given the importance of data in running a business today, the graduates of IFMR GSB excel in data-driven decision making.
At the same time, the soft skills of students are nurtured and they are trained to communicate effectively in an increasingly digitized world.
Graduates of IFMR GSB possess excellent leadership qualities. They are capable of leading from the front, as well as work in teams led by others.
They thrive in complex environment due to their multi-disciplinary training and analytical skills.
Above all, they have strong ethical foundations, willing and able to do the right thing even in difficult situations.
Excellent Placement Record
Graduates of IFMR GSB receive attractive placement offers from renowned organisations all over the world – India as well as North America and Europe. The placement record of the institute is testimony to the quality of the program and the skills that the institute imparts to its students.
For the batch of 2021-23, the highest Salary offered was INR 20 lakhs per annum and the average pay over INR 13 lakhs per annum.
Prominent names such as JPMC, Deloitte, Wells Fargo, EY, HSBC, Morgan Stanley, TVS Next and Axis Bank offered placements to graduates of IFMR GSB
Students bagged futuristic roles in areas such as roles including Risk Management, Consulting, Analytics and Regulatory Reporting
Students of IFMR GSB receive excellent exposure and opportunities throughout their two years in the campus and are ready to face the challenges of the future by the end of their rigorous two-year MBA program.
Stay informed, Stay ahead and Stay inspired with MBA Rendezvous.