For IIFT Aspirants the good news came yesterday on 13th Dec 2019. National Testing Agency has Declared IIFT Result for 2020 and it is proving to be new horizon for those IIFT Aspirants who are dreaming to get into International Business.
Earlier National Testing Agency or NTA conducted IIFT Exam which was held on 1st December 2019 and candidates were eligible for 2 IIFT Campuses i.e. Delhi and Kolkata. There were 86 test centres spread over 41 cities in India for this IIFT 2020 Exam.
IIFT 2020 exam had 4 sections namely VARC (Verbal Ability and Reading Comprehension), QA (Quantitative Aptitude), LRDI (Logical Reasoning Data Interpretation) and the last section was General Knowledge.
For IIFT 2020 Result candidates can visit at the official website of NTA and follow the procedure over there while entering your IIFT 2020 Application number followed by password or Application number and Date of Birth to see your IIFT 2020 Result. You can take a print out of your score card and wait for the cut off from both campuses of Delhi and Kolkata.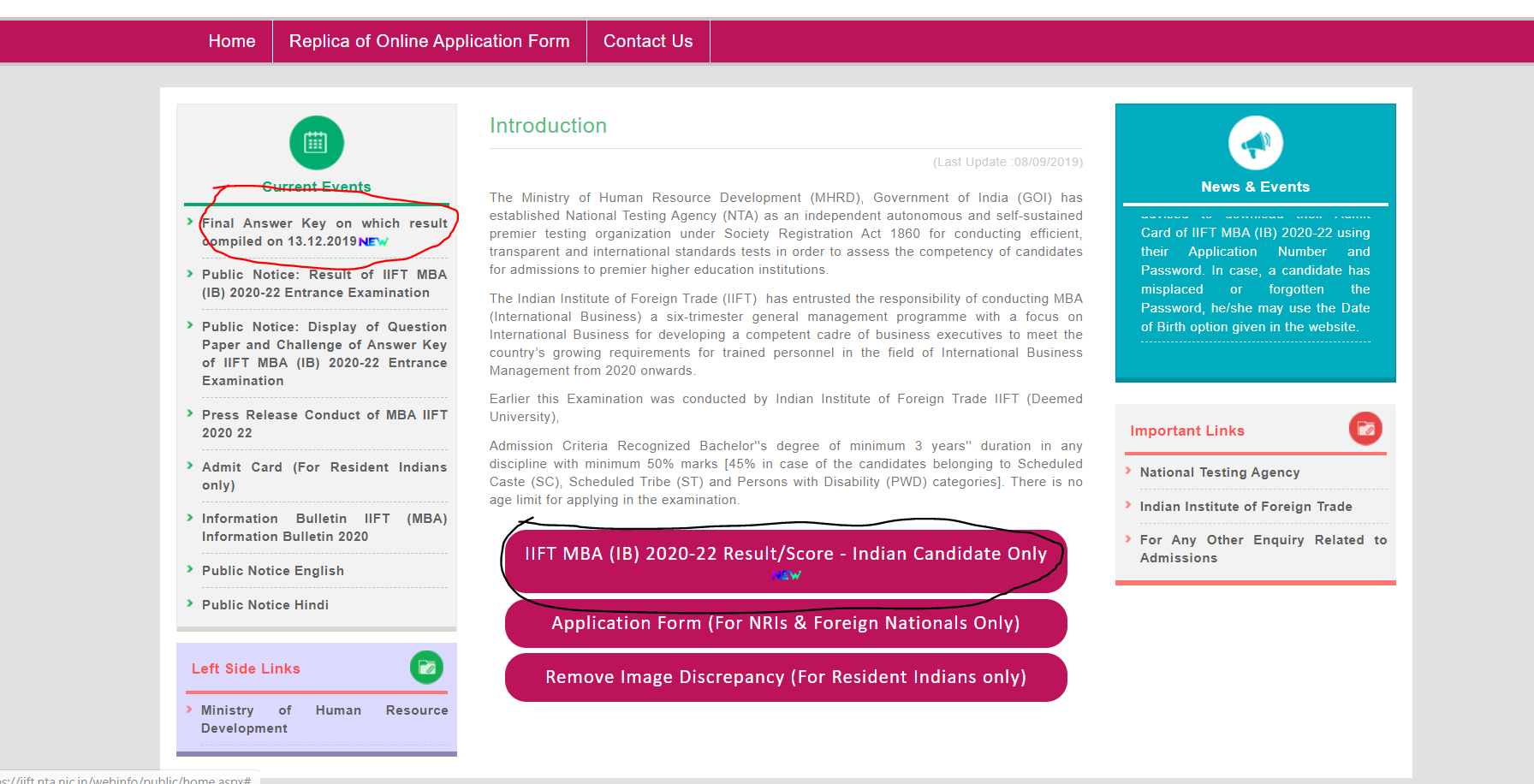 IIFT 2020 had number of questions which were moderate to difficult whereas the impact factors which might affect your score can be number of seats available at IIFT Delhi and IIFT Kolkata for the academic session of 2020-2022. There on how many aspirants have appeared in IIFT 2020 will also impact percentile of IIFT.
IIFT Aspirants must note that IIFT 2020 result is still not enough and even if you get yourself in the cut off scores at both campuses of IIFT, you will still have to undergo written ability test i.e. WAT and later followed by GD and PI rounds. These soft skill tests post IIFT 2020 result are likely to be conducted at Delhi, Kolkata, Lucknow, Mumbai and southern cities of Hyderabad, Bengaluru and Chennai.
IIFT Aspirants should note that for written ability test you would be given an assigned topic which may be from the area of Indian economy, sports, global warming or international issues and you will have to write around 200 words in a stipulated time of 30 to 45 minutes. WAT is nothing but a soft skill test to test your language skills in areas of grammar, vocabulary, flow of writing and conclusion. It is with the WAT admission panel understands your mind set and your language skills on expressions.
The traditional group discussion won't be having with the IIFT admission panel but you might be given a small case study which you have to read and then later on would be having a discussion with your fellow panellists in GD.
Personal Interview or commonly known as PI among students can prove to be final step for the admission IIFT 2020 and over here students must showcase there best of communication, positive attitude with very positive body language and willingness to learn with objectives.
IIFT Aspirants must note that the final merit list for the admission in IIFT 2020 will be totally dependent on your IIFT 2020 exam score plus WAT score and definitely with GD and PI Score.
The weightage of your score for IIFT 2020 exam will be 50% for IIFT exam and 15% for WAT followed by 15% for GD and finally 20% for PI.
IIFT 2020 Result has given golden opportunity to those students who are about to compete for 220 seats at IIFT Delhi Campus and 200 seats at IIFT Kolkata campus.
In the existing scenario of competitive economy globally with your admission at IIFT can be a boon for you to build up your career and become eligible manager who is not all professionally sound but employable glocally.
Stay informed, Stay ahead and Stay inspired with MBA Rendezvous