Birla Institute of Management Technology (BIMTECH) has a long and rich history in providing quality education to students. In addition to offering PGDM and PGDM-International Business, BIMTECH has the distinction of being the first in the country to begin sectoral PGDM programmes for Insurance and Retail Management. Being consistently ranked among the top ten private institutes, BIMTECH has become a popular choice for students. Besides good infrastructure, rigorous curriculum, excellent opportunities for students to grow, BIMTECH is sought after by students for its impeccable placement record over the years.
Let us take you through some important aspects related to BIMTECH- Noida.
BIMTECH Programs
Program

Duration

Features

PGDM

Two years

-Flagship program of the institute.

-Backed by Industry and Alumni.

-Program offers dual specialisation-in Functional Area(Marketing, Finance, HR and Operations) and in the chosen Business vertical (BFSI/IT-ITES,Digital Business and Analytics).

-Mandatory Summer Internship Projects for students.

-Every student pursuing this course gets mentorship from alumni.

-Regular interaction of students with industry experts.

PGDM (International Business)

Two years

-Rigorous, quality curriculum promoting a holistic understanding of international business.

-The course incorporates practical exposure through regular industry interface.

-Chance to acquire a foreign language course, which will help students in their professional lives.

-Field visits to airports, sea ports, dry ports to give students an insight into the processes involved in international trade.

PGDM (Insurance Business Management)

Two years

-Well designed course to meet the needs of the future.

-A total of 36 subjects give a deep understanding to students.

-Course is sprinkled with industrial visits, guest lectures, regular industry interface, live projects etc.

-Course is accredited from the CII-UK and III-Mumbai.

PGDM (Retail)

Two years

-Course aims to nurture quality managers to excel in the highly competitive retail marketing environment.

-On the job training in Retail Stores for students to give them real life exposure.

-Real life venture FROOSH to give students a platform to have real time experience in retail.

-Frequent industry and expert visits.
BIMTECH Advantage
Students of BIMTECH benefit from the trust top companies place on the institution.
The doors of attractive placements open for them at the end of their course.
BIMTECH trains them to become their best versions professionally and personally and be ready to kick start their careers.
Apply Now
BIMTECH- Impeccable Placement Record
Students of BIMTECH have gained from the brand value that the institution attracts. This reflects abundantly in their placements.
| | | | |
| --- | --- | --- | --- |
| | Batch 2018-20 | Batch 2019-21 | Batch 2020-22 |
| Highest Salary | INR 23 LPA | INR 16 LPA | Ongoing |
| Average Salary | INR 8.13 LPA | INR 8.07 LPA | INR 9.19 LPA |
| Total Recruiters | 117 | 129 | - |
Despite challenging economic conditions and a raging pandemic, students of BIMTECH have received attractive offers from reputed companies with operations in multiple countries.
BIMTECH has won the trust of these top companies, as reflected in the increase in the number of recruiters for the batch of 2019-21.
BIMTECH-Institute of Eminence
BIMTECH is visited by a number of recruiters for placements every year. Some of the top recruiters that trust the product nurtured at BIMTECH are:
| | | |
| --- | --- | --- |
| Maruti Suzuki | Infosys | Wipro |
| ICICI Bank | KPMG | TCS |
| HCL | Hyundai | Gartner |
| Swiss Re | Panasonic | HDFC Bank |
| Big Basket | L&T Infotech | Federal Bank |
| Birla Soft | IDFC First Bank | SBI General Insurance |
BIMTECH Placements across Sectors
Students with different specialisations across sectors found placements at BIMTECH.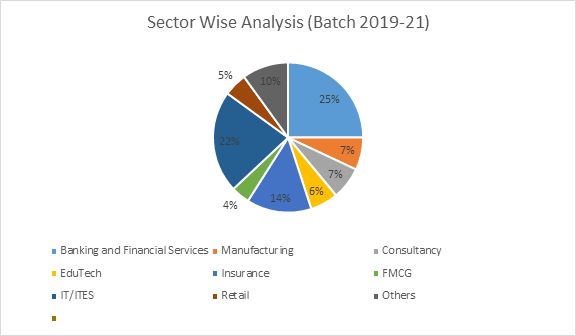 BIMTECH-Summer Internships
For the current batch of 2020-22, attractive summer internships have already been offered to students. The highest stipend bagged by students of the current batch is INR 70,000, while the average stipend is INR 18,000. The 100 per cent placement record reflects on the quality of the program run by BIMTECH. These internships give an excellent platform to students to display their talent, learn from industry experts and gain confidence.
BIMTECH is a quality institute to pursue higher studies in. Its placement record over the years stand testimony to the excellent eco-system, which the institute provides to its students for their professional and personal growth.
Stay informed, Stay ahead and Stay inspired with MBA Rendezvous.