Institute of Management Studies, Ghaziabad through its constant pursuit for knowledge successfully established itself as the pioneer of management education in the year 1991. It imparts innovative and expert course curriculum and prepares the students for the highly competitive business world, so that they require minimal in-house training, and already possess a comprehensive understanding of the business.
Highlights
One of the oldest B-Schools in North India.
Accredited Globally by ASIC, U.K, NAAC (National Assessment and Accreditation Council) Accredited with 'A' Grade and is a proud member of AACSB Business Education Alliance.
IMS Ghaziabad has signed MoU with MCX (India Largest commodity derivatives exchange), BRICS CCI School of Analysis, CSC Academy, IBM, Northern Illinois University, Fort Hays State University, Fredericton University of Canada and Jamia Hamdard to boost research, students & faculty development.
IMS Ghaziabad Awarded "College of The Year 2022"
16th Rank in Top 20 B Schools in North India' by The Times of India, '29th Rank in Top 100 Private Institutes in India','43rd Rank in Top 150 B Schools in India" in the prestigious survey of India's Top B Schools published by The Times of India in February 2022.
Ranked 12th amongst Top Private B Schools in North India and 39th amongst Top Private B School in All India"
"A2" by Business Standard B-School Survey 2020.
12th Top B-School in North Zone, 8th Top B-School in Delhi NCR by The WEEK-HANSA Research Survey, in 2019.
Program Offered
| | |
| --- | --- |
| Program | Duration |
| Post Graduation Diploma in Management (approved by All India Council of Technical Education (AICTE)) | Two Year- Full Time |
Specializations Offered:
Finance & Banking Management
Marketing Management
Human Resource Management
Operations & Supply Chain Management
Information Technology
International Business
Eligibility
Applicants who have a minimum of three year Bachelor's degree with 50% marks or equivalent in any discipline recognized by the UGC/ AICTE are eligible to apply for admission to the PGDM programmes.
Aspirants with relevant work experience and fresh graduates are also eligible to apply.
Candidates appearing for the final examination for the Bachelor's Degree (or equivalent examination) can also apply subject to submitting evidence to that effect latest by 30th November 2022.
Final selection Criteria
The merit is prepared on the basis of parameters given below: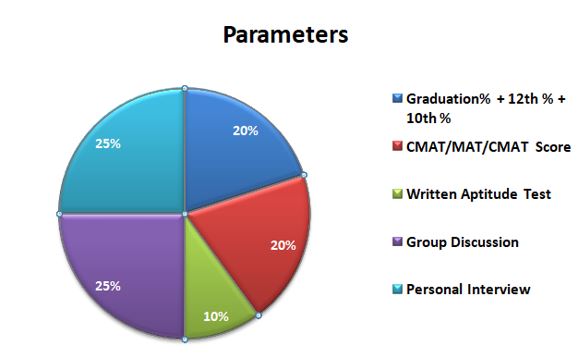 How to Apply:
Step 1: Procurement of Form
Application form can be filled on-line at by paying an amount of Rs. 1100/-
Application form can be downloaded from the Website, filled by the candidate and sent to IMS along with a D.D. of Rs. 1100/- in favour of IMS Ghaziabad, payable at Delhi.
Application form can be purchased from the counter at IMS Ghaziabad by paying Rs. 1100/-
Application form can be obtained by sending a D.D. of Rs. 1150/- in favour of IMS Ghaziabad, payable at Delhi.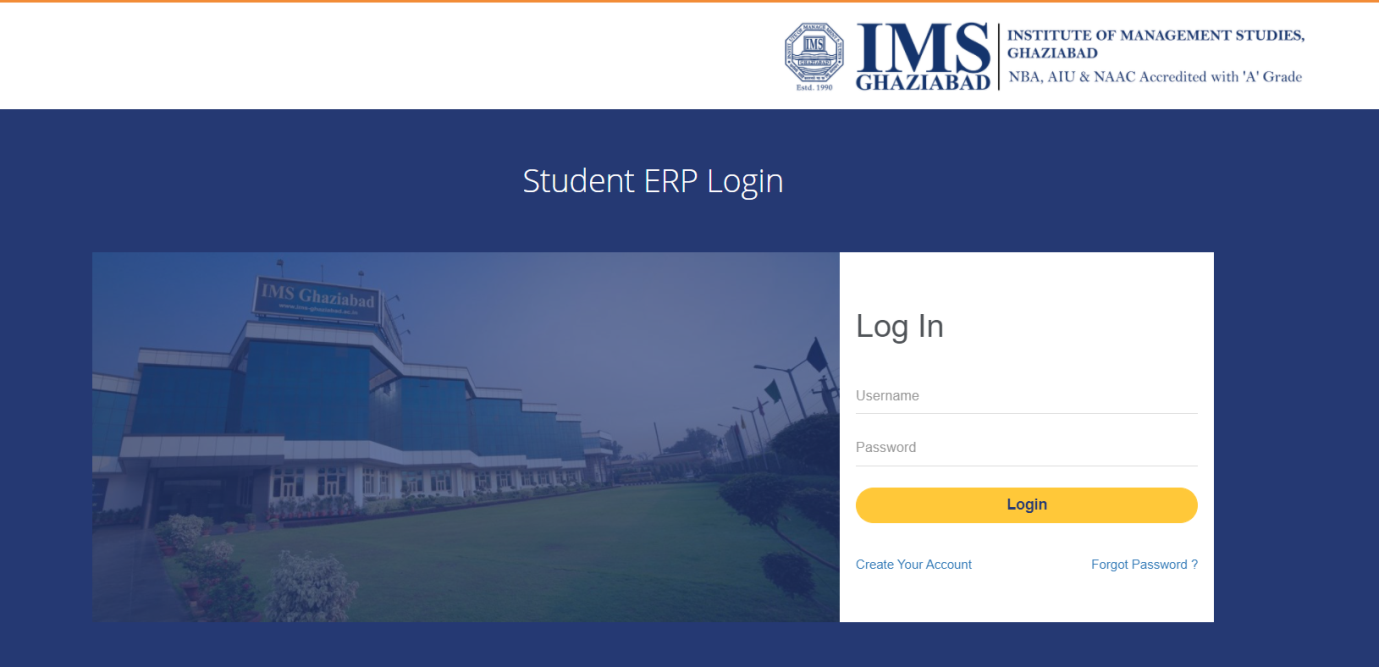 List of Documents Required
A candidate has to apply for admission to IMS Ghaziabad and attach duly attested copies of the following documents:
Attested copy of CAT/ MAT/ GMAT/CMAT/ATMA score.
Certificate and Mark Sheet of qualifying examination passed.
Relevant certificate to verify date of birth.
Step 2: Submission of Form
Offline: Applicant needs to send the duly filled in form to IMS Ghaziabad, i.e. Institute of Management Studies, Lal Quan, GT Road, Ghaziabad – 201009 Uttar Pradesh (NCR).
Online: Applicants can submit the application form online.
Step 3: Call for GD-PI
Selected candidates will be called for GD-PI. The venue for GD-PI will be available on the IMS Ghaziabad website.
Step 4: Declaration of Final Selection List
List of the shortlisted candidates will be declared on the institute website.
Step 5: Fees Submission
A period of one month would be given, to the selected candidates from the day of declaration of the result to submit the first installment.
Fee and other Charges
The total fee of the PGDM program is Rs. 7,95,000.00.
Hostel Fees details are as under:
| | |
| --- | --- |
| Category (Centrally air-conditioned) | Fees (Per Annum) |
| Two Seater (including Mess Charges) | Rs. 1,35,000/- |
| Hostel Security (Refundable) | Rs. 5,000/- |
| Total | Rs. 1,40,000/- |
Placements
Following are the key Placement 2022 highlights: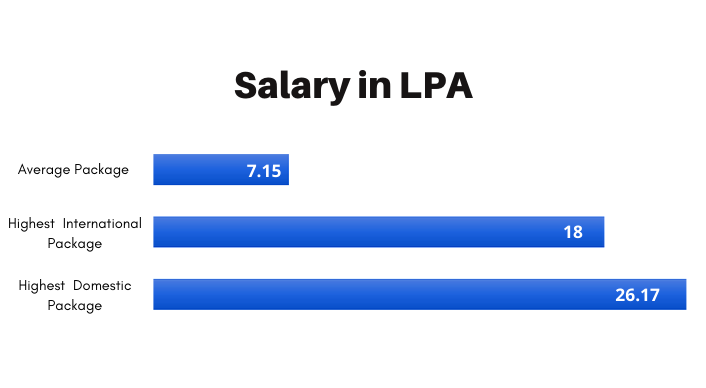 IMS Ghaziabad continues to receive profiles from various domains such as Consulting, Banking, Finance, FMCG, Consumer Durables, Automobile, Manufacturing, Insurance, IT, Telecom, Retail, Logistics, Media, E-commerce, etc.
Some Prominent recruiters who hired the PGDM 2019-21 students are:
Deloitte, Byjus, Wipro, Jaro Education, Cvent India, Pentaloons, Amazon, Asian Paints, Amul India, Gartner, ITC, Tech Mahindra, Vodafone, American Express, Axis Bank, Buoy Group, Ernst & Young, Berger, Mondelez, Colgate, Amul, Dabur, Unicharm India, CP Milk and Food Products Pvt. Ltd, ICICI Group and many more..
IMS Ghaziabad has been consistently Reinventing Management & Technical Education with the objective of creating global leaders who can navigate the ever-changing business landscape. The curriculum is constantly updated to meet the dynamic needs of industry and academia. This provides an opportunity to continuously engage in innovating curricula by envisaging current and emerging challenges and opportunities in the business environment.
Apply Now
Student Reviews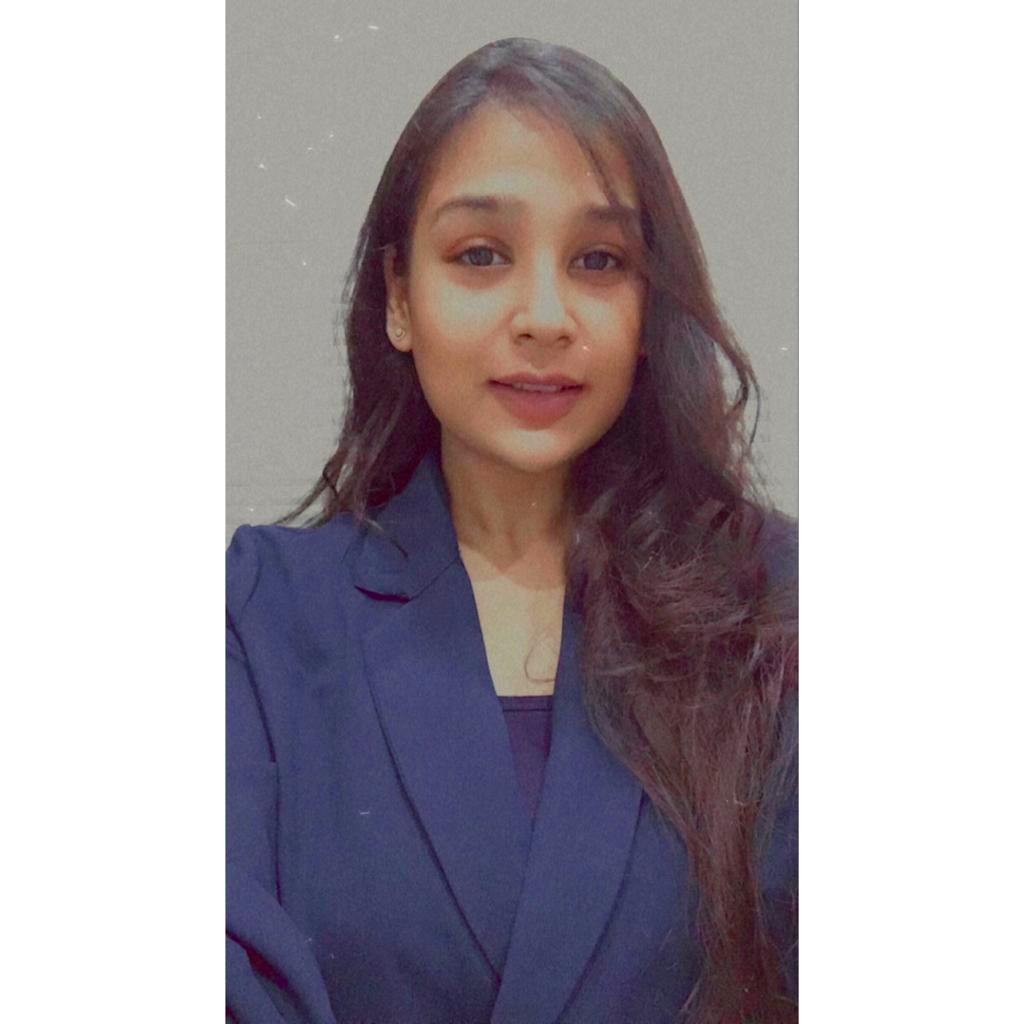 Ms. Priya Goyal
Post Graduate Diploma in Management (PGDM) - Batch of 2020-22
Pursuing PGDM from IMS GHAZIABAD and what improvements I can see in my personality and attitude are tremendous. The library and e-learning resources are here to provide complete knowledge to students. The faculty here is so supportive and guides you towards betterment, be it personal and professional. The institute has a very positive environment, and Regular webinars, certification programs, placement opportunities, and presentations have helped improve speech, presentation, and audience interaction skills. The institute provides different platforms to students to showcase their talent and boost enthusiasm to work hard. Various group discussions have led to clarity of industry and work culture in the area of interest.

Mr. Arpit Tewari
Post Graduate Diploma in Management (PGDM) - Batch of 2020-22
My personal experience with IMS has been very exploratory, not only about the corporate culture, new areas of knowledge and skills but also on a personal development front. Despite being an academically sound student, I had many apprehensions regarding presentations, group discussions, and interviews. But the curriculum at IMS has helped me grow and come out of these apprehensions and express myself more. The curriculum is a blend of all the theoretical concepts and their applications both in professional and personal life. The faculty and mentors are all very supportive and guide you in the right direction and enhance our knowledge to become more corporate-ready.
If I would say for placements, then there is no lack of companies coming to the campus ranging from all the different sectors including financial services, banks, edutech, IT, marketing, media, etc. The college also has a PPPC (Pre-placement preparedness committee), which assists the appearing candidates to help them clear their doubts before appearing for the placement drives. At IMS, we have a rigorous curriculum involving both class and different club activities. Also, various webinars, alumni talks, corporate talks, and other events involve student. Participation helps them imply their management and team working skills and grow together.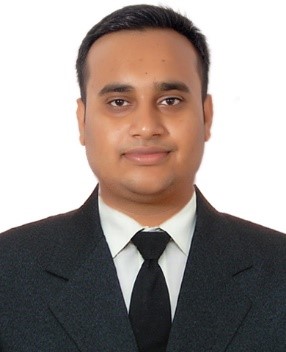 Mr. Anurag Jha
Post Graduate Diploma in Management (PGDM) - Batch of 2021
It is the best college in Delhi NCR.
Placements: IMS Ghaziabad is always known for its 100% placements. It is the best institute which you can find in Delhi NCR with the best ROI. I really feel happy to be a part of IMS. The highest salary package offered was around 16.69 LPA. The average salary package offered was about 6 LPA. The avg. Package of Top 50 students is around 9 LPA. This year also, the best in segment companies like ITC, Berger Paints, Deloitte, EY, Dabur and many more are visiting the campus for placements.
Infrastructure: Our college is best in terms of infrastructure, digital library, air-conditioned classrooms, and auditorium. The entire campus is Wi-Fi enabled. The hostel is also highly equipped with modern facilities with free bus service. Moreover, the quality of the food served is also good, and our college doesn't compromise on quality.
Faculty: Faculty are the biggest asset of IMS, and they are highly knowledgeable. It depends on you how much knowledge you can gain from them. IMS Provides highly integrated course curriculum which makes students industry-ready. Even lots of extra certification courses are provided to nourish our skills.
Other: Our college offers the best PGDM course, so I chose this course. Every year lots of events are organised for students. The famous event in which every student wants to participate is named Melange. It is pretty good.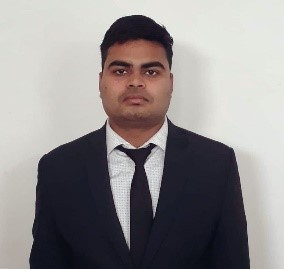 Mr. Rishu Tiwari
Post Graduate Diploma in Management (PGDM) - Batch of 2019-21
I am highly satisfied with all the facilities provided by our college and placements.
Placements- College provides very good placement opportunities. College also Provides IInternships/Live Project from time to time to enhance exposure students and also even in COVID-19 pandemic situation, our college provided internships with work from home facility. Many big companies MNCs come to our college so, student gets great corporate exposures. The average package of college is 6 lacs. Mainly it depends on our skills to grab them and to develop our skills the faculty mentors help the students and provide better quality education. The major roles offered by the company are management trainee.
Infrastructure- The quality of the facilities provided is good in comparison to other institutes. They have a digital library in the hostel. Hostel service is excellent. Hostel rooms have a balcony and centralized AC system. Hostel provides various facilities like washing machine, AC, induction, water cooler, iron and room with a sufficient space. Gym with trainer is also available in the hostel. Healthy food is being provided by the hostel.
Faculty- Faculty here are well qualified and support the students in every aspect. At the starting of PGDM you have a mentor list where you are given a faculty mentor for your full PGDM. They will guide you and help you throughout your course in every aspect. They are very much familiar and you can ask questions to them without any hesitation. They have an expert faculty of every subject and well qualified also.
Other- I did PGDM as I wanted more practical exposures of corporates. MELANGE is their mega event and is celebrated enormously. They have a bunch of fests where you can show your extra-cocurricular activities and can win various prizes and you can enjoy a lot.
Mr. Pradeep Kumar
Post Graduate Diploma in Management (PGDM) - Batch of 2020-22
It is a Great Experience to be a part of IMS Family. Since I Joined the Collage During Covid-19 At its Peak and No one thought the Life should Become Normal or Not, I'm not well aware of the Course and Curriculum of PGDM at IMS.
After Becoming A Member Of IMS Family, My Life Takes a big turnaround from the First day of Admission, As the classes was going on virtual platform of zoom until we feel like that we are in the campus. The College Faculty Is So much Supporting and Help Us In Every Possible Way. We Regularly go Through by Surprise Quiz which help us to be aware in the class always and Group Discussion & presentation in each subject too. The college also go through by SIP Readiness Module which helps us to be ready for facing interviews.
The college also offered value-added Certification Programs like Digital Marketing & Six Sigma Belt Certified By MSME, MS Office by Microsoft and more Like this.
The IMS also introduced us to the corporate world by regular Talk Series By Global Experts, Corporate Experts & Alumni Talk Series which help us to know what Corporate life Is. The college offered Dual specialization with Trimester System. I'm feeling obliged to be part of IMS GHAZIABAD.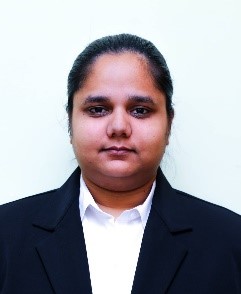 Ms. Sakshi Agarwal
Post Graduate Diploma in Management (PGDM) - Batch of 2019-21
Continuous Learning, this is what I have experienced being a part of IMS. There are a plethora of opportunities onboard.
Corporate Interface: The institute provides a large number of opportunities to interact and learn from corporate experts through its various corporate, global and expert series. The experts are invited from all the different domains and also from areas other than just traditional areas like emerging markets, technology, etc.
Infrastructure: The institute has a good infrastructure with nice ambience; with air-conditioned class rooms, lift-enabled, good canteen, library, hostel facilities, water coolers, etc.
Library: The library at IMS is equipped with all the necessary books and also with digital resources for additional knowledge base and data requirements. Some of the resources include emerald insight, Thomson Reuters, CMIE, ET Prime to name a few.
Hostel: The hostel rooms are 2-seater and have all the facilities like gym, digital library, medical room, canteen, nice mess, sports facilities (basketball, badminton, carrom, etc.) and also other facilities like induction, iron station, water-coolers at all floors and lifts.
Curriculum: The curriculum at the institute is designed with the aim of over-all development of the student and make them corporate ready. It is an effective blend of both knowledge and experience with rigorous group discussion sessions, presentations, back to back engagements like seminars (webinars, during COVID times) and exam schedules. Along with this, the support and motivation from the faculty and mentors is unpliable.
Placements: From my experience, I can definitely say that there is no lack of opportunities. Though there may be a difference in number of opportunities depending on the areas of specialization. There are a large number of companies including both well-established brands as well start-ups visiting the campus (both virtually and physically, owing to COVID pandemic). Some of the names might include Deloitte, Byju's, ICICI, ITC, Blackstone, DTDC and many more.
Apart from all the above areas there are various other events like the annual cultural fest, conferences, annual sports day and other club activities students can be engaged in.
Stay informed, Stay ahead and stay inspired with MBA Rendezvous.