Founded in 1979 by Dr Verghese Kurien, IRMA College is one of the leading institutions in rural management education and research. Acclaimed as the Father of the White Revolution, Dr. Kurien has transformed the dairy farming sector in India by bringing to it professional management and conduct. The legendary success of Amul inspired him to create legacy for the future leaders and management professionals.
IRMA is focused on creating management professionals who can bring about sustainable, ecologically-friendly, holistic growth by applying their management acumen at the grassroot level and influencing people and enterprises at a global platform.
Highlights
IRMA is a part of a legacy of 41 years and counting.
The PGDM (RM) is recognized as equivalent to Master's degree in Rural Management by the Association of Indian Universities (AIU) and approved by the All India Council for Technical Education (AICTE).
National Board of Accreditation (NBA) has accredited the Post Graduate Diploma in Management (Rural Management) of IRMA.
Over the years, nearly 2800 students have graduated from IRMA in the discipline of rural management
IRMA offers world-class infrastructure for learning at their 60-acre-green campus.
Experienced faculty members from reputed national and international institutions collaborate to design and train the students.
Highest Placement for 2020-22 : Rs. 26.5 LPA
IRMA Program Offered
| | |
| --- | --- |
| Program | Duration |
| | Two-year Full-Time |
IRMA Eligibility
A Graduate from any discipline, with a minimum of 15 years of education and 50% or above [45% or above for SC/ST/OBC (NC)/General (EWS)/PwD*] aggregate marks or equivalent CGPA at the graduation level is eligible to apply for IRMA's PGDM (RM) programme.
Candidates in the final year of the bachelor's degree may also apply if they would furnish evidence of meeting the minimum eligibility criteria by September 2023. They should have appeared in all the examinations of their graduation before the time of commencement of the programme (July 03, 2023).
The candidates failing to meet the minimum eligibility criteria will be asked to withdraw from the programme. The tuition fee paid by such candidates will be forfeited unless their vacant seats are filled by other candidates.
IRMA Admission Process
IRMA Admission Process of Post Graduate Diploma in Management (Rural Management) 2023 - 25:
Applicants are required to appear for the CAT 2022 conducted by the Indian Institute of Management (IIM) OR XAT 2023 of Xavier School of Management (XLRI), CMAT 2022.
Stage II: Interview Process
Online Written Ability Test (OWAT): Shortlist of candidates will be called for the next round of selection, where they will have to appear for an Online Written Ability Test. Candidate will need to write about 200/300 words on a given topic. It is designed to evaluate a candidate's rural aptitude as well as written communication skills.
Personal Interview (PI): Candidates shortlisted for interviews with IRMA faculty will be assessed on their managerial abilities, communication skills, and suitability for the Institute's program. In view of the fact that the PGDM (RM) caters to a very specific clientele; namely organisations contributing to broad-based rural development in India, the candidate's attitude towards rural management is of particular importance.
Personal Interview will be conducted in OFFLINE and ONLINE mode. Candidate will be given an option for selecting mode of Personal Interview.
Offline Personal Interviews will be conducted on the following centers.
1. Anand
2. Delhi
3. Bangalore
4. Guwahati
5. Kolkata
6. Pune
* IRMA reserves the right to change and/or cancel any Personal Interview centre.
Final Selection:
The following criteria will be used for the final selection of candidates:
CAT 2022 / XAT 2023 / CMAT 2022 Percentiles (35%)
Personal Interviews (PI) (35%)
Written Ability Test (5%)
Academic Performance (5%)
(10th Std.: 1.5%, 12th Std.: 1.5% and Graduation: 2%)
(Female and Transgender: 3.5%, Male: 0)
If a candidate can provide a valid proof of having passed their 10th Std/ 12th Std from a school located in an aspirational district, they will get 2 marks in their final score.
North Eastern State residents will receive 3 marks provided they submit a valid domicile certificate.
A candidate with a government certificate of their participation in sports at different levels will receive marks corresponding to the level of participation.
Candidates from any discipline other than Engineering discipline will get the benefit of Academic Diversity.
The institutions/universities will be decided based on government rankings – NIRF 2022 Ranking (Engineering, Dental, Pharmacy, Law, Medicine, Architecture and other Colleges) and ICAR ranking 2020 for Agricultural Universities
Only full-time and paid employment will be considered.
Experience in months as of September 30, 2022.
| | |
| --- | --- |
| Experience in Month | Score (Maximum - 5 Marks) |
| <=6 | 0 |
| 7 to 12 | 1 |
| 13 to 18 | 2 |
| 19 to 24 | 3 |
| 25 to 30 | 4 |
| 31 to 36 | 5 |
| 37 to 42 | 4 |
| 43 to 48 | 3 |
| 49 to 54 | 2 |
| 55 to 60 | 1 |
| >60 | 0 |
4 Easy Steps to Apply
Register yourself:
Register as a new user. Fill in the details like your name, email address, mobile number, state, and city and create a unique password for security purposes. You can visit: https://admission.irma.ac.in/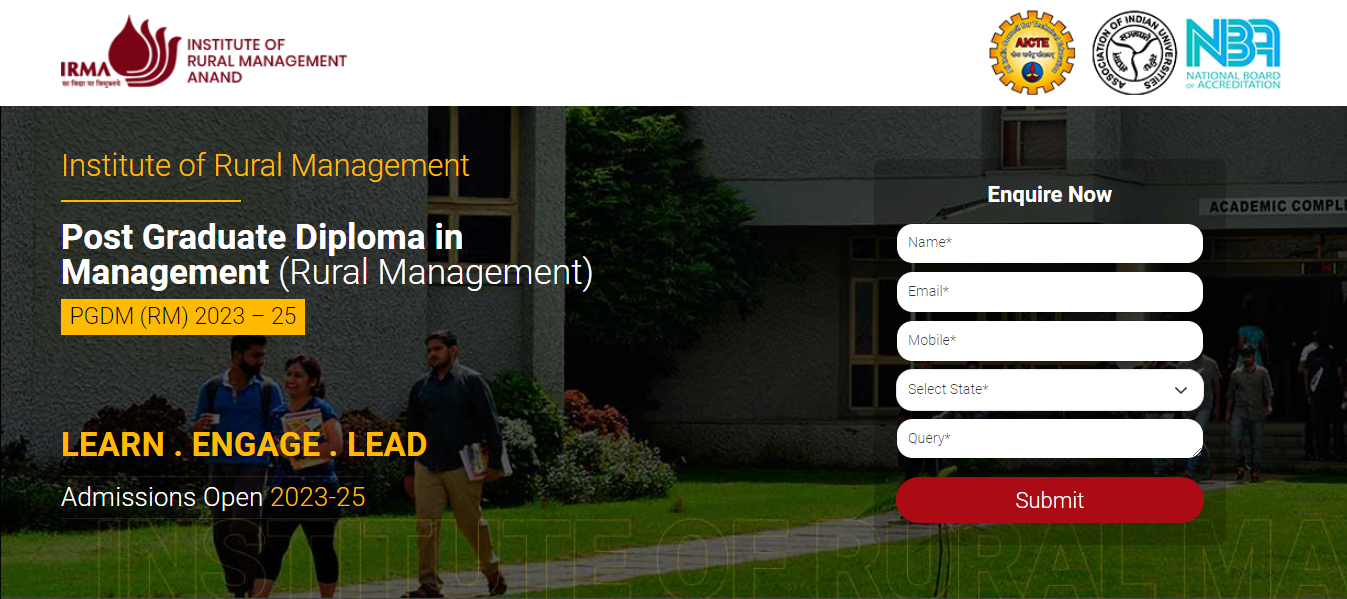 Verify your account:
A link will be sent to the email address you had mentioned in step 1. Click on the link to validate and apply for IRMA.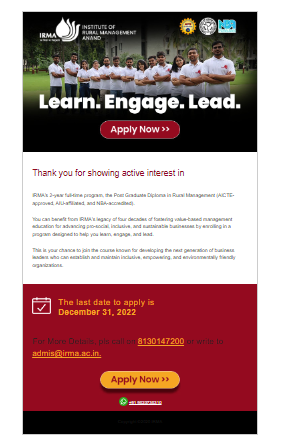 Fill in the form:
The form will have basic details, general information, address details, and course selection to be filled. The candidate also needs to upload several documents.
Application fee payment:
| | |
| --- | --- |
| Category | Application Fee |
| General, General (EWS) & OBC | Rs.2,000/- |
| SC/ST/DAP* | Rs.1,000/- |
*DAP- differently abled person
No application fee for BPL
Candidates need to pay application fee either through Credit/Debit Card or Net Banking. Application form fees once paid will not be refunded.
Important Documents
Mention the name as given in the graduation certificate / mark-sheet.
Please ensure that correct information is entered prior to final submission. Please follow the sequence of all stages after editing (do not skip any stage) to ensure proper data entry. Any editing is possible before final submission. After final submission, it will not be possible to edit the application form.
Please upload scanned or digital copy of your photograph and signature (Maximum size: 512 KB) at the appropriate place in the form.
Please upload the scanned copy of your latest General (EWS) / OBC (Non creamy) / SC / ST / DAP category certificate as applicable (Maximum size: 1 MB).
Please also upload the scanned copy of your mark sheets of 10th, 12th and graduation. Also upload your graduation certificate, Sports certificate, extra-curricular certificate and work experience certificate (whichever applicable) (Maximum size: 1 MB).
IRMA Fee and Other Charges
SN

Particulars

First Year

(Amount in INR)

Second Year

(Amount in INR)

Total

Due date for payment

As mentioned in offer letter

15 days before the starting of 2nd year

Fees

1

Tuition Fee (NR)

629838.00

629838.00

1259676.00

2

Computer and Internet Services Fee* (NR)

32162.00

32162.00

64324.00

3

Library and Database Subscription Fee (NR)

17054.00

17054.00

34108.00

4

Hostel Fee**

64672.00

64672.00

129344.00

5

Activity Fee (NR)

12548.00

0.00

12548.00

Total Fees Payable (A)

756274.00

743726.00

1500000.00

Deposits and Other Charges (B)

128000.00

Grand Total for first year payment

884274.00
Scholarships at IRMA
Financial assistance is provided to deserving candidates through various following schemes and scholarships.
SC scholarships – This scholarship covers the entire cost of education of SC candidates are available at IRMA. The Ministry of Social Justice and Empowerment, Government of India has allocated 4 scholarships to IRMA for SC students. The scholarship covers tuition fees, non-refundable charges, lodging and boarding expenses, cost of books, stationery, and a personal computer. (www.socialjustice.nic.in)
ST scholarships – A full scholarship is allocated for 5 ST candidates by the Ministry of Tribal Affairs, Government of India. The amount of the scholarship covers tuition fees, boarding and lodging expenses, book grant, and a one-time grant for the purchase of a personal computer.
Tuition Fee Waiver (TFW) Scheme-The Tuition Fee Waiver Scheme, as per the AICTE rules, is available at IRMA.
IRMA Educational Loans
Educational loans are available from various banks to candidates enrolling at IRMA. Canara Bank, Anand, United Bank of India, Anand, and Bank of Baroda, Anand provide student friendly education loan services for IRMA PGDM (RM) students.
IRMA College Placements
Top organizations from the business sector, PSUs, state and central governments, NGOs, and multilateral agencies participate in IRMA placements. The Campus Placements Programme for each graduating batch aims to provide meaningful and challenging career opportunities. The campus placements programme is primarily driven by the Students' Placements Cell, which is an elected body of the respective batch
IRMA has excellent placement records over the years. The Gujarat Co-operative Milk Marketing Federation (Amul) was the largest recruiter this year, and Mother Dairy was the second-largest recruiter.
Multinational and national agribusiness corporations such as Tolaram, ITC Agribusiness Division, ADM Agro, Seedworks, Adani Wilmar, Emami Agrotech, etc., participate in the placements.
From the FMCG and Retail sector, Reliance Retails, Future Group, Metro Cash & Carry, Ninjacart, etc., recruit from IRMA.
Banking, finance, and insurance companies such as ICICI Bank, IDFC First Bank, Axis Bank, Fullerton, Vivriti Capital, ICICI Prudential, Bharati AXA, Reliance General Insurance, and several small finance banks recruited from the campus this year.
Placement Highlights of 2022:
| | |
| --- | --- |
| Compensation Summary | 2022 (In LPA) |
| Maximum CTC (Overall) | 26.5 Lakhs |
| Maximum CTC (Corporate Sector) | 26.5 Lakhs |
| Maximum CTC (Development Sector) | 15 Lakhs |
| Mean CTC | 14.33 Lakhs |
| Median | 15 Lakhs |
| Minimum CTC | 8 Lakhs |