Over the last 50 years, MDI Gurgaon has built a legacy of values, entrepreneurship and innovation. With its focus on student growth and development, it has created a space where students can live, learn and thrive. The Programmes offered by MDI Gurgaon aim to create professional leaders, who are ready to lead, inspire and leave their mark in the industry.
Application Ends on 25th November,2022 (Upto 5:00 PM)
Incredible Infrastructure Nurtures Professional Potential At MDI
Set in the corporate hub of Gurugram, MDI provides an ideal space for students to balance academic rigours with industry action.
MDI is a 36 acre lush green campus, comfortable in all aspects, as well as beautiful.
The campus boasts of state-of-the-art infrastructure which supports student learning.
To ease pressure on students, and help them cope up, the institute has in place a counselling cell.
All the classrooms have audio/visual connectivity and computers, which reflect the modern approach to the teaching-learning process, where technology plays a pivotal role.
A rich library is available for use by the students to enhance their knowledge. The library is stacked with over 55000 books, 2.3 lakh e-books, access to 17000 international journals and around 40 international databases.
Holistic Learning Opportunities Create World Leaders
MDI offers tremendous learning opportunities to students.
All programmes offered by MDI, namely, PGDM, PGDM-HRM, PGDM-IB, PGDM-BM, PGDM-PPM, PGDM-Business Administration and Online PGDM aim to nurture leadership skills in students and create holistic business managers.
Business Competitions, Extra-curricular activities keep the students engaged throughout the year.
Exchange Programmes, Faculty and research and project collaborations facilitate global interaction and learning in students.
MDI has three computer labs, equipped with Wi-fi, printers etc. It is also equipped with Bloomberg Terminals.
MDI promotes research and innovation in academics. Students are guided by experienced faculty members, who continuously carry out research work and innovation.
Compulsory summer internship provide hands-on experience to students to observe the working of a real corporate house and participate in problem solving.
Flourishing Campus Life Brings Value to Students
The campus has a wide array of sports and rejuvenation facilities, like cricket, basketball, golf, badminton, tennis to help students remain fit and healthy.
There are enough student activities to stimulate the minds of students. These include photography, literature, trading, running business and so on.
Student-driven clubs and committees form the backbone of the extra-curricular activities at the institute. Some of the clubs include: Monetrix, Marquity, ThinC, etc.
Students are in-charge of various committees responsible for the smooth functioning of the institute. Some of these committees are: International Relations Committee, Alumni Committee, Corporate Communications, Hostel and Mess Committee, Web Committee and Sports Committee. The experience nurtures leadership skills in students.
The annual fests of the institute, like Illumina, Imperium and Delphique, generate great energy among the student group. These fests provide a platform for the all-round development of the students through dance, music, panel discussions, sports, case studies, projects etc.
MDI Gurgaon: A Trusted Brand
The industry trusts MDI Gurgaon. This statement of fact is affirmed every year during the placement season. Big corporate houses, Multinational Companies, Successful Start-ups place their faith in the product of MDI every year. The following data of 2020-22 is proof.
| | |
| --- | --- |
| Highest Salary | INR 1.14 crore |
| Median Salary | INR 23.50 lakhs |
| No of Pre-Placement Offers | 131 |
| Average Salary (PGDM and PGDM-IB) | INR 46.30 lakhs |
| Average Salary (PGDM-HRM) | INR 23.80 lakhs |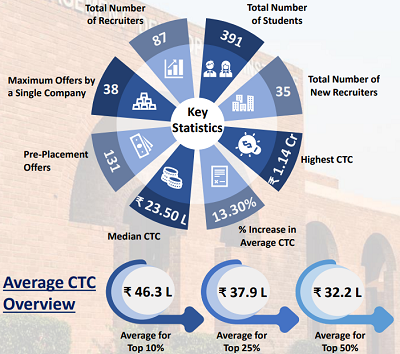 Big names in the industry visited the campus and returned with impressive offers for students of MDI. The fact that 35 recruiters joined the placements this year is testimony to the goodwill MDI enjoys with industry experts. Some big names this year were: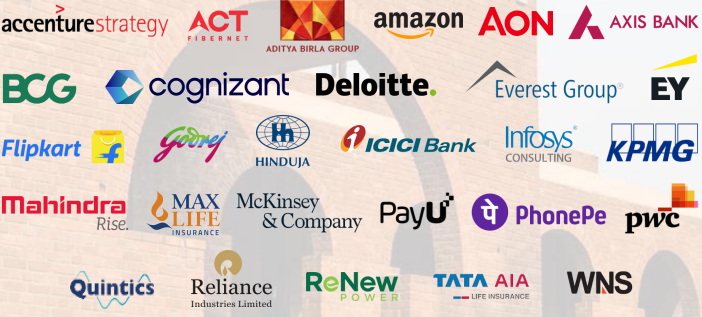 and Many More....
MDI Gurgaon ticks all boxes from a student's perspective and provides abundant opportunities for students to live, learn and thrive. If you are looking for a brand that has the confidence of the industry and can help you realise your potential and turn you into a dynamic professional leader, MDI Gurgaon is your answer.
Stay informed, Stay ahead and Stay inspired with MBA Rendezvous.