Despite the copious challenges and variations posed by the changing landscape of the job market and education in 2020, Symbiosis Institute of Business Management (SIBM) Hyderabad is carrying out the placements with full swing. Established in the year 2014 under the aegis of Symbiosis International University, Pune, the institute boasts of highly qualified, widely experienced and self motivated team of faculty members who bring onboard rich research publications, industry exposure, modern teaching aids and techniques to facilitate a healthy teaching-learning experience to a diverse student population.
The 6th Placement Season, 2020-21 of SIBM Hyderabad has till now successfully placed 90% of the batch, and aims to place all 100% of its students.
Let us take you through the SIBM Hyderabad Placement 2021.
SIBM Hyderabad- Placement Highlights of 2020-21
Placement

Results

Growth over previous year

Highest Package

12 LPA

↑ 11% over previous year

Average Opportunity

10.52

↑ 32% over previous year

Top 10%

9.6 LPA

Top 25%

8.6 LPA

Total Companies Participated

50+

New Associations

20+
SIBM Hyderabad- Sector Wise Final Placement
With the maximum number of students placed in the Consulting sector, the sector-wise final placements are as below: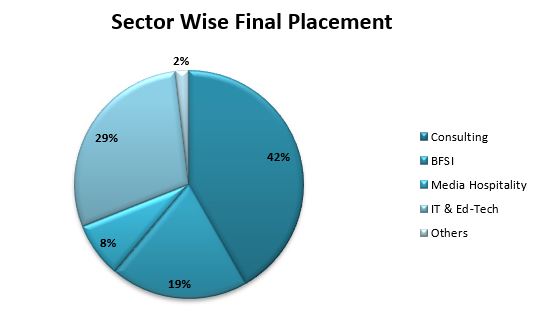 SIBM Hyderabad- Top Recruiters
The top recruiters at SIBM Hyderabad 2020-21 session have been Berkadia, Deloitte, HCL, Brane, Invesco, TCS, Oracle, SBI General, KPMG, DHL General Insurance, Tech Mahindra, IDFC First Bank, IHS Markit and HDFC Bank so far.
SIBM Hyderabad- Domain Wise Placement Highlights
Of the several domains at the 6th placement season of SIBM Hyderabad, listed below are the domains that offered the highest packages to the students:
| | |
| --- | --- |
| Domain | Highest Placement |
| Finance | 12 LPA |
| Marketing | 11 LPA |
| Human Resource | 10 LPA |
| Operations | 9 LPA |
Summer Internships
Summer Internships 2019-21:
SIBM Hyderabad has been putting great efforts in ensuring diversity in batch profiles and further providing an outstanding range of infrastructural & other facilities to support the overall development of the students.
The internship provides the golden opportunity to the students to get a deeper insight and understanding about organizations and their management practices under the experts' guidance. The fine mix of freshers and experienced students bring different insights and perspectives on the table ensuring innovative ideas that look forward to establish a deeper, stronger and mutually beneficial relationship with the esteemed organizations.
SIBM Hyderabad- Sector Wise Internship
The highest stipend received by the SIBM Hyderabad students was INR 50,000. The sector wise internship details are as below: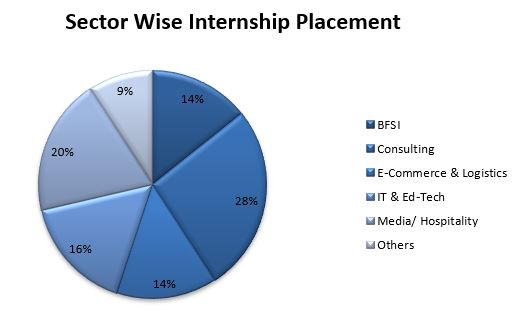 SIBM Hyderabad- Previous Year Placement
A judicious blend of diverse pedagogy used at SIBM-Hyderabad is student centric that collectively promotes practical approach, creative thinking, problem solving ability, and enables working in cross-cultural teams. And this has been a big reason why the students at SIBM Hyderabad show outstanding placement results.
SIBM Hyderabad- Placement Highlights 2019-20:
| | |
| --- | --- |
| Placement Statistics | Results |
| Students Placed | 94.74% |
| Highest Package | 10.80 LPA |
| Average Package | 7.48 LPA |
| Average Package Top Decile | 10.06 LPA |
| Average Package Top Quartile | 9.39 LPA |
| Median Package | 7.14 LPA |
| Total Companies Participated | 65 |
| No. of New Companies Added | 33 |
| Average Opportunities Provided | 7.95 |
The student community at SIBM-H brings diversity into confluence and provides a platform to build interpersonal skills which grooms Symbians for a global environment. With students coming from different cultures and backgrounds, they experience unparalleled exposure to several perspectives which makes for a rich and worthy investment for a lifetime. As a result, future business leaders attain a broad experience grounded in reality so as to effectively and innovatively tackle business hurdles.
The value of SIBM-H lies in its legacy of quality and excellence with well-defined personal care and progressive strategy. It is now galloping leadership in academic excellence, in internationalizing of management education, and has become bedrock for showcasing talent in B-School competitions across the country and through its innovation in admission, assessment and pedagogy.
Stay informed, Stay ahead and stay inspired with MBA Rendezvous