Forty-three since its inception in 1983 by Mr. Tonse Ananth Pai, TAPMI has raised the bar in the field of management studies in the country. Located in the student city of Manipal, Karnataka, TAPMI offers a number of specializations in its MBA Program. It has also used its experience and expertise from the postgraduate program to create a special curriculum for its undergraduate program, that is BBA (Hons) Program. Here's everything you need to know about this unique program.
Admissions open for TAPMI BBA Honors 2023
TAPMI BBA Program With An Edge
TAPMI offers a four-year BBA Honors Program with an option to exit the Program after three years with a BBA degree. The four-year BBA Honors course is designed to meet the changing needs of the industry and provide the best chance for students to succeed in their professional lives.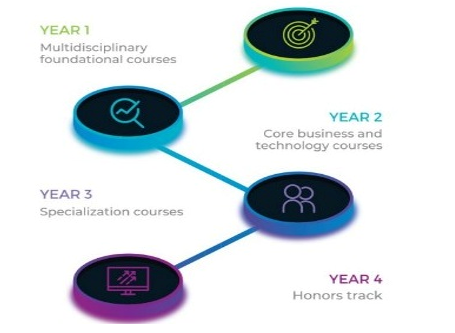 TAPMI's BBA Honors Program offers a clear progression to the students from Year 1 to Year 4.
Year 1- Students take up foundational courses that form the base for everything that they would do later in their lives. Some examples of the subjects which are offered at this stage are:
| | | |
| --- | --- | --- |
| Macroeconomics | Business and Management Principles | Business Mathematics |
| Microeconomics | Design Thinking | Business Statistics |
| Professional Communication | Scientific Thinking | Creative Writing |
| Qualitative Research | Anthropology for Managers | Professional Writing |
| Decision Science | Culture and Context | Sustainability, Responsibility and Managerial Ethics |
Year 2-In the second year of the Program, students undertake core business and technology-related subjects, through which they gain an insight into core concepts of the business world. Some examples of these courses are:
| | | |
| --- | --- | --- |
| Basics of Accounting | Marketing Management | Financial Accounting |
| Strategic Management | Organisational Behaviour | Supply-chain Management |
| Business Law | Corporate Finance | Mergers and Acquisitions |
| Operations Management | International Business | Organisational Design |
Year 3- In the third year, students are given the chance to opt for their Major and Minor Specializations. TAPMI offers specialization in the following courses:
Finance

Information Technology

Marketing

Analytics

Operations

Human Resources (Minor)

Design (Minor)
Year 4-The fourth year is pursued by students opting for the Honors path. This requires students to opt for any one of the following options:
- Pursue advanced specialization courses based on pre-placement offers.
- Carry out guided research and publish a 10,000-word dissertation in a top-class peer-reviewed journal. The institute will also assist in enrolling into Ivy League Ph.D. programs.
- Pursue the entrepreneurial path with TAPMI's support and guidance.
TAPMI's BBA Program Offers A Clearly Defined Path
TAPMI provides a clearly defined path to its students (as shown below) with multiple options to choose from, as per their career goals.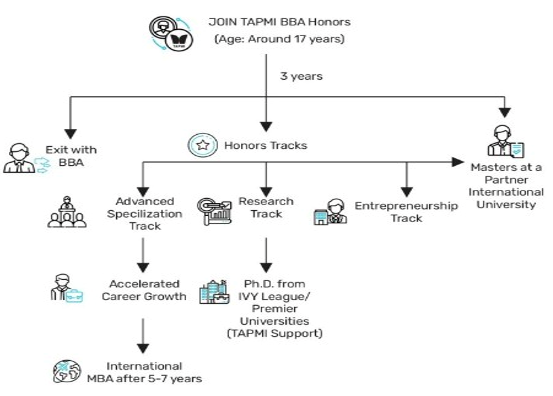 For students opting for TAPMI's BBA Honors Program, the future prospects are bright, and the students have a wide array of choices, not available to the standard three-year BBA graduates. In addition to this, BBA Honors scholars will undergo a compulsory international immersion program, which will take them to world-class industries abroad and expose them to different business practices and environments. These students will return richer by the experience and accelerate their career graph.
Admissions open for TAPMI BBA Honors 2023
Who Can Apply To TAPMI's BBA Honors?
- IPMAT (Indore)/IPMAT (Rohtak)/IPMAT (Ranchi)/JIPMAT (Jammu)
-JEE Mains for the corresponding academic year
- SAT Exam
-CLAT
-MET (Manipal Entrance Test)
Candidates with 60% or more in their class X and XII from a recognized board can apply.
Candidates must have English as a compulsory subject in their 10+2 examination.
Candidates must have appeared in any one of the following entrance tests.
How To Apply to TAPMI's BBA Honors?
Applying to the course is easy. Follow the steps given below:
Step 1- Register yourself on the web portal of the institute.
Step 2- Fill out the Online Application Form.
Step 3- Upload the relevant documents, as mentioned on the portal.
Step 4- Pay the application fee of Rs 600 and submit.
TAPMI's BBA Honors give you an edge over other BBA graduates. The institute provides all the support to ensure its students build a flourishing professional future.
Stay informed, Stay ahead and Stay inspired with MBA Rendezvous.