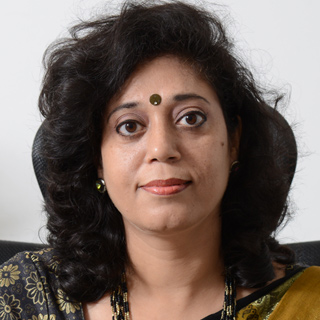 Dr. Urvashi Makkar, Director, IMS Ghaziabad
"The Moment We Stop Learning, We Stop Leading"
Dr. Urvashi Makkar, Director, IMS Ghaziabad, with Ph.D. in Marketing and an Executive Program in Human Resource Management from IIM Calcutta, is an academician par excellence with a knack of entrepreneurial spirit and a persistent passion for continuous learning to upgrade her teaching. A widely travelled academician having Leadership Certifications from Harvard Education, USA; UK-India Education & Research Initiative (UKIERI) besides many others in the list and with a rich experience of more than 28 years in academics, research, teaching, training, consultancy; an ardour for innovative learning and an expertise in transforming Management Institutions by focusing on organizational development, she has created a niche for herself in the domain of management education.
Hailing from the family of academicians, Dr. Urvashi Makkar has imbibed the strongest values of integrity from her parents, values which have evolved her into the charismatic mentor who inspires and creates a lasting mark in the lives of all those associated with her- be it her students or her faculty & staff team. "Giving back to the society" has been the family value, which she had learnt during the formative years of her life. Her father instilled in her many life transforming values and would incessantly motivate her to participate in all extracurricular activities, be it a debate competition on one side or a badminton tournament or a cycling competition on the other side. She has been blessed to be mentored by the best teachers, her mother being one of them, who constantly motivated her to not only excel in academics but also to expand her horizon of learning by participating in various national level competitions, youth festivals, symposiums etc. Being part of a prestigious college during her graduation years gave multiple platforms to hone her managerial acumen and leadership skills. All these learnings transformed her as an individual and helped her imbibe the priceless values of perseverance, resilience, zeal & passion and taught the precious lessons of team spirit, consistency and a 'never say die' mind set.
The Future belongs to those who believe in their Dreams
Driven by these values and being well cognizant with the fact that the youngsters of the nation must be armoured with new age managerial skills, Dr. Urvashi Makkar has kick started numerous innovative initiatives in her role as Director, IMS Ghaziabad. Under her vision, at IMS Ghaziabad, the focus of the legacy of 33 years is not only on achieving the highest standards of academic excellence, but also to achieve a highly effective corporate interface backed with multi-dimensional development opportunities. A three pronged strategy with an all-encompassing comprehensive approach towards achieving Academic Excellence, Corporate Readiness and Global Interface is interwoven throughout the PGDM Program. IMS Ghaziabad has undertaken the unique initiative of Skill Enhancement & Corporate Readiness (SECR) for continually enhancing the skill sets of the learners towards corporate readiness and employability. A plethora of novel and innovative endeavours such as Value Added Certification Programmes (VA-CPs); Value Added Short Term Training Programmes (VA-STTP); Global Academic Collaborations; Distinctive Talk Series; Centre for Innovation & Entrepreneurship (CIE); Corporate Interface Series (CIS); IMS Innovation Hub; Placement Readiness Enhancement Program (PREP); Student Peer Learning Initiatives, Pre-Placement Preparedness Committee (PPPC); Personal & Professional Skill Programs (PPSP); SMART (Social Media and Related Techies); Competency Mapping Programme; Psychological Counseling; Student Outreach Programme; Mentoring Programme; Language Lab; Versant Training for cracking the Big 4, Public Speaking Modules, Departmental Clubs; CSR Initiatives, besides many others have been initiated for the market readiness of the budding managers.
The institute successfully conducted Value Added Certification Programmes by MSME on "Digital & Social Media Marketing", "Yellow Belt Six Sigma", "Financial Markets, Product & Planning", "The Super Power Job Seeker Professionals", "Google Analytics", ,"Advanced MS Office" by Microsoft and there are many more in the pipeline. In the series of various platforms and opportunities provided to the students, Master's Class Certification Course in the domains of Marketing and Finance was also kick started.
As a result of the various initiatives for Skill Enhancement & Corporate Readiness envisioned by Dr. Urvashi Makkar, IMS Ghaziabad has accomplished a stellar record of excellent Placements since inception in A listed organizations like, Deloitte Consulting India, Berger Paints, ITC Ltd, Dabur, EY, S&P Global, DTDC, Square Yards, Prism Johnson Ltd., Uniqlo India, Reliance Digital, Aditya Birla Group, Wipro, Mahindra Logistics, Godrej and Boyce, XL Dynamics, WNS, Zomato, Reliance Jio, Uflex Ltd, DHL Supply Chain India Pvt Ltd, Bisleri, Flipkart, Naukri.com and many more. The Institute has been consistently offering Summer Internship Projects (SIPs) with stipend in top organizations such as Curate Data Analytics, WhiteHat Jr, Praedico Global Research, Tata AIG, The Capital Box, Insplore Consultants, Career Domain, Sharekhan, 10times, FinSkool, Fooracles, Jaquar, Pathkind Labs, Times of India, Chaayos, Sodexo and many more. The Institute is associated with 6000+ Alumni base that are well established at reputed positions in Industry.
Forthcoming Intends
Dr. Urvashi Makkar has actively undertaken multiple Global Collaboration Initiatives in order to extend elite platforms for global exposure and cross cultural awareness to the budding professionals of IMS Ghaziabad. As part of global collaboration, the Institute is kick starting 30 Hours, 3 Credits Swiss Certified Course on "Ethical Decision Making and Responsible Business" to PGDM Batch 2021-23 & Batch 2022-24, which is being conducted and certified by "Humanistic Management Center & Humanistic Management Network, Geneva, Switzerland. To further broaden the horizons of its students, IMS Ghaziabad has partnered with reputed Global experts as Adjunct Faculty for various subjects. The institute organized its 30 hours flagship Global Talk Series on "Strategic Management" & "Management of Change, Innovation and Technology" which were conducted by the Managing Director of Morgan Franklin Consulting, USA. The Global Talk Series on "Marketing Management" was conducted by the President, Indo Gulf Management Association, Dubai.
She is a vivid researcher and has to her credit 13 books published by renowned publishing houses, including TATA McGraw Hill; more than 80 publications in refereed International/National Journals and conferences; has been a Distinguished Speaker/Expert Panelist in numerous Summits/ Seminars/Conclaves; has conducted numerous EDPs/MDPs/Workshops and Consultancy assignments of reputed organizations. In keeping with her journey to contribute in the areas of Research and Consultancy, she is contributing globally in the field of academics as Founder Chief Editor of International Journal of Customer Relations; holding the Chair of Sr. Associate Editor in Editorial Board of IARS, International Research Journal, Malaysia and Member, Board of Editors, International Journal of Environmental and Social Psychology, USA. Carrying forward her passion for research, she has institutionalized a robust research eco system in IMS Ghaziabad.
Deriving maximum benefits from the boost given to quality research under her mentorship, the faculty & students have published research papers in high quality peer reviewed refereed journals. Augmenting the research ecosystem & academic quality, IMS Ghaziabad has signed elite International & National MoUs with Northern Illinois University, USA; Fort Hays State University, USA; University of Fredericton, Canada; IGMA, Dubai; BRICS CCI School of Analysis; CSC Academy; IBM; Jamia Hamdard University; MCX; Habitat; Mata Sundri College of Women; Qualytics Consulting, Act 21 Software and many more.
Interface @ IMS Ghaziabad
IMS Ghaziabad has launched Corporate Development & Excellence Center (CDEC), its flagship training, development and consulting vertical. Numerous AICTE Sponsored International & National conferences, Workshops & Refresher Courses; Management Development Programs; Faculty Development Programs; Workshops; Summits; Conclaves; Panel Discussions, Inter Institute Competitions and many more are regularly organized for holistic development of faculty, staff and students.
Her advice to the future leaders is to imbibe in themselves the vital "Power of Dreams", "Power of Visualization" and "Power of Anticipation" as well as develop the fail proof skill of "Learning Agility" in order to navigate successfully in the contemporary VUCA world. In recognition of her passion to provide composite and quality education to the young minds, she has been elected to the prestigious Council of Management of All India Management Association (AIMA) as Representative of Corporate/ Institutional Members.
Led by the transformative mentorship of Dr. Urvashi Makkar, IMS Ghaziabad has been consistently reinventing management education and has attained a unique distinction and an elite place amongst the premier management educational institutions in India.
Applications are Open for IMS Ghaziabad
Stay informed, Stay ahead and Stay inspired with MBA Rendezvous.