IFMR Graduate School of Business at Krea University, is a private institute offering top quality management education in the southern state of Andhra Pradesh. For over 50 years now, students graduating from IFMR GSB have been making a name for themselves in leading organisations around the world.
IFMR GSB Advantage
IFMR GSB offers several advantages to students to give them an edge over their peers.
Goal-To nurture students into becoming reflective, ethical and effective professionals with a global perspective.

An IFMR GSB will be able to excel in this data-driven world and articulate their views effectively.

An IFMR GSB will be a leader and will be adept at meeting challenges.

Futuristic Curriculum- IFMR GSB trains students to anticipate and solve complex problems of the future, through a multi-disciplinary approach.
Immersive Experiential Program- At IFMR GSB, students are assured quality education, with a holistic approach. Internships, live projects with the industry provide an enriching experience to students.
Preparing for Industry- All students are prepared to fulfil various roles and be prepared for the industry.

Excellent faculty pool, with a rich experience of both academic and professional worlds, shape students' lives.

IFMR GSB boasts of excellent co-curricular infrastructure and social outreach programs to develop students' personalities.
Admissions Open For MBA 2022
IFMR GSB Placements-Beating the Pandemic Blues
Despite the uncertainty arising due to the ongoing pandemic, life at IFMR GSB continued smoothly, as the institute and students responded to the challenges:
A strong online infrastructure, set up by the institute ensures that students don't miss out on valuable time in these uncertain times.

The institute hosts regular interactive sessions, inviting experts from various domains, to enhance and enrich students' knowledge.

The institute attracts high profile companies for its placement season. Despite the pandemic, IFMR GSB has recorded excellent placement statistics for its batches.
IFMR GSB Placements- Impressive Statistics
Students graduating from IFMR GSB have been proving their mettle and securing decent salary packages from the leading multi-national corporations of the world. The following data reveals the improving performance of the students (Batch 2019-21) over the previous year.
| | | |
| --- | --- | --- |
| | 2019-21 | 2018-20 |
| Average CTC | INR 10 LPA | INR 9.37 LPA |
| Average CTC (Top 10%) | INR 14.06 LPA | INR 12.8 LPA |
| Average CTC (Top 25%) | INR 13.40 LPA | INR 11.8 LPA |
Sector-Wise Break-up
Students of IFMR GSB were placed in diverse sectors. For the batch of 2019-21, the division is as follows: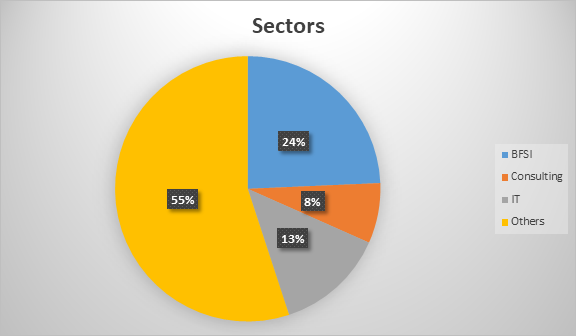 IFMR GSB Placements- High Profile Recruiters
A number of high profile recruiters visit IFMR GSB and offer attractive placements to the students. Some of the names are:
| | | |
| --- | --- | --- |
| Wells Fargo | EY | HDFC Bank |
| World Bank | KPMG | JP Morgan Chase |
| Deloitte | Barclays | Cognizant |
| CRISIL | Federal Bank | HSBC |
| Kotak Mahindra Bank | Marico | Morgan Stanley |
| HCL | Reserve Bank of India | Royal Bank of Scotland |
| Reuters | Standard Chartered | Wipro |
| Accenture | Bajaj Finserv | Bank of America |
In addition to this, 31% of the recruiters were first-time recruiters. This reflects the trust the industry has in the quality nurtured at IFMR GSB. IFMR GSB continues to give wings to the dreams of its students and nurtures their strengths and skills to transform them into successful professionals, with impeccable value systems.
Stay informed, Stay ahead and stay inspired with MBA Rendezvous.