Xavier Institute of Management, Bhubaneswar (XIMB) is a premier business school in the country with a reputation of providing quality management programs and developing strong, professional managers and executives with strong ethics, ready to meet the challenges of the future. The institute attracts the crème-de-la-crème of the country and offers the best facilities to its students. But the most significant attribute that makes it a sought-after institute is its exceptional placement record.
MBA Business Management
This flagship program of XIMB, is a prestigious course coveted by candidates looking to pursue higher studies in the field of business management. At the end of the program, students gain a holistic perspective about an organization, develop strong analytical skills and become aware of their social and ethical responsibilities. A rigorous curriculum, regular practical exposure, excellent internship and student-exchange programs and an impeccable placement record make XIMB an inspirational and aspirational institute to be a part of for students.
Successful Summer Internship Program
XIMB runs a successful summer internship program for its students. They get an opportunity to gain hands-on practical experience of working in a real-life organisation and test their knowledge and learnings first hand. The students get to work in companies such as TATA, Deloitte, Dalmia, NatWest, Coca Cola, Titan, ICICI Bank, HSBC and so on. In the current year, for example, students were placed in different sectors like FMCG, Consulting, BFSI, Manufacturing, IT/ITES. The average stipend for the top quartile was INR 1.5 Lakhs and the highest stipend was secured at INR 3.2 Lakhs for a period of two months. This experience proves to be an enriching one and contributes in giving them confidence for the future.
Apply Now
XIMB Placements-Scripting Success Stories
The placement records that XIMB boasts of, cements its position as one of the best business institutes in the country. During the last two placement cycles, as tough conditions have prevailed across the world due to the pandemic, XIMB has defied the odds and ensured that its students get placed with handsome packages. The following table is evidence of the success story that XIMB helps script.
| | | |
| --- | --- | --- |
| | Batch 2018-20 | Batch 2019-21 |
| Total Number of Students | 365 | 374 |
| Number of Recruiters | 107 | 97 |
| Highest Domestic Salary | INR 26 Lakhs per annum | INR 24 Lakhs per annum |
| Average Annual Salary | INR 15.42 Lakhs per annum | INR 15.15 Lakhs per annum |
| Median Annual Salary | INR 15 Lakhs per annum | INR 14.50 Lakhs per annum |
For the Batch of 2019-21, in the top 50% compensation bracket, the average salary stood at 18.10 Lakhs per annum and the median salary stood at INR 17.32 Lakhs per annum.
Students received placements according in sectors according to their skillsets and interest. The following graph reveals sector-wise placement data, and shows that all students, irrespective of the domain they are in get absorbed by recruiters who visit XIMB.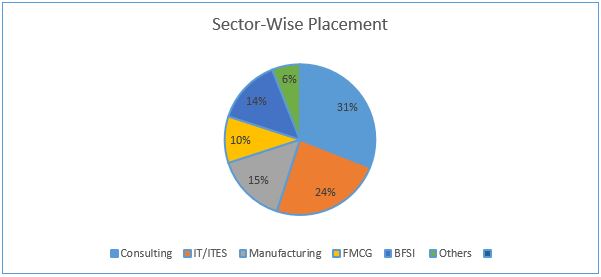 XIMB-Place to be
The best companies visit the best institutions because they trust the quality of education and exposure being provided to students, which make them skilled and industry-ready for recruitment. This is where brand XIMB scores above its competitors. It attracts reputed names in the industry every year. Some of them include:
| | | |
| --- | --- | --- |
| Deloitte | KPMG | NatWest |
| Infosys | HCL | Accenture |
| Nestle | TCS | PWC |
| ICICI | HDFC | HSBC |
| Capgemini | Cognizant | Larsen & Turbo |
| Crompton | Vedanta | Mindtree |
| TATA Steel | HP | SBICAP |
| BNY Mellon | Reckitt | United Health Group |
The above date proves beyond doubt that XIMB offers quality and rigorous education and ensures holistic development of its students, which enables them to win handsome offers by the best companies in the world, who would like these students to join them. It also inspires students to work hard and make use of the golden opportunity they have in their hands.
Stay informed, Stay ahead and stay inspired with MBA Rendezvous.