Foundation Day is a very special occasion for every institution and Birla Institute of Management Technology (BIMTECH's) foundation day is on the same day as Gandhi Jayanti which makes it even more special. The institution celebrated its 34th Foundation Day on October 2, 2021. This momentous day witnessed the gracious presence of Prof. (Dr.) M V Rajeev Gowda, Chairman AICC Research Department.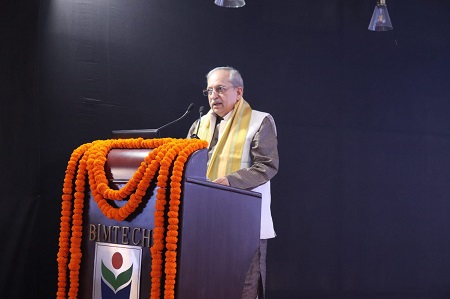 The event started with Lamp Lighting by the dignitaries and by playing Mahatma Gandhi's favourite bhajan "Vaishnav Jan To Tene Kahiye" followed by garland and bouquets presentation to chief guest made by girls benefitted under the CSR project "Protsahan Chiraiya". Then as the tradition goes everyone was welcomed with a speech by Dr. Harivansh Chaturvedi, Director, BIMTECH. He explained the meaning of the bhajan "Vaishnav Jan To Tene Kahiye" is that "You are a good human being only when you realize the pain of others". Bapu always taught us to be empathetic towards the suffering of others. Our patrons and founders of BIMTECH Sh. Basant Kumar Birla and Smt. Sarala Birla was very close to Gandhian thoughts and wisdom. Our founders had given us a motto of "Excellence with Values" which is also a part of our credo and we always try to adhere to it in our thoughts and life. It is our value quote and has key values of innovation and entrepreneurship.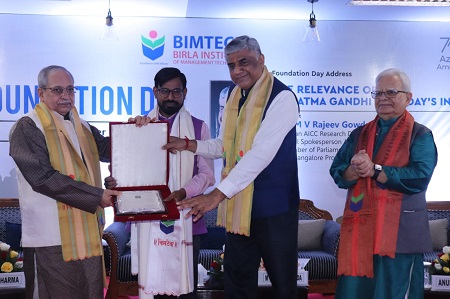 The eminent chief guest of the event Prof. (Dr.) M V Rajeev Gowda, Ex-member of Parliament, Rajya Sabha (2014-20), a former professor at Indian Institute of Management Bangalore and currently, serving as the Chairman of the Research Department of the Indian National Congress presented Foundation Day Address with a presentation on "Relevance of Mahatma Gandhi in Today's India" to understand Gandhian thoughts. He focused on two themes lessons for public life, public policy and, lessons for management students from the life of Gandhiji. He highlighted how Gandhiji acted as an inspiration for leaders like Martin Luther King Jr. and Nelson Mandela. When visiting India Martin Luther King Jr. said that "To others countries, I may go as a tourist but in India, I come as a pilgrim" he quoted that because India to him is Gandhiji. During his presentation Prof. (Dr.) M V Rajeev Gowda told us the relevance of initiatives took by Gandhiji like Satyagraha, Religious Intolerance, Ending Caste Oppression in today's India. He also explained the marketing lessons we can learn from Gandhiji's life. At the end of his address, he asked," Is Gandhiji beyond criticism?" to which he answered that "We should never glorify a human being and ignore his flaws." The guest reiterated the importance of being Changemakers in life with a very famous quote by Gandhiji," Be the change you want to see in the world."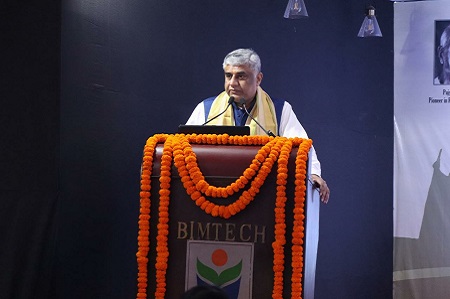 The most insightful segment was a Q/A round in which the students and faculty of BIMTECH as well as the live audience who were watching the live stream of the event on Facebook got an opportunity to get deeper insights from our erudite Chief Guest.
This was followed by the felicitation ceremony of the prestigious Basant Kumar Birla Distinguished Scholar Award, 2021 which was awarded to Dr. Debajit Roy, IIM Ahmedabad; Dr. Ernesto Noronha, IIM Ahmedabad and, Dr. Tarun Jain, IIM Bangalore for their impactful research.
The faculty of BIMTECH was also awarded for their remarkable and astonishing contributions. Dr. Khanindra Das, Assistant Professor and, Dr. Monika Jain, Assistant Professor were presented with the Best Research Award 2021. The Best Teacher Award, 2021 was given to Dr. Manosi Chaudhuri, Professor and, Dr. Pooja Misra, Associate Professor. Dr. Jagdish N Sheth Best Thesis Award, 2021 was conferred to Dr. Shreya Mishra. The pillars of the institution, the faculty and, staff who completed ten years at BIMTECH were also felicitated.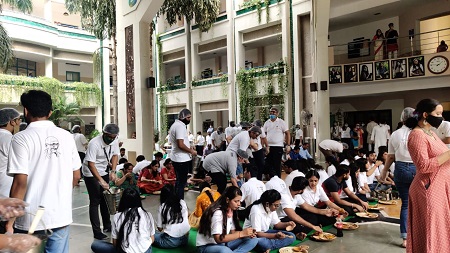 After the felicitation, the HR Round Table website was launched by our honourable Chief Guest, Prof. (Dr.) M V. Rajeev Gowda
The most awaited Annual Activity Report was released and presented by Dr. Jaya Gupta, Associate Professor OBHR. Thereafter, a book on the case method was released by Dr. A.K. Dey, Chairman, CMCD.
The event concluded with a customary Vote of Thanks by Dr. Anupam Varma, Deputy Director, BIMTECH. He thanked Prof. (Dr.) M V Rajeev Gowda, for gracing this event with his presence.
The event would not have been complete without paying respects to our nation, so at last, everyone stood up for the National Anthem and, the event ended on a positive and delighted note.
With the spirit of equality and austerity the formal celebrations wrapped up with a community lunch.
Stay informed, Stay ahead and stay inspired with MBA Rendezvous.