"Live as if you were to die tomorrow, learn as if you were to live forever"
These eternal words, of one of the greatest souls, Indian history has ever been enriched with, Mahatma Gandhi, continue to echo in our hearts and minds till date.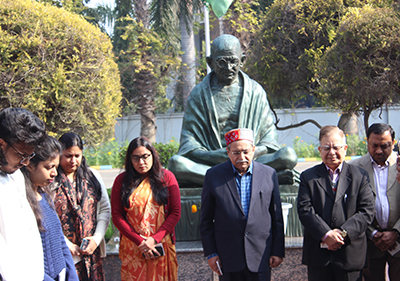 In order to commemorate the 72nd death anniversary of Mahatma Gandhi, the faculty, staff and students of the Birla Institute of Management Technology (BIMTECH), Greater Noida, gathered today, to mourn the demise of the Father of our Nation by observing two minutes silence in fond memory of our beloved "Bapu". The two minutes silence is seen as a social, moral and ethical duty of every true citizen of the nation, to respect and pay homage to Gandhiji and also to introspect how the country's freedom was achieved amidst all the big sacrifices of our heroes. The ideologies of the Protagonist of Peace and his life shall remain as an inspiration in every Indian's life forever. It is also on this day, that is, 30th January every year, that we observe the Martyrs' Day to salute the martyrdom of soldiers who lost their lives defending the sovereignty of the nation. A booklet of Mahatma Gandhi's quotes was also distributed to one and all present there.
Stay ahead and Stay inspired with MBA Rendezvous