"There is no force more powerful than a woman determined to rise"
An ode to the strong and feisty women of the society, The Corporate Relations Committee of IIM Kashipur expressed their gratitude towards the women fraternity by inviting some of the finest women leaders in the industry to 'Advika', on the occasion of International Women's Day '21 It was a two-day Conclave that saw the celebration of the contribution of women in the corporate world.
The theme for Day 1 was "Women we admire: Inspiring NextGen Women leaders for a better tomorrow". The panel of distinguished speakers included Ms. Ranjani Mani-Global Analytics leader, VMware, Ms. Kena Shree-Deputy General Manager (HR), NTPC Limited, Ms. Vasuta Agarwal-Managing Director (APAC), InMobi, and Ms. Suchitra Viswanathan-Regional Digital Marketing Operations Lead, Greater Asia, HP. The panel highlighted the integrities of being a woman in the corporate world, competing against the adversities of the male-dominated system, and making the way through to the top of the ladder. Their views on how Data Analytics, Machine Learning and Data Intelligence have become the key to optimize the business structure, and how digital marketing has been reshaping the way we purchase things provided knowledgeable insights into changing scenarios of the digital world.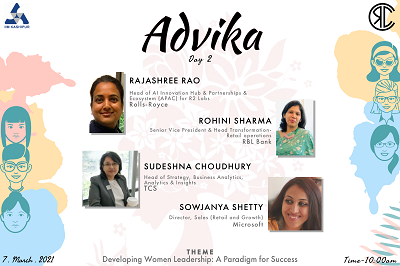 Day 2 revolved around the theme "Developing Women Leadership: A Paradigm for success". The panel was graced by the presence of Ms. Rajashree Rao-Head of AI Innovation Hub & Partnerships & Ecosystem, Rolls-Royce (APAC), Ms. Sudeshna Choudhury-Head of Strategy, Business Analytics, Analytics & Insights, TCS, Ms. Rohini Sharma-Senior Vice President, and Head Transformation - Retail operations, RBL Bank, and Ms. Sowjanya Shetty-Director, Sales (Retail and Growth), Microsoft. The panelists threw light on the fact that many countries like New Zealand, Germany, Iceland under the leadership of women handled the COVID-19 pandemic situation so well. They also stressed the importance of Networking in today's world and how it proves useful for new learning avenues and also moving ahead in their respective careers. On the technological side, they pointed out that IoT has become widespread in every industry and especially in the automotive sector and how it is generating a huge opportunity for organizations to understand consumer behavior. Lastly, the panelists gave advice to the next-gen women leaders so that they carve out their career trajectory plan to make sure they are always part of the professional race.
The guests answered the questions put forward by the MBA batch and motivated them to be resilient, fearless, and straight-headed in their journey to success. As a humble token of appreciation, IIM Kashipur presented certificates acknowledging the planting of a tree, through their partner "Grow-Trees" where the tree signifies the values that women leaders today have towards the growth story of our country.
We at IIM Kashipur through this International Women's Day conclave through a webinar aimed to Celebrate women's achievement, raise awareness against bias, and act for equality.
Stay informed, Stay ahead and stay inspired with MBA Rendezvous