"And you will not always be able to solve all the world's problems all at once. But don't ever underestimate the impact you can have, because history has shown us that courage can be contagious, and hope can take on a life of its own." – Michelle Obama
Education today is not the process of gaining information but transforming it into knowledge to acquire skills, values, and attitudes to make informed decisions, lead meaningful lives and undertake active roles in contemporary society. The landscape of education has been reconstructed in the past year owing to the enormous crisis the world has encountered due to the pandemic.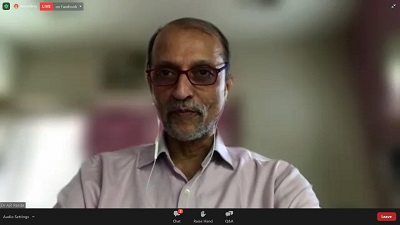 As educational institutions across the world have adopted a new way of life with the best of the knowledge and resources, all kinds of events that are crucial in a student's life have made innovative virtual shifts. Birla Institute of Management Technology, Greater Noida (BIMTECH) marked the occasion of its 34th commencement day to welcome its new batch of PGDM 2021-23 students and their family members on 23rd July 2021 via Zoom platform. The new batch comprising of the four PGDM programs including PGDM-Core, PGDM-International Business, PGDM- Insurance Business Management and PGDM-Retail Management represented culturally diverse mini-India with students from 26 states promoting gender diversity with a male-female ratio of 60:40.
The commencement day ceremony kickstarted at 6 p.m. with the quintessential BIMTECH tradition of Saraswati Vandana followed by a welcome address by the Board of Governors of BIMTECH. This was followed by Dr. Harivansh Chaturvedi, Director, BIMTECH welcoming the new batch and enlightening them about the institute and its revolutionizing approach towards imparting education, recent developments and the way forward.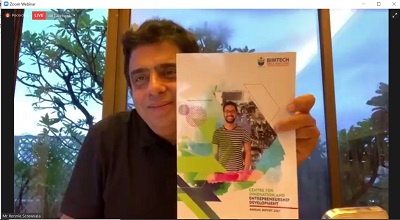 Mr. Ronnie Screwvala, Co-founder & Chairman, UpGrad graced the event with his presence as the Guest of Honor. He is a first-generation entrepreneur who pioneered Cable TV in India, built one of the largest toothbrush manufacturing operations and went on to create a Media & Entertainment conglomerate, UTV. Mr. Screwvala is driven by his interest in championing entrepreneurship and recently launched his book 'Skill It, Kill It' which introduces a new perspective to success. He founded UpGrad, an Online Education Company focusing on post-graduation, higher studies and specialization areas. BIMTECH has ventured into an AICTE affiliated online PGDM course with UpGrad as a partner to impart the best theoretical knowledge, analytical & technical skills in this evolving educational era to produce responsible citizens and leaders of corporates with its Centre of online studies. Mr. Screwvala also runs The Swades Foundation which aims to empower lives in rural India through a unique 360-degree model implemented via various initiatives and serves as an inspiration to the new students in terms of community building and giving back to the society. Mr. Screwvala mentioned, "We are entering a very exciting phase, full of opportunities in which soft skills are crucial for students."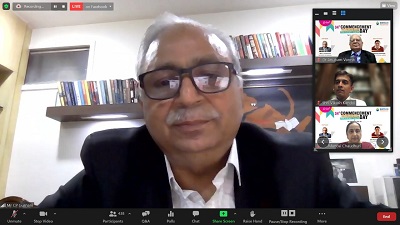 The Chief Guest for this occasion, Mr. C.P. Gurnani, Managing Director and CEO of Tech Mahindra spoke about top skills in the current business environment and stressed on the winning formula of 'unlearning, learning and re-learning.' He also appreciated BIMTECH's technology-oriented management curriculum which fits the future demands of the Information Technology sector and the digital economy and spoke about his proudly association with BIMTECH. An accomplished business leader with extensive experience in international business development, he strongly believes that one just cannot ride the growth path with resources that are out of sync with market dynamics. He described empathy and sensitivity as the two traits to excel in one's professional and personal life. Mr. Gurnani mentioned, "Students are the reflection of new India. Bonding with your alumni and community is the most important part of students' B-school journey."
The ceremony also saw the unveiling of the annual activity reports of the Centre of Innovation and Entrepreneurship Development of Atal Incubation Centre of BIMTECH. The solemn occasion concluded around 7:30 p.m. with the vote of thanks delivered by Dr. Anupam Varma, Deputy Director, BIMTECH followed by the National Anthem. With boosted morale and ignited aspirations, the event set the tone and context for the Common Orientation to be held on 24th July 2021.
Stay informed, Stay ahead and stay inspired with MBA Rendezvous