Day 3 of the second edition of Business Excellence Summit, XIMB which took place on 15th September 2019 began with a panel discussion on the theme "Is Disruptive Innovation the only way to create value?"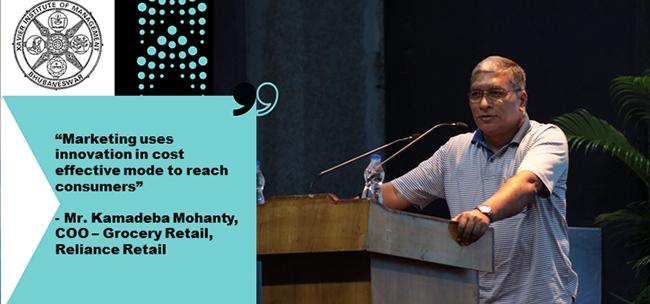 Mr Stalin Mohapatra, Community Operations Manager and Head of Manual Fraud Investigations at UBER, Mr Kamadeba Mohanty, Executive Vice President and COO at Reliance Retail and Mr Harshit Vyas, Vice President at OYO Rooms, served as panelists for the session. The moderator of the discussion, Dr W.S. William, Professor, Operations Management, XIMB started the session by posing questions on how disruptive innovation is different from incremental innovation, how the consumers perceive value and how crucial is innovation-led growth for an organization.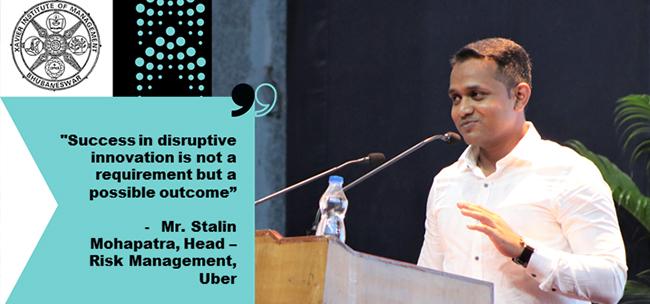 Mr Stalin Mohapatra, the first speaker of the day discussed the various types of innovations. He also focused on how revolutionary innovation transitions into disruptive innovation and how it accentuates the "High 5" policy responsible for Disruptive Innovation. Mr Kamadeba Mohanty carried the baton of the discussion forward, where he spoke about the significance of creating businesses and retail stores that are closer to the hearts of customers. He gave us insights on how process innovation has brought about a change in the retail industry. "Developing price point should be as such that every customer is excited to buy the product". Mr Harshit Vyas, the final speaker of the panel enunciated the challenges faced during scaling up a business. He mentioned how a fast-moving scaling-up process poses hurdles in maintaining sustainability and delivery of good quality services. He concluded by saying, "To disrupt, you need to have an open culture as well as the will to perform in a highly growth-driven organization".
This was followed by an interactive session where inquisitive students posed thought-provoking questions for the panelists who were then felicitated by Prof. William and the session concluded with a vote of thanks.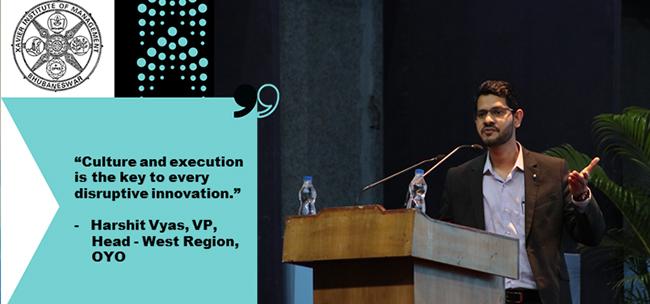 During a simultaneous Leadership Talk delivered by Mr Yeshwanth Nag, the co-founder of Thickshake factory, he narrated an engrossing tale of his journey from an employee to an entrepreneur. He emphasized the importance of having an entrepreneurial mindset irrespective of one's profession. One of his key advice was to observe one's competitor, analyze the gap and then try filling the said gap. He concluded by saying "Making a big change in life is pretty scary but what's scarier is regret".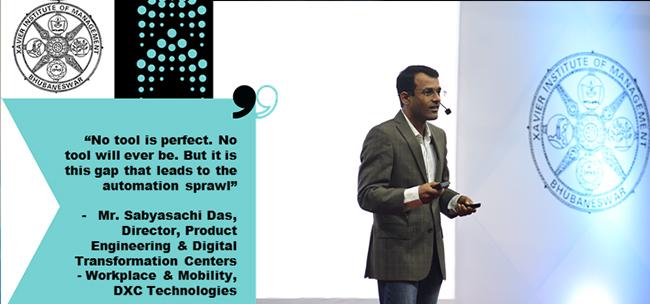 The next theme for the day was "How to tame Automation Sprawl?". Mr Sabyasachi Das, Director, Product Engineering & Digital Transformation Centers- Workplace & Mobility, DXC Technologies enlightened the students and mentioned "No tool is perfect. No tool will ever be. But it is this gap that leads to automation sprawl".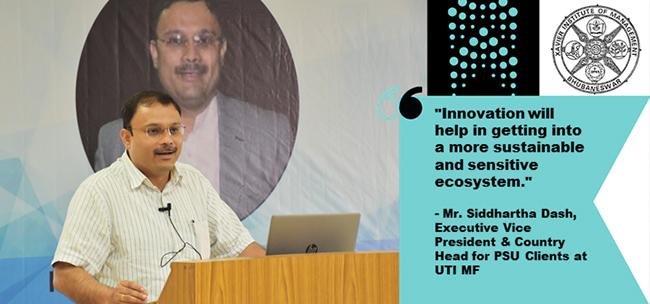 In the session with Mr Siddhartha Dash, EVP and Country Head for PSU Clients at UTI Mutual Funds, he spoke on the theme "Invest. Innovate. Integrate" where he stated, "Innovation is so much more than products, it is about relevance and acceptance". The 3-day summit will be concluded with a closing address by Fr. V. Arockia Das, the Deputy Registrar and a vote of thanks by the Mr Anjan Mohanty, General Secretary of XIMB.
Stay informed, Stay ahead and stay inspired with MBA Rendezvous