The Council of EU Chambers of Commerce in India hosted the EU India Education Summit 2022 to discuss "Collaborations and Strategic Partnerships" and understand the growing opportunities for Indian students in Europe. Prof. Dr. Uday Salunkhe, Chairman, Education Committee EU Chambers and Group Director Welingkar Institute of Management Development and Research and Dr. Renu Shome, Director, The Council of EU Chambers of Commerce in India welcomes esteemed guests and dignitaries to the event. The gathering was graced by Prof. Dr. Rajnish Jain, Secretary and CVO, University Grants Commission (UGC), New Delhi who was the guest of honour. Mr. Suresh Prabhu, Member of Parliament (Rajya Sabha) and Dr. Michelle Stewart, President, European Association for International Education (EAIE) joined the event virtually. It was followed by a panel discussion with consulate members from various EU countries- Dr Jakob Williams Ørberg , Counsellor for Innovation, Research and Higher Education, Royal Danish Embassy; Mr Apoorv Mahendru, Deputy Director, DAAD Regional Office, New Delhi; Mr. Gerry Kelly, Consul General, Consulate General of Ireland; Mr Bart De Jong, Consul General, Consulate General of Netherlands; Ms Katarzyna Aleksy, Director, Department of Programmes for Institutions, Polish National Agency for Academic Exchange (NAWA); Ms Vanesa Álvarez Franco, Economic and Commercial Counsellor, Economic & Commercial Office in Mumbai, Embassy of Spain in India; Mr Erik Malmberg , Consul , Consulate General of Sweden; Dr P.K. Shajahan, Professor of Social Work and Dean, Academic Affairs, Tata Institute of Social Sciences (TISS).
The summit aimed to foster a long-term sustainable partnership with Academia, Research Organizations, Industry and Government Representatives from Europe and India for Internationalization of higher education in specific areas and to develop joint programs that have both local and overseas acceptance in EU countries. They also highlighted the need for building employable skills to meet the demands by EU enterprises in India. They also discussed the key areas of future technology that can be introduced for the development of rural economy and rural youth to upscale their skills for employability overseas.
They discussed strategies that could help in enhancing opportunities for the EU enterprises to work on joint venture projects that have national priorities based on the millennium goals like climate change, adoption sustainable practices, digital transformation and intelligent transportation system. There is a need to support inter cultural competence and prepare the students and professionals for a multilingual workforce in order to develop all-inclusive capabilities.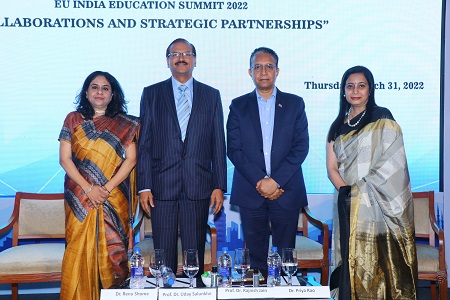 Commenting on the same, Prof Dr. Uday Salunkhe, Chairman, Education Committee EU Chambers and Group Director Welingkar Institute of Management Development and Research, said "A growing number of students aspire to pursue international education for one simple reason– it opens doors to global opportunities and a successful career. Taking cognizance of this fact, we aim to develop a strong relationship with the EU countries to promote joint learning programs to enable our students to be equipped with the best in class education and allow mobility. We believe that 'WE' is the new 'I' and going by the philosophy, we aim to provide joint learning to our students in line with the national priorities and SDGs to make them truly global citizens. We are hopeful that our diligent efforts in this direction will help our youth become meaningful contributors to society."
Dr. Renu Shome, Director, The Council of EU Chambers of Commerce in India, "It is an honour to have all consulate members across European countries to come together to support the cause of collaboration in education. We believe that if we act collectively, we will be able to attain the much needed change to empower our youth in urban and rural India. We take back learnings from the esteem panel of experts and implement strategic inputs to take this partnership to a new level."
About S.P. Mandali's Prin. L.N. Welingkar Institute of Management Development and Research (WeSchool):
Among India's top business schools, WeSchool is a pioneering management education institution with emphasis on design-led innovative management education for shaping vision and mission of global citizen leadership. WeSchool strongly believe in integrating the philosophy of 'leadership' and 'innovation', and nurtures students with a holistic view on the socio-economic-political matters with a coherent and strategic approach towards problem solving. Keeping design and innovation its core, WeSchool endeavors to provide newer avenues to students towards achieving excellence in all sphere of life and nurture them to become Global Citizen Leaders. WeSchool's philosophy is about using the collective wisdom of "WE" to nurture insightful thinking and inspire action based leadership.
Stay informed, Stay ahead and stay inspired with MBA Rendezvous