The 10th Professional Development Training during July 15-19, 2019 is being participated by 30 faculty members comprising of Professors, Associate Professors, Assistant Professors from engineering colleges across the states of Maharashtra, Karnataka, Bihar, Jharkhand, Haryana, Uttar Pradesh, Madya Pradesh, Odhisha, and Tripura. Prof. Sanjeev Prashar, Dean (Academics) and Prof. Parikshit Charan are the Program Directors for this training program.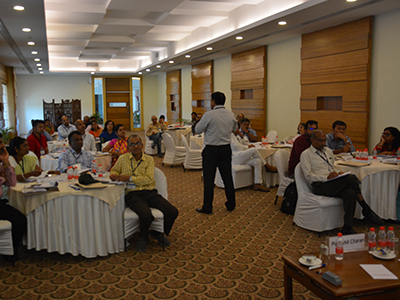 On the first day, July 15, 2019, the first session was conducted by Prof. Sanjeev Prashar, on Ice-Breaking and inventories on expectations at Hotel VW canyon. The participants were acquainted with each other through game playing methods to reduce inhibition that exist among the faculty members. After the Ice-breaking session, Prof Bharat Bhaskar, Director IIM Raipur discussed on critical picture of, role of Academic Leadership in the technology transition scenario. He explained the rational of having good governance in the context of academic institutions.
Prof. Parikshit Charan discussed 'Vision, Mission and goals in Academia', wherein importance of setting aspirations was highlighted and why leaders as well as organizations need aspirations. Well aligned vision & mission help us in executing strategy well. The session on 'Procurement Management' was taken by Prof. PRS Sarma, where he emphasised on "Best Practices" in Procurement Management in Academic Institutions.
Stay informed, Stay ahead and stay inspired with MBA Rendezvous