Krea University has today launched the futuristic 'Amphitheatre' on campus. It is expected to be a platform for showcasing diverse literary and cultural activities such as hosting graduation and social events like movie nights, parent meetings, among others.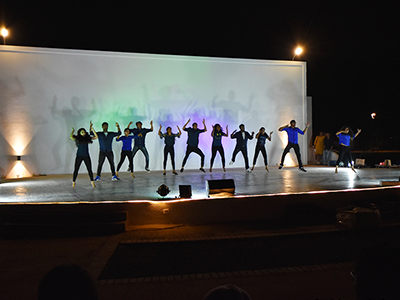 Gp Capt P Ramesh (Retd), Chief Administrative Officer, Krea University, Mr. Senthil, Project Team member, Krea University & Dr. Bishnu Mohapatra, Dean, School of Interwoven Arts and Sciences lit the ceremonial lamp. The student committees of IFMR GSB and SIAS worked in collaboration under anchors Joseph Anthony and Kinny Singh (IFMR GSB) to organize the inaugural ceremony themed 'Cinema'.
Dr. Bishnu Mohapatra during the address to the student community emphasized the need to utilise the space as a venue for performance, assembly, and informal gathering calling it an 'Agora' or an 'Adda'.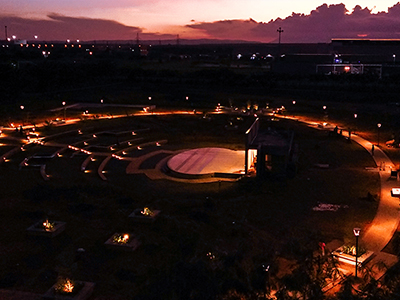 The formal addresses transitioned into an eve of performances by students of both schools. The audience stayed entertained by an array of performances ranging from music and dance performances, poetry reading, stand-up comedy and more.
One of the highlights of the evenings was the dance performance of Leila Majnu put up by Abhinay, IFMR's Theatre Club. The ceremony also witnessed a display of talent during the 'Open House Performance' segment with Geetesh Mahobia winning the award for the Best Open House Performance with his humorous and 'relatable' poetry about college relationships.
The formal ceremony transitioned to 'an informal night of fun with 'DJ Night', where students donned their dancing hats.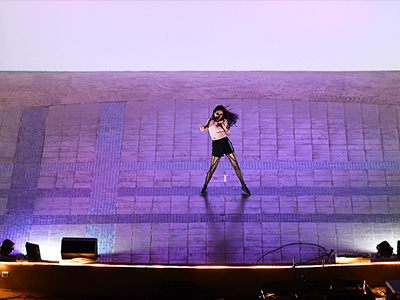 The inauguration of the amphitheatre was a success as everyone, performers and spectators alike, were overpowered by a sense of joy and enthusiasm. Ranging from the star-crossed lover's tale of Leila Majnu by IFMR GSB's Abhinay to the fun light-hearted dance by SIAS's dance club... poetry on hopes by Pooja Basutkar to the bitter-sweetness of graduation by Ojal Jain, the inauguration evoked a range of emotions among the students.
Admissions Open for MBA Programme 2020 | Apply Now - http://bit.ly/2qBMvh5
Stay informed, Stay ahead and stay inspired with MBA Rendezvous