Hon'ble Prime Minister, Shri Narendra Modi inaugurated the International Conclave on 'Globalising Indian Thought' followed by the unveiling of the statue of Swami Vivekananda at The Indian Institute of Management Kozhikode (IIM Kozhikode).
Addressing the gathering the Prime Minister said, "Indian thought is vibrant and diverse. It is constant and evolving. It is too vast to be put in a lecture or a seminar or even books. But, broadly, there are certain ideals that have remained central to Indian values. They are - compassion, harmony, justice, service and openness." He further added, "The innovative zeal of Indians is drawing the world to India. Indian thought has given a lot to the world and has the potential to contribute even more. It has the potential to solve some of the most leading challenges our planet faces" he concluded.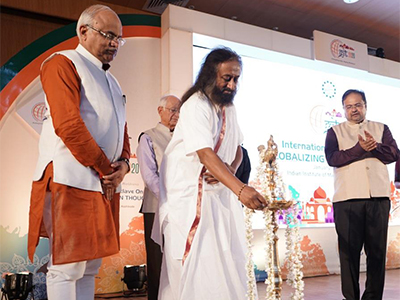 The International conclave over the next two days will have representations from renowned academicians, public figures and the presentation of more than 100 world-class research papers who would share Indian management thinking and how it can impact global businesses.
'Globalizing Indian Thought', the theme emphasises the Indian management approaches that have found international recognition in recent times.
Speaking on the inaugural of the International Conclave, Prof. Debashis Chatterjee, Director, IIM Kozhikode welcomed the dignitaries, delegates and thanked the Hon'ble Prime Minster for inaugurating GIT 2020. In his welcome address, he decoded and deliberated on a few big ideas that will help shape India's story on the world stage. He said, "India, the land of Gandhi and Buddha has taken the developmental and a more compassionate route. India's core ethos has been vasudhaiva kutumbakkam…the universe of borderless humanism. Our culture of genuine multilateralism is reflective of India's spirit of harmony and tolerance. India's mantra of borderless humanism will have a far reaching impact in India's rise as a global force."
Indian businesses have evolved their own management styles such as Jugaad innovation and India as a country has a rich legacy of its original science such as yoga, Ayurveda, vastushastra, etc. These practices and techniques have caught global attention.
Spiritual leader Shri Sri Sri Ravi Shankar gave the keynote address and congratulated IIM Kozhikode for providing an ideal platform through GIT 2020 for an individual's quest to rediscover his roots and move towards his goals. He further added that an intuitive mind is the basis of innovation. Free and new ideas come to an individual when we accept that our knowledge is limited. Speaking on human behaviour, he spoke about the importance of scientific temper embedded in Indian thought philosophy. The spiritual leader concluded by saying that India can give a sense of belongingness to the world through its culture, wisdom and rich traditional knowledge.
The guest of honour, Dr. Vinay Sahasrabuddhe, President of Indian Council for Cultural Relations and Member of Parliament, encouraged to embark on a mission to globalize Indian thought with concerted efforts from all sections of society by adopting and internalising civilisational values to generate greater awareness about Indian among Indians and then the global community. He also added, that if we strengthen Indian core philosophies then we will be able to change the global narrative.
IIM Kozhikode embraced Globalizing Indian Thought as its institutional mission a decade ago. Over the years, the Institute has fostered and nurtured various elements of Indian ethos in management and leadership. Conversations on globalization have for a long time been synonymous with westernization. Indian thought does have a lot to contribute to such conversations. The churning of ideas with the amalgamation of wisdom and creativity will be an opportunity for inquisitive thinkers to look at the Indian thought with a fresh perspective and a renewed mind. Indian leaders thrive on being known as realized beings by embracing the spirit of sustainability and reverence for life.
Grammy Award Winner Pandit Vishwa Mohan Bhatt concluded the day's event with a scintillating musical performance.
The conference aims at bringing together global scholars to one of the fastest growing economies of the world. The conference will deliberate on issues that impact global management thoughts in the years to come
Stay informed, Stay ahead and stay inspired with MBA Rendezvous