IIM Amritsar successfully organized its flagship marathon event- Runbhoomi 3.0 on 15th August at Rose garden, Amritsar. This marathon heralded the 73rd Independence Day of the country where the participants among students as well as the local community joined hands together & ran for the noble cause of 'Spreading awareness about the Go Green Initiative' which has been promoted globally and is also the need of the hour for all of us. The marathon was Flagged off by the IIM-AMRITSAR Director Prof. Ramamoorty at morning 5:30 am where 200 students from IIM Amritsar went off to the venue and the volunteers among them helped the participants with their bib numbers, route details, water, light refreshment & other requirements. The event saw overwhelming participation from the people from all walks of life and age-groups, including Prof. Umesh Bamel, MBA program chairperson, Prof. Santosh Kumar Tiwari (Strategjc Management) and Prof. Surender Rao Komera (Accounting and Finance) reaching a total number of 500 with 200 NCC cadets showing their unflinching support and running vigorously for this great cause.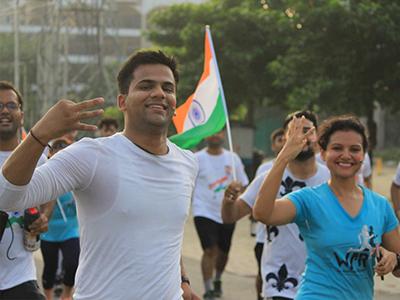 The Marathon was open for all to attend and covered 5 kilometers of distance starting from rose garden and spanning over Puda colony, Defence colony and coming back at the starting point again.
The Flag hoisting ceremony was done at 9:30 in the morning where the IIM Amritsar director, Prof. Ramamoorthy gave an inspiring speech related to how we all can be more responsible in what we are doing and compile our efforts for creating a great future for the country. Then forward all the students were also invited by him to the "Tree plantation drive" which was spearheaded by Sankalp the CSR club of IIM-AMRITSAR.
Runbhoomi was spearheaded by the Sports Committee of IIM Amritsar that had been planning the event months before in advance. They even launched a social media awareness campaign- 'Voice of IIM Amritsar' on Facebook & Instagram, seeking views of the students and promoting the go green initiative by voicing out their opinions on these platforms, thereby urging the people to unite together and run for the cause.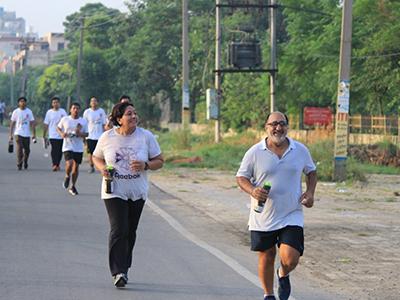 The winners were decided and awarded in men's and women's category. The closing ceremony of the marathon was hosted by the very popular RJ Sam that handed over the cash prizes and medals to the winners while engaging the large audience with her signature charm.
The marathon showed that if the citizens of the country come together with an intention to promote and practice a noble cause, then youth of the country can create wonders and save our environment for the future generations to come.
Stay informed, Stay ahead and stay inspired with MBA Rendezvous