The External Relations (ER) Cell of The Indian Institute of Management, Calcutta enthusiastically hosted the incoming students, including waitlisted candidates, the batch of 2022, digitally this year.
Traditionally, the ER cell holds annual city meets across India for their incoming batch where new students get an opportunity to interact with current students, renowned alumni, and their future batch mates. It also gives them an insight into the life that awaits them at Joka. Not wanting to discard an annual tradition merely because of the COVID-19 pandemic and social distancing norms, this year the ER cell proceeded with virtual meets on Zoom. Eight meetings took place for six cities - Delhi, Mumbai, Bangalore, Chennai, Hyderabad, and Kolkata. In these meets, over 350 students participated from the incoming batch.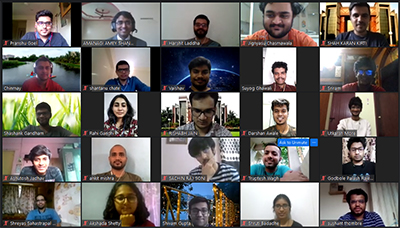 Dikshant Yadav and Isha Mittal, the External Relations Secretaries said, "Organizing the meets virtually was an enriching experience for us. Creating a good experience for the attendees, virtually, was a challenge that the team took head-on and was able to navigate successfully. The efforts of the entire team were commendable. We are also thankful to our alumni who graced the meets with their presence."
Each city had multiple hosts from the current batch who welcomed all the participants and encouraged conversations. "It was heartening to see the enthusiasm of the incoming batch, even in these uncertain times.", says Joy Bhattacharya, host of the Kolkata meet. The meet began with an orientation to IIM Calcutta and its rich history, exemplary academia, and legendary alumni through a presentation. This was followed by a fun and interactive Quiz for the participants featuring trivia from Joka. To encourage this, the session was joined by distinguished alumni of various batches, through special invitation, who shared their 'Journey at Joka' and the life lessons they learned while pursuing their courses and how that has shaped them as professionals. Apart from this, for further personal interaction, breakout rooms were created where students could ask their Q&As in a closed group environment.
To know their batch mates better, the incoming students were divided into small groups where they focused on building interpersonal rapport and identifying one common element between them. This commonality was then shared through impressive videos and PowerPoint presentations and gave everyone a chance to know each other better and break the ice. "The city meet was a very interactive and informative session organized by our seniors. It was a precious opportunity for us where we got to meet some of the bright minds of the country." says Sweety Gupta, who attended the Delhi meet.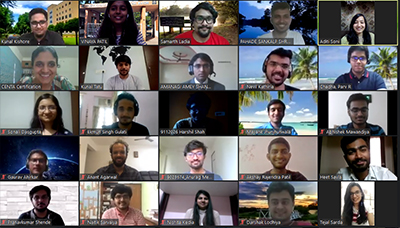 The entire cluster of meetings and activities was only possible because of the efforts and dedication of the current batch who coordinated with students across cities in spite of their ongoing summer internships.
Speaking on this remarkable achievement, Prof. Anju Seth, Director, IIM-Calcutta said, "Our students deserve kudos for their dynamic and entrepreneurial approach to hosting city meets virtually. In these unprecedented times that demand innovative solutions, we greatly appreciate our students and alumni working together to collectively support the Institute and welcome the incoming batch. Yes, there is uncertainty, but I am confident that we will work together to build a particularly positive and even stronger IIM Calcutta experience during the very special circumstances that we jointly face."
Stay informed, Stay ahead and stay inspired with MBA Rendezvous