IIM Calcutta hosted the second edition of its flagship event Converge 2.0. A mega entrepreneurship event in Eastern India, Converge 2.0 aims to inspire and influence an entire generation of budding entrepreneurs. IIM Calcutta brought together entrepreneurs, venture capitalists, and angel investors for the event at its campus. Presented by the Entrepreneurship Cell of IIM Calcutta in cooperation with IIM Calcutta Innovation Park, the event was hosted at the Institute premises on 29th and 30th November 2019. The theme this year was ' Transforming GenZ to job creators from job seekers'.
The keynote speaker for the event was IIM Calcutta alumni from 34th Batch, Mr. Ganesh Rangaswamy, Co-founder, Quona Capitals. The event also witnessed expert speakers share their learnings, challenges and milestones of their entrepreneurship journeys.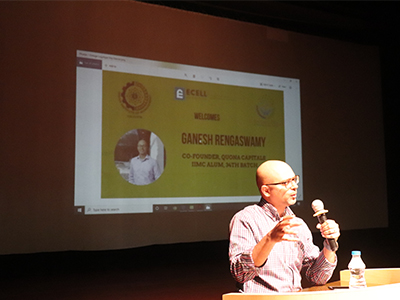 IIM Calcutta's Entrepreneurship Cell received over 50 applications from across the country for their startup competition 'Ideas 2 Implementation'.Choosing the best amongst the 14 teams was a real challenge for all the jury members as each business plan was full of market potential and growth. The judges unanimously declared Yogitha Biofarming Private Limited as the winners. Nuimance Phytovigyan Pvt Ltd were first runner up whilst Vixplor Analytics came third. Talking about their winning idea, the team said, ''The objective of the startup is to double the income of farmers by 2022 by linking the small and marginal farmers of remote areas to commercial farming''.The winners received a cash prize of Rs70,000/- while the first and second runners up received 50,000/- and 30,000/- respectively.The Jury panel consisted of Vishal Kumar, Founder - Learning while Travelling, Arijit Bhattacharyya, Founder and CEO - Virtualinfocom, Vikram Duggal, Managing Partner - Ekcle Ventures & Ekcle Advisory Services and Md.Zafar, Chief Manager, Startup - Gail.
Converge 2.0 provides a conducive environment for budding entrepreneurs and a great opportunity to interact with investors, mentors, industry experts, startup founders and also receive constructive feedback to fine-tune their ideas by participating in business plan competitions and hackathons.
Stay informed, Stay ahead and stay inspired with MBA Rendezvous