Indian Institute of Management Calcutta, the first Indian business school crowned with triple international accreditations by AACSB (Association to Advance Collegiate Schools of Business), AMBA (Association of MBAs) and EQUIS (the three major international accreditation bodies for Business Schools) and to be ranked No.1 in India, No. 2 in Asia and No. 17 globally as per the Financial Times Masters in Management Rankings 2019, celebrated its Foundation Day today in the august presence of Shri Jagdeep Dhankhar, the Hon'ble Governor of West Bengal. The event also witnessed the institute felicitating 7 of its alumni for their outstanding contribution in their respective fields at the Distinguished Alumnus Awards Ceremony.
During her address, Professor Anju Seth, Director, IIM Calcutta said, "Over the past five decades, IIM Calcutta has witnessed remarkable success towards becoming a global hub of innovation and excellence in management education.
I am so pleased and proud that the recent Financial Times MiM ranking has awarded us first place in India and 2nd place
in Asia. The phenomenal contributions of all our valued stakeholders: our alumni, students, faculty members,
administrators, staff, Board of Governors, and the Central and State Government and all others associated with the
Institute have contributed immensely to our success. I thank you all for your dedicated commitment and support in our
progress towards global excellence."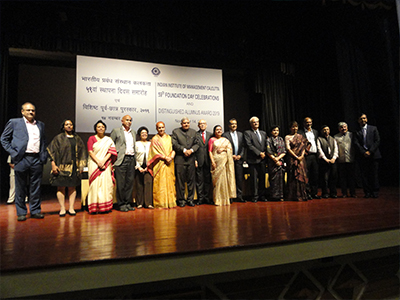 She further added,
"On Foundation Day, we recognize the extraordinary achievements of our Distinguished Alumni Award recipients in
academics, industry and entrepreneurship. We are very fortunate to have such wonderful ambassadors for the Institute,
who also serve as role models for our student community and make our Institute proud. We are honoured to have
Hon'ble Governor of West Bengal, Shri Jagdeep Dhankar as our chief guest this evening to join us in celebrating the
foundation of this Institute."
Largest Alumni Gift to date for IIM Calcutta
In her address, Professor Seth announced that "The Class of 1992, IIM Calcutta's 27th batch, has committed Rs. 3 crores
to support IIM's Calcutta's exciting trajectory of expansion and continuous improvement. Part of the gift is earmarked
for a named faculty chair while the rest is slated for infrastructural improvements." She noted that this represents the
largest alumni gift to date, and thanked the batch for their generous support of the Institute. Former President of the
27th batch Shekhar Ganapathy, shared, "We have got so much from the IIM Calcutta that we wanted to give back. Our
aim is to help the Institute continue to impact students and society in the future. We are very proud to present this to
our beloved alma mater, and hope that it sets a good benchmark for other batches to emulate and exceed."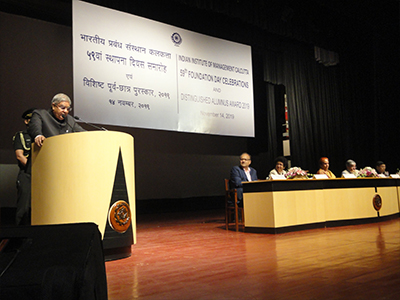 The Distinguished Alumnus Award Ceremony was led by Professor Prashant Mishra, Dean (New Initiative & External
Relations), IIM Calcutta, where Director Professor Anju Seth, Chairperson of the Board of Governors Shri Shrikrishna
Kulkarni and the Hon'ble Governor of West Bengal Shri Jagdeep Dhankar presented the Awards and Mementoes to the
7 alumni at the Ceremony in the following categories:
Award Category

Name of the Alumni

Current Company & Designation

Awarded for notable contribution in academia

Gita V. Johar

Vice Dean for Diversity, Equity, and Inclusion, Dean's Office and the Meyer Feldberg Professor of Business

Marketing, Columbia Business School (CBS)

Awarded for notable contribution in business

entrepreneurship

K Ganesh

Currently runs GrowthStory.in, a leading venture builder platform that promotes and incubates 10 new

ventures along with great entrepreneurs.

Awarded for notable contribution in business

entrepreneurship

Sumant Sinha

Founder, Chairman and Managing Director of ReNew Power – India's largest clean energy company.

Awarded for notable contribution in social entrepreneurship

Sanjiv Aiyar

Founder & CEO of ApKar Consulting – a Strategy Consulting Company that advises clients on growth, restructuring, operational transformation, capital

raise, and mergers and acquisition (M&A).

Awarded for notable

contribution in corporate

Sunil Duggal

V.P. and SBU Head of the Family Products Division of

Dabur India Pvt. Ltd

Awarded for notable contribution in corporate

Srikar Reddy

Managing Director and Chief Executive Officer (CEO), Member of the Board of Directors of Sonata Software

Limited.

Awarded for notable contribution in the government sector

Vini Mahajan

Additional Chief Secretary, Investment Promotion and in addition Additional Chief Secretary, Industries & Commerce and in addition Additional Chief Secretary, Information Technology and in addition Additional Chief Secretary, Governance Reforms & Public

Grievances, Government of Punjab
The award ceremony was succeeded by a speech by Shri Shrikrishna Kulkarni, Chairperson, Board of Governors, IIM Calcutta.
During his Foundation Day lecture, Shri Jagdeep Dhankhar, Hon'ble Governor of West Bengal said, "I would like to congratulate the awardees who are recognized by India's oldest IIM for their achievement. It is of great pride that IIM Calcutta is not only included amongst one of the best institutes in India but also amongst the top institutes in Asia as well as internationally. Students from this premier institute have been making a mark around the world by being at the helm of corporate and government services. On this special occasion, I would also like to congratulate the faculty members and administrators of the institute who have played an important part in the overall development of India by laying strong foundation of brilliant minds of our country through research led impactful education."
Speaking to the students on the leadership skills, he mentioned, "As future leaders and change makers always focus on knowledge creation, building an incisive and prosperous India rather than mindless pursuits like chasing wealth. Over the years, I have realized that true happiness lies in giving back to the society and connecting with people around us. The country has very high expectations from you and I have no doubt that you will make us proud."
The event concluded with a Vote of Thanks by Professor Bodhibrata Nag, Dean (Academic), IIM Calcutta. During his speech, Shri Shrikrishna Kulkarni described his philosophy and vision for IIM Calcutta (see attached).
Stay informed, Stay ahead and Stay inspired with MBA Rendezvous