IIM Calcutta kick-started the 1-year full-time residential MBA for its 14th batch on April 20th, 2020, exactly as per schedule, which was planned several months in advance. The Director, Professor Anju Seth flagged off the program, followed by an address by the Chairperson, Professor Manju Jaiswall, on the morning of April 20th.
IIM Calcutta has demonstrated acute planning to ensure students' learning is not compromised. The institute has shown resilience and adaptability by switching to the digital delivery of the course content. The professors are using 'beyond-the-blackboard' methods to ensure students do not miss out on active class participation.
As a current student, Alex says, "The faculty, staff, and students have shown amazing unity and collaboration in the face of this adversity."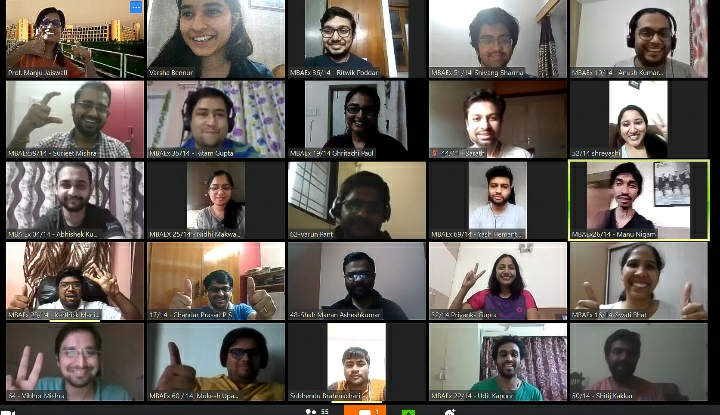 Another student, Shambo B. says, "The first thing corporate world teaches us, is adherence to timelines. IIM Calcutta has differentiated itself from other institutions by starting the course on-schedule by going online amidst the lockdown situation. Hoping to have a life-changing experience at Joka!"
This was made possible by the extensive pre- launch preparation that was accomplished by the quick and adept decision making at various levels - the programme committee, Dean, Director, and a seamless teamwork achieved virtually by various offices with programme office being the nodal coordination point.
The following comment from a student of batch 14, Manu Jain, about his experience of the inaugural day sessions captures the essence,
"Today's sessions have been quite enthralling; we have seen remarkable organization as well as optimism from the faculty!"
IIMC's smooth initiation of the programme on the online platform is a tribute to its faculty's engagement and experience over the years on the online medium, a reaffirmation of brand IIMC, and a revalidation of the institute's strategic play in the online management education space over a period of decade and a half".
The 14th batch of this program has 68 students from 20 different industry sectors with an average work experience of 8.33 years. This industry mix is expected to usher in a rich peer learning experience. The gender diversity for the incoming batch stands at 18%, a welcome step in the right direction.
The faculty and students have geared up to embrace the 'New Normal' with curiosity and optimism.
Tough times mould strong individuals - the institute is confident that this Covidian Batch will prove themselves to be world-class leaders.
Stay informed, Stay ahead and stay inspired with MBA Rendezvous