Indian Institute of Management Kashipur hosted its first edition of 'Vriddhi' - Annual Finance Conclave. The conclave witnessed the presence of various industry leaders from the finance domain. The conclave was held via the online platform Zoom and was streamed live on YouTube, keeping in view the pandemic situation around the globe. The theme of the conclave was 'Risk Management and Growth In Current Times'.
The panel of distinguished speakers of the event included Mr. Puneet Dhawan, Finance Director, and CFO at Mars; Mr. Alok Garodia, Former CFO at JCB, Lenovo, Nike; Mr. Raghupati Mishra CFO at Liberty House Group; Mr. Hitesh Uppal CFO at Magicbricks and Ms. Tanisha Govindarajan, Finance Director at L'Oréal.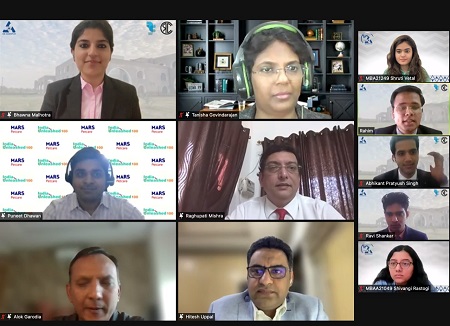 The speakers were posed with several questions on the current financial issues in news and how the future of the financial world would look like both from the Indian and global perspectives. Mr. Puneet Dhawan commented that every new situation will require a new radical approach to tackle unforeseen challenges. He highlighted that fintech has been boosted due to Covid-19 and the traditional tools of business operations might be soon done away with and replaced with new platforms which will enable much more automation. Sharing his opinion on the current market scenario Mr. Alok Garodia said that market demand is reviving, cash liquidity is available and given all the right sentiments would lead to a good future. He also mentioned that there is a humongous increase in commodity prices which can be seen from the stock market as well which will further add to the cost structure in the market.
Speaking on the Covid-19 challenges, Mr. Raghupati Mishra remarked that we are onto normalization and growth. He further emphasized that dedication and a positive attitude will lead to growth. Sharing his opinion on the Indian economy, he said it is getting into the next orbit and currently transformation is taking place. Taking the discussion forward, Mr. Hitesh Uppal highlighted the condition of the real estate sector where there is a net demand increase during the Covid period itself which clearly shows that although many sectors are impacted, real estate is popping up. When asked about views on digitalization he mentioned that digitalization has led to centralization leading to increased monitoring and controlling. Presenting her views on the financial sector, Ms. Tanisha Govindarajan talked about the three most important pillars of sales & cash, employees, and solidarity for progress and one of the other key points is employee upskilling, which keeps employees motivated.
The annual conclave helped students understand the four aspects of risk management which are to identify, assess, quantify, and mitigate. The speakers thoroughly appreciated the active participation of the students throughout the session.
Stay informed, Stay ahead and stay inspired with MBA Rendezvous.